Birthday Reviews: Michael Bishop's "Patriots"
Birthday Reviews: Michael Bishop's "Patriots"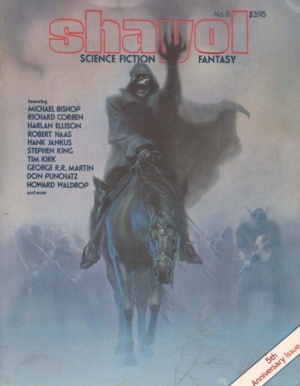 Michael Bishop was born on November 12, 1945.
Bishop won back to back Nebula Awards in 1982 for his novelette "The Quickening" and in 1983 for his novel No Enemy But Time. In 2009, he won the Shirley Jackson Award for "The Pile," His novel Unicorn Mountain received the Mythopoeic Award, and his poem "For a Lady Physicist" won the Rhysling Award. He has twice won the Southeastern SF Achievement Award for his stories "The Door Gunner" and "Bears Discover Smut." In 1977, he was awarded the Phoenix Award by DeepSouthCon. His novel Brittle Innings is one of the best fantasy baseball novels ever published.
"Patriots" was originally published in issue six of Shayol, edited by Pat Cadigan in Winter 1982. It has been reprinted twice, first in Bishop's Arkham House collection One Winter in Eden in 1984 and later in his collection Emphatically Not SF, Almost, as part of the Pulphouse Author's Choice Monthly series.
Bishop's "Patriots" fits well into his collection Emphatically Not SF, Almost because it really isn't science fiction. It is the story of two American servicemen stationed on Guam during the Vietnam War, Lieutenant Danny Rojas and Sergeant Monegal. Rojas is concerned that he is facing a court martial and fine for his actions in Southeast Asia. The older Monegal convinces him to go for a walk with the hope that Rojas will share his great crime as a form of atonement and will go back to being his normal self.
On their walk, the two come across an older Japanese businessman, Jinsai Fujita, and his Guamian girlfriend, Rebecca Facpi. The Fujita and Monegal try to jolly Rojas out of his funk when they suddenly come under fire from a Japanese soldier who has been living on Guam since World War II and is not convinced that the war is over, and has been fighting it for longer than Rojas has been alive.
Using Fujita to speak to the "Samurai Straggler" in an attempt to convince him that the war is over and he can return to Japan, the group manages to bring him out of hiding, but not before Rojas reveals his terrible secret and gets some closure, although it is not the sort of resolution either he or Monegal have in mind. "Patriots" offers an almost nihilist look at their situation and feels more like a vignette than a story.
Reprint reviewed in the collection Emphatically Not SF, Almost, by Michael Bishop, Pulphouse Publishing, 1990.
---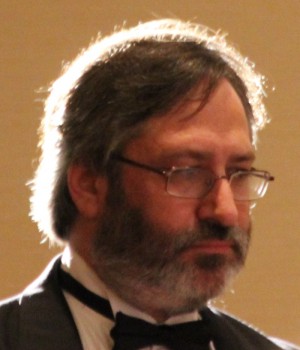 Steven H Silver is a sixteen-time Hugo Award nominee and was the publisher of the Hugo-nominated fanzine Argentus as well as the editor and publisher of ISFiC Press for 8 years. He has also edited books for DAW and NESFA Press. He began publishing short fiction in 2008 and his most recently published story is "Webinar: Web Sites" in The Tangled Web. Steven has chaired the first Midwest Construction, Windycon three times, and the SFWA Nebula Conference 6 times, as well as serving as the Event Coordinator for SFWA. He was programming chair for Chicon 2000 and Vice Chair of Chicon 7.