Traces of Byzantium in Florence
Traces of Byzantium in Florence
The dome of the Baptistry of St. John, Florence
When we think of Italian art, we tend to think of Ancient Rome and the Italian Renaissance, and forget the periods in between. Considering the achievements of those two high points of human civilization, that's hardly surprising, but the Middle Ages contained the inspiration of Renaissance art, and much of that inspiration came from further east–from the Byzantine Empire.
Byzantium owned parts of Italy until 1071, and left a legacy of beautifully decorated churches and public buildings. These influences endured, and can be found in some of the most famous buildings and art collections of the Renaissance. This interesting article from Oxford University goes into greater depth about specific important influences.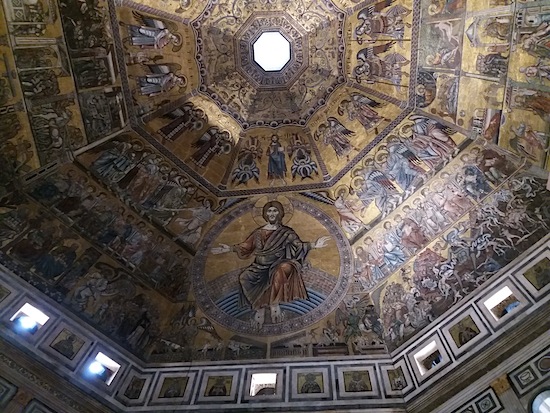 Christ enthroned, with the joys of salvation
on his right hand, and the terrors of Hell on his left
In Florence, the Baptistry of St. John next to the Duomo contains a perfect example of this connection to an older civilization. Built between 1059 and 1128 in the Florentine Romanesque style, its interior dome is decorated with a Byzantine-style mosaic. The mosaic is somewhat later, begun by the the Franciscan friar Jacobus in 1225, when Italy still had close commercial ties with Byzantium. Jacobus trained in Venice, one of Byzantium's main trading partners. That city, like so many others, was filled with Byzantine art.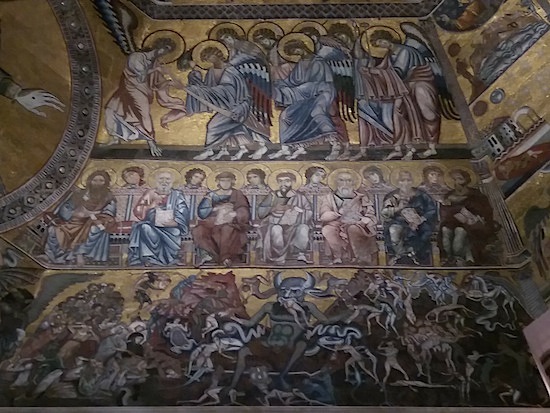 Some details of the butt whooping you can expect if you don't behave
The dome is simply stunning, by far the most impressive sight I saw in Florence. Like the church mosaics of Ravenna, it shows Biblical scenes set against a rich gold background. I'll let the pictures speak for themselves, except to add that I found it inspiring to know that the great city that launched the Italian Renaissance was heir to the Rome that had not yet died, the Rome of the eastern Mediterranean.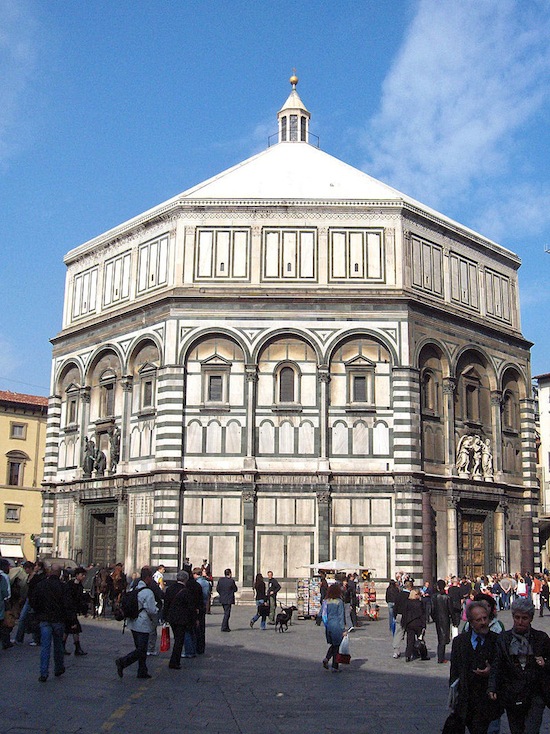 The exterior of the baptistry, courtesy
Georges Jansoone. I was so taken away by the building's
interior that I forgot to photograph the exterior!
All photos (c) Sean McLachlan unless otherwise noted. Scroll down for more!
---
Sean McLachlan is the author of the historical fantasy novel A Fine Likeness, set in Civil War Missouri, and several other titles. Find out more about him on his blog and Amazon author's page. His latest book, Tangier Bank Heist, is a noir mystery set in the International Zone of Tangier in the 1950s.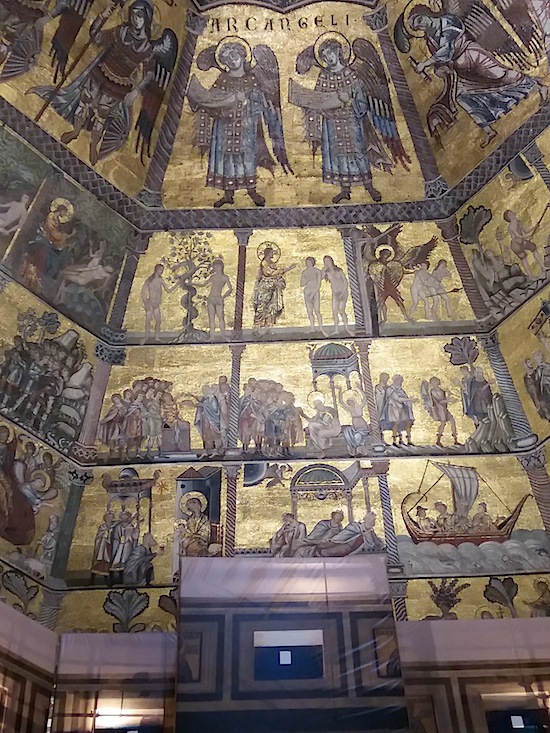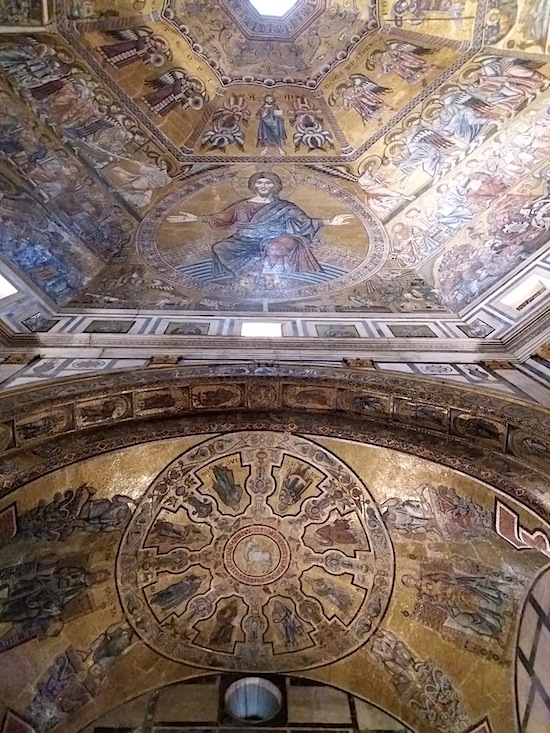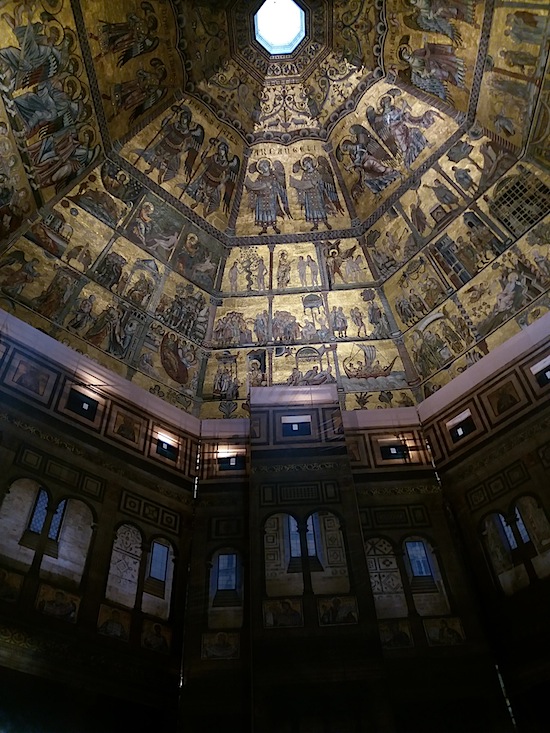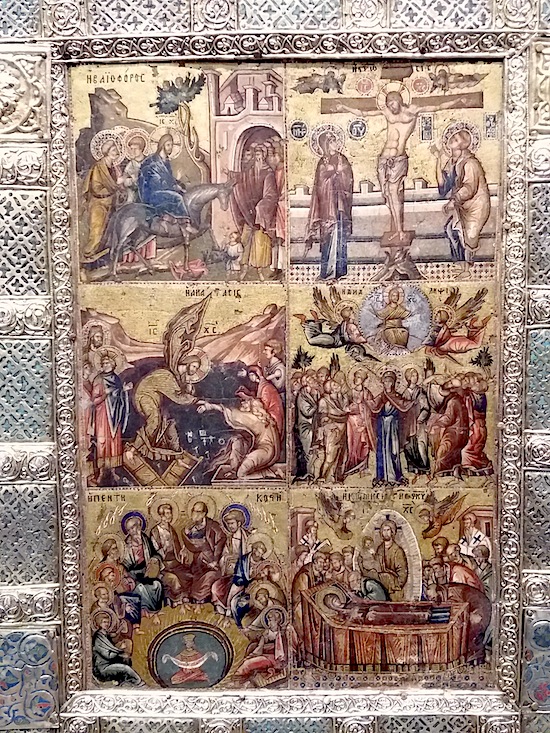 Byzantine micromosaic in the Duomo Museum. This dates
to the early 14th century and shows scenes alluding to the
Christian feast days. The tesserae are the size of the head
of a pin. I wonder how many angels could dance on one?