Goth Chick News: Visiting Chicago's Own Masters of Disguise
Goth Chick News: Visiting Chicago's Own Masters of Disguise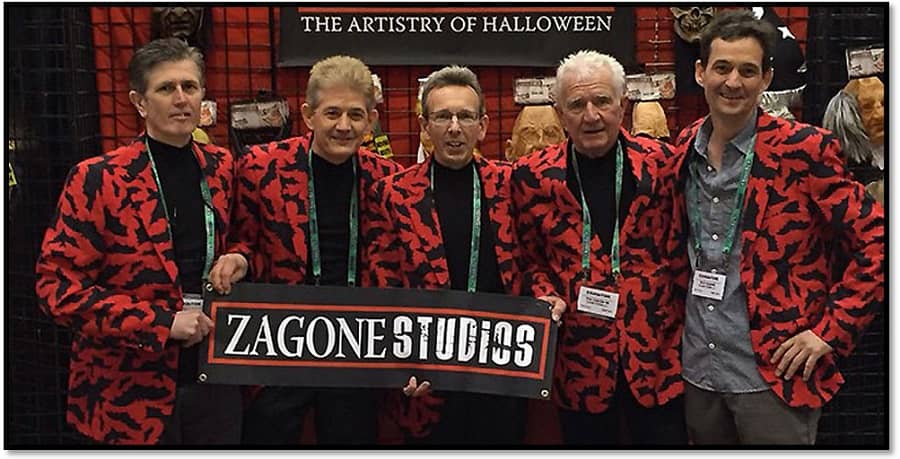 We first became acquainted with the gents at Zagone Studios way back in 2012 when Tony Kosart (champion of the SyFy channel's show Face Off) brokered an intro. At that time Tony was using Zagone's latex prosthetics in his special make-up effects and we were thrilled to learn Zagone creations had a storied history right here in Chicago.
Over 40 years ago, Chicagoland brothers Phil and Bob Zagone realized that nothing ruined the chances of picking up a date on Halloween with a fantastic costume, faster than the sweaty mess you became under a rubber mask.
That — and there was no way to consume adult beverages while wearing one.
Committed to solving this age-old dilemma the brothers started working on several solutions which they eventually proposed to the Godfather of Halloween himself, Don Post of Don Post Studios in California.
Unfortunately (or rather fortunately), Mr. Post was too busy to consider their ideas, but advised the Zagones that if they were so keen to improve the mask industry, they were welcome to start their own company and have at it.
Which was precisely what Phil and Bob did in 1974, here in their hometown of Chicago.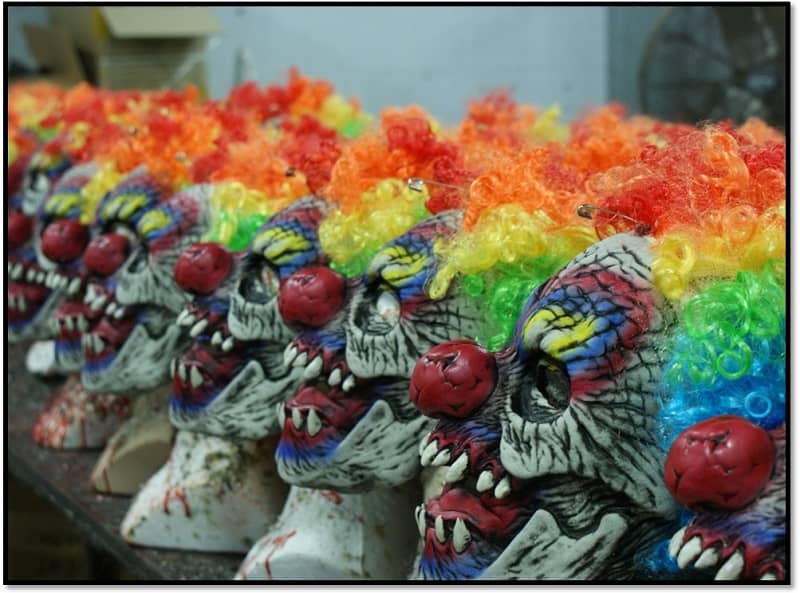 Flash forward to 2019 and we've been keeping up with the Zagone brothers for seven years, which has been fun enough in its own right. But this year, it seems they have truly outdone themselves as I discovered when I dropped by their facility this week.
Of course, they are still busy creating their standard nightmare fuel for the haunt industry and Halloween fans alike, in the form of their breathable, lightweight masks, several of which have articulated jaws which solves for how to consume adult beverages while maintaining your look. But their new line of products solves another problem entirely – how to finish off the look you started with their incredible masks.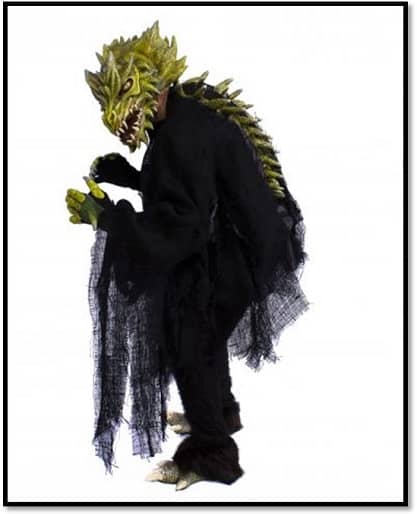 Head to toe (literally) Dragon costume
Zagone Studios has ventured into completing your ensem with everything from body pieces to legging, and gloves to hooves.
Yes, you read that right – hooves.
Personally, I think that's the most ingenious bit.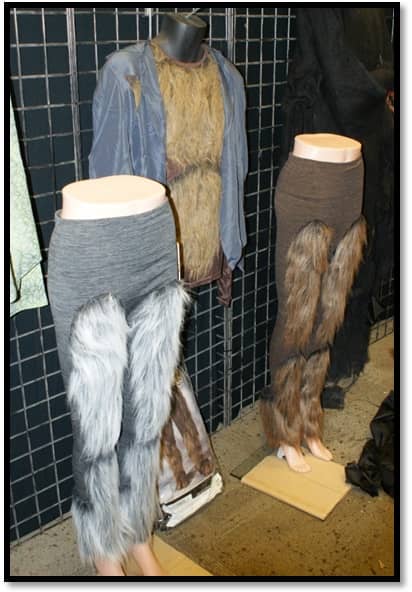 Zagone now has a line of creature feet, specifically designed to fit perfectly over your favorite shoes, from comfy loafers to the highest stiletto. They're great for girls and boys alike, but check out the video of Zagone models pairing them with the new line of furry leggings to turn you into the cosplay creature of your dreams:
Add in Zagone's newest line of hair-covered tops and finish it with a goat boy / girl half mask and boom, you've got a professional Hollywood FX look.
But wait there's more.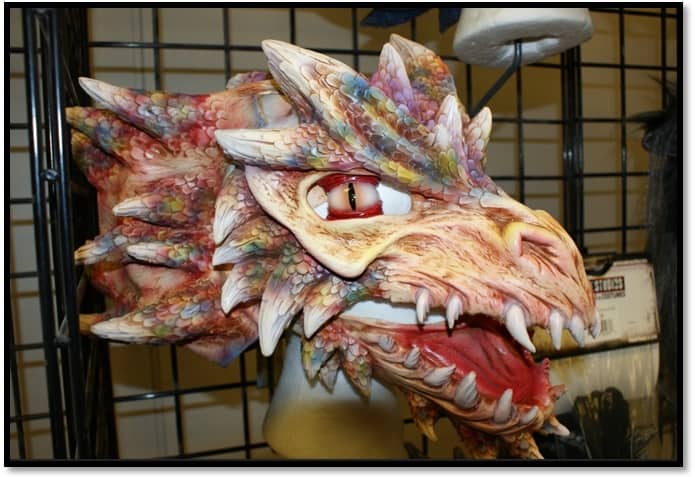 Here's another clip showing how to turn yourself into The Creature from the Black Lagoon, all with made-in-the-USA Zagone creations, and who doesn't love that?
The gents also introduced a new line in 2018 which glows in the dark. I mean, not a little but a LOT, which is the perfect choice for those low light Halloween events.
That cracked baby doll mask coming at you from the dark – nope.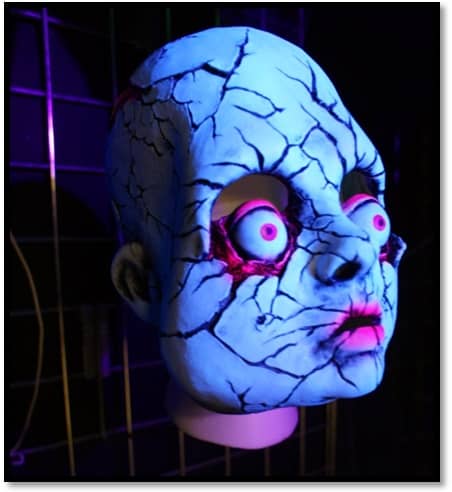 Nope…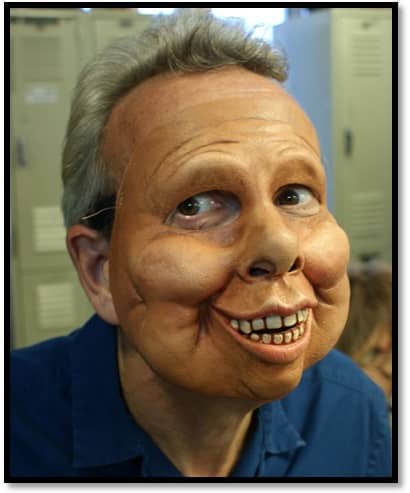 Double Nope…
It's not just the new creations grabbing the attention of horror fans everywhere. Anthony Zagone has been perfecting his skills as an artisan mask maker for the last forty-five years and over those five decades he has developed several one-of-a-kind techniques for the production of the sculpt, master mold, base latex substrate shell and many unique painting styles for pieces which have become scarce and highly collectable. At the request of fans, Zagone Studios occasionally goes into their mold archives to recreate a retired piece for the discerning collector. So, if this is you, contact them for details via their website.
A lot of Zagone's Halloween creations are available online, but you can also call to speak to someone who can help you be your horrible best. Plus, look for their masks at purveyors of fine frights nationwide.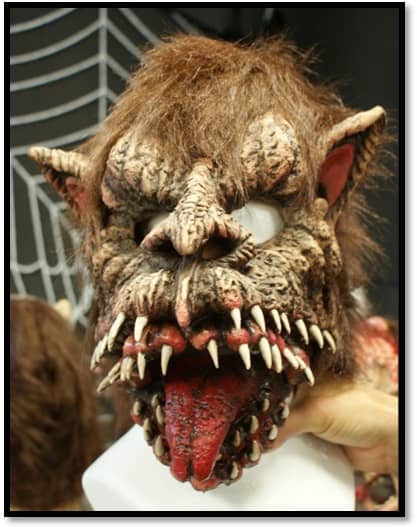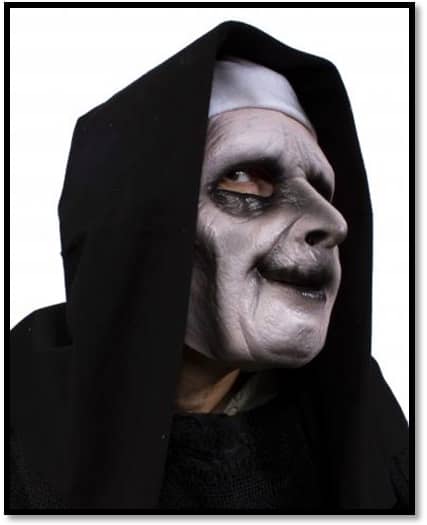 And a huge thanks to the Zagone brothers for their annual, nightmare-inducing hospitality.
Have a question or comment? Post it here or drop a line to sue@blackgate.com.