Birthday Reviews: James P. Blaylock's "Doughnuts"
Birthday Reviews: James P. Blaylock's "Doughnuts"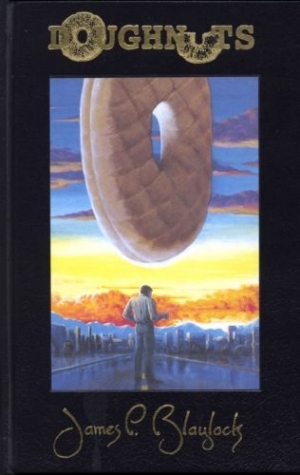 James P. Blaylock was born on September 20, 1950.
Blaylock won the 1987 Philip K. Dick Award for his novel Homonculus. He won the 1986 World Fantasy Award for the short story "Paper Dragons" and again in 1997 for "Thirteen Phantasms." Blaylock has also been nominated for the Mythopoeic Award three times, the Nebula Award once, and the Theodore Sturgeon Memorial Award once. Blaylock's most frequent collaborator is Tim Powers and the two have also used the name William Ashbless, which can be used jointly or individually. Ashbless has also been featured as a character in each of their works. Blaylock has also collaborated with Adriana Campoy, Alex Haniford, and Brittany Cox.
"Doughnuts" was originally published as a chapbook by Blaylock through Airtight Seels Allied Productions in 1994, a publishing house set up by James T. Seels in 1992 to publish Seels's bibliography of Blaylock. The story was reprinted by Subterranean Press as a chapbook in 1997. Blaylock included it in his collections 13 Phantasms (2000) and The Shadow on the Doorstep (2009).
There is really nothing fantastic or science fictional about Blaylock's "Doughnuts," although the story, which deals with addiction, does have an horrific element to it as Walt and Amanda each deal with their own addictions and turn on each other when their problems are pointed out. Walt's wife has informed him that his diet is no longer going to include doughnuts. Although he has been playing along with her ultimatum, he sneaks out of the house before she wakes to go to his local shop, Lew's Doughnuts, only to discover that Lew has changed his hours. The shop is no longer open twenty-four hours, and Walt will need to wait until 8:00 to get his fix. Eventually, he returns home with a box of doughnuts.
Amanda's own addiction is shoes. Just as Walt sneaks out early to buy doughnuts, littering the floor of his car with bags from Lew's, Amanda buys multiple pairs of shoes and hides them in the trunk of her car until she can sneak them into the house. When Walt goes into the trunk to retrieve her car jack and discovers two pairs of the same shoes, he confronts Amanda, setting of a brief but intense fight that roils both of their emotions throughout the day, leading Walt to binge on nearly all the doughnuts he bought that morning. A later discovery of shoes in the trunk that his neighbor identifies as $1,000 Ferragamo's exacerbates the situation.
In the end, Walt and Amanda offers conciliatory gestures to each other without defining them as such. Walt realizes that he is in thrall to doughnuts and decides that he really should go cold turkey while Amanda decides that she is willing to eat a couple of doughnuts to show that she understands what he is going through.
"Doughnuts" is one of those stories that makes me want to run out to a small, independent doughnut shop every time I read it. Even if Blaylock uses the doughnuts as the object of Walt's addiction, his description of doughnuts is so appealing that doughnuts shops should provide copies of the story with every baker's dozen.
Reprint reviewed in the collection Shadows on the Doorstep, by James P,. Blaylock, ISFiC Press, 2009.
---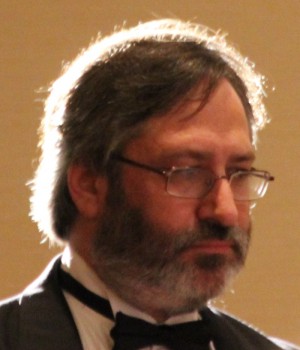 Steven H Silver is a sixteen-time Hugo Award nominee and was the publisher of the Hugo-nominated fanzine Argentus as well as the editor and publisher of ISFiC Press for 8 years. He has also edited books for DAW and NESFA Press. He began publishing short fiction in 2008 and his most recently published story is "Webinar: Web Sites" in The Tangled Web. Steven has chaired the first Midwest Construction, Windycon three times, and the SFWA Nebula Conference 6 times, as well as serving as the Event Coordinator for SFWA. He was programming chair for Chicon 2000 and Vice Chair of Chicon 7. He has been the news editor for SF Site since 2002.