Magical Items at Oxford's Ashmolean Museum
Magical Items at Oxford's Ashmolean Museum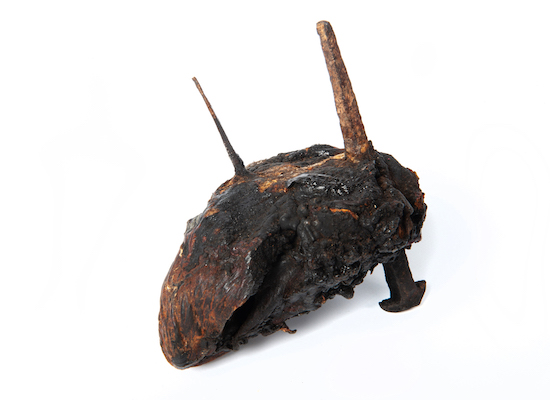 Bull's heart pierced with iron nails and thorns as a protection
against witches. Found in a chimney at Shutes Hill Farm, Somerset,
date unknown (c) Pitt Rivers Museum, University of Oxford.
A new exhibition at Oxford's Ashmolean Museum showcases 180 real-life magical items.
Spellbound: Magic, Ritual & Witchcraft explores the history of magic from the early modern era to the present day through objects ranging from Renaissance crystal balls to folk charms against witchcraft. It looks at basic human needs such as fear of death and desire for love, and how people have used magic to try to get what they need.
The exhibition also turns the question of magic and superstition back on the viewer. In the entrance hallway, you are invited to step under a ladder or go around it. The museum is counting how many people dare to tempt fate. I did, and I hope they post the statistics when the exhibition is over!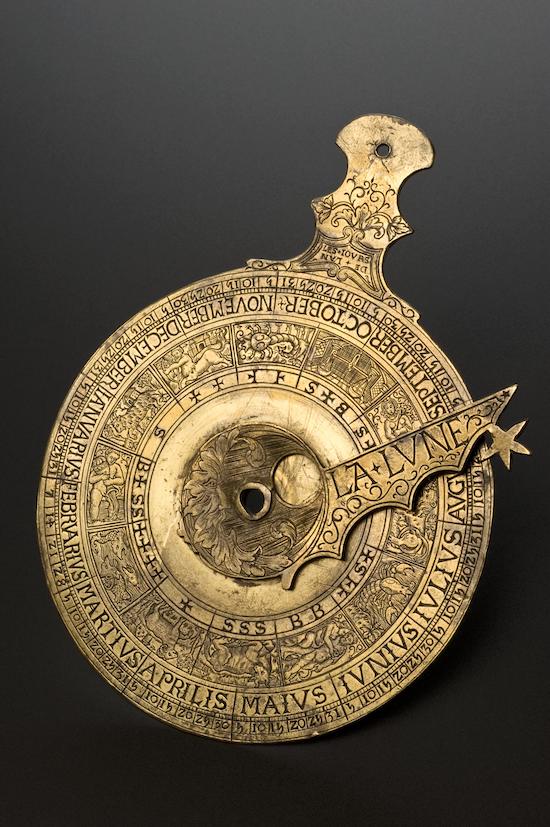 Prognosticator used to calculate propitious bloodletting times
according to the position of the moon. Brass, inscribed with
the date 1538, probably French. (c) Science Museum, London.
Beside various objects are signs posing questions such as "Do you have a lucky object?" (No) and "Could you stab an image of a loved one?" (It wouldn't do any harm, except perhaps a bit of psychological damage to myself). There's also a display of modern magical items such as love locks and various neo-pagan objects.
The historical objects are fascinating and varied, and there are so many worth sharing that I'll be posting images of them over two posts. The wall text gives information about how these objects were used, at least as much as folklorists know. For example, everyday objects were often placed in hidden areas of the house such as walls or under floorboards to protect against witches, but why did the 19th century resident of a house in Water End, Hertfordshire, stuff his wall with two adult shoes, a man's wool hat, six glass bottles (one green, two blue, and three clear), three metal lids, a metal bucket handle, scissors, a fragment of linen toe with knotted strings, a clothes peg, and pages from newspapers dated 1895 and 1896? Over in Cuckfield, Sussex, a resident chose to put under his floorboards a child's dress, a doll's arm, a child's exercise book, two railway timetables, a cigarette packet, two jars, and eleven shoes. Why not just use a witch bottle and have done with it?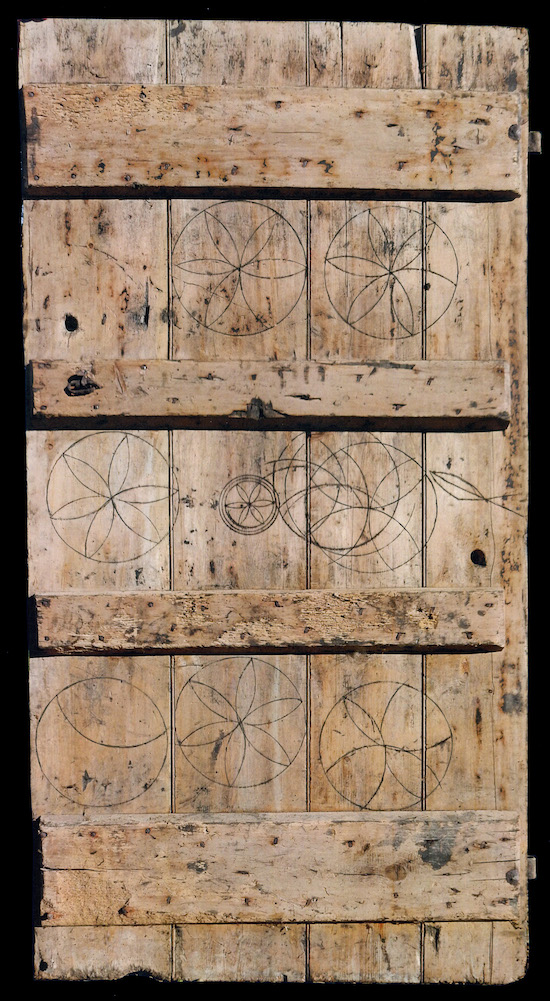 Oak calf-shed door marked with magical symbols to protect
livestock From Laxfield, Suffolk, 19th century. Private collection.
Less effective were some modern art installation pieces that were supposed to evoke an emotional reaction among the visitors. I did not connect with these, and judging from the scant notice everyone else gave them, I don't think the majority of other visitors did either. The objects themselves had enough emotional resonance that the art was superfluous, and no doubt expensive. The Ashmolean does not need to experiment when they have such an intrinsically interesting exhibition.
Spellbound: Magic, Ritual & Witchcraft runs through January 6.
Scroll down for more images!
---
Sean McLachlan is the author of the historical fantasy novel A Fine Likeness, set in Civil War Missouri, and several other titles. Find out more about him on his blog and Amazon author's page. His latest book, The Case of the Purloined Pyramid, is a neo-pulp detective novel set in Cairo in 1919.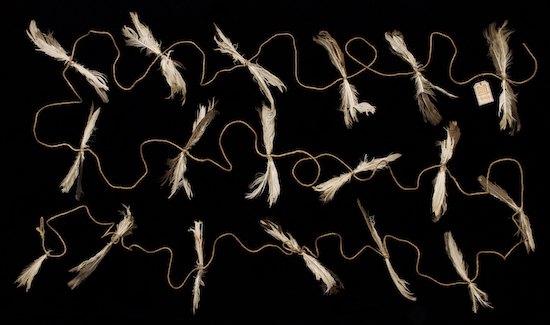 "Witches' ladder" found in the roof of a house in Wellington,
Somerset, 19th century. While it was widely reported as a cursed
object designed to bring death to its target, it may have simply
been a type of scarecrow, suspended from a branch in order to
scare away birds. This shows how objects can take on different
meanings when found in unusual contexts. (c) Pitt Rivers Museum,
University of Oxford.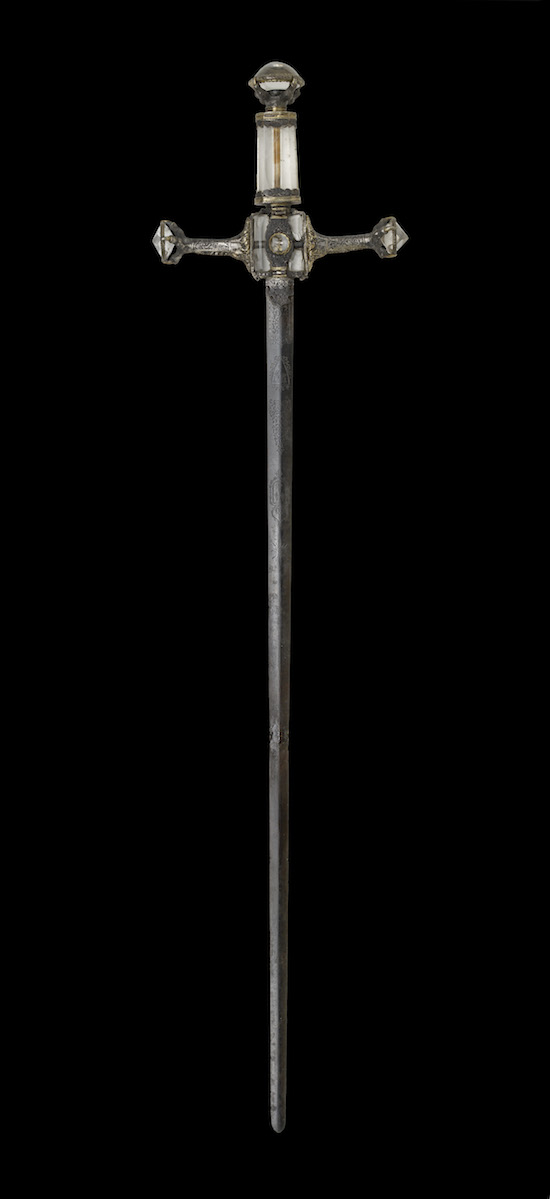 Sword with rock crystal reliquary in its handle.
Italy, 16th century with earlier rock crystal.
(c) Ashmolean Museum, University of Oxford.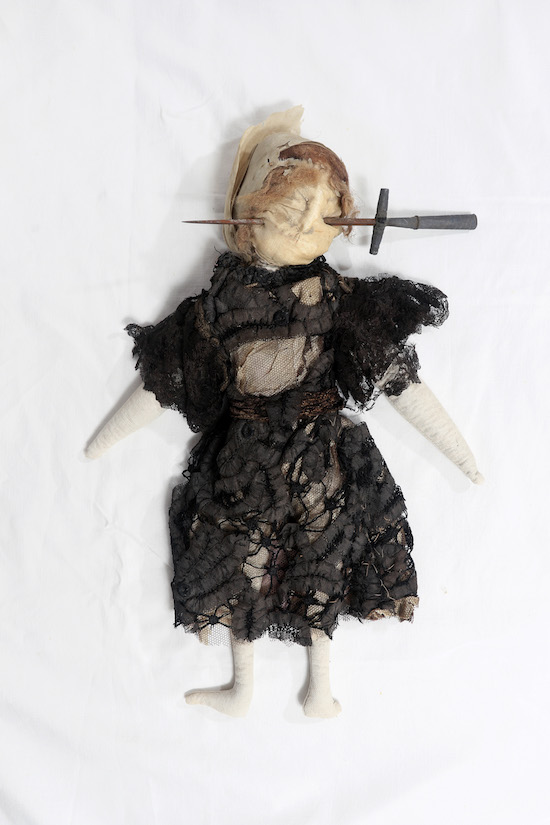 'Poppet' of stuffed fabric in Edwardian-style black dress with
stiletto through face. South Devon, England, 1909–13.
(c) Museum of Witchcraft and Magic, Boscastle.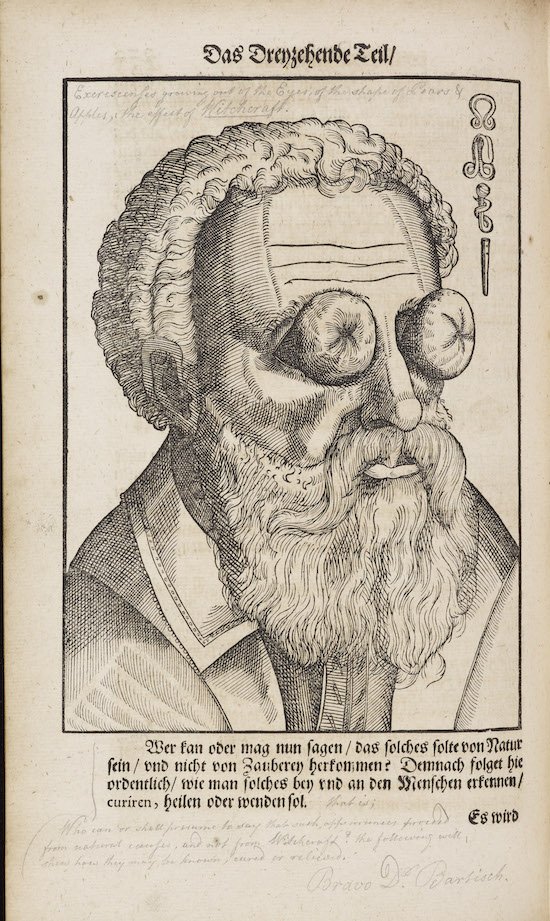 Disease of the eyes caused by witchcraft, from Opthalmodouleia Dresden,
Germany, 1583. The author of this book, Georg Bartisch (1535–1607),
made a close study of various diseases to see which were natural
and which were caused by witchcraft. Opthalmodouleia (c) Bodleian
Library, University of Oxford.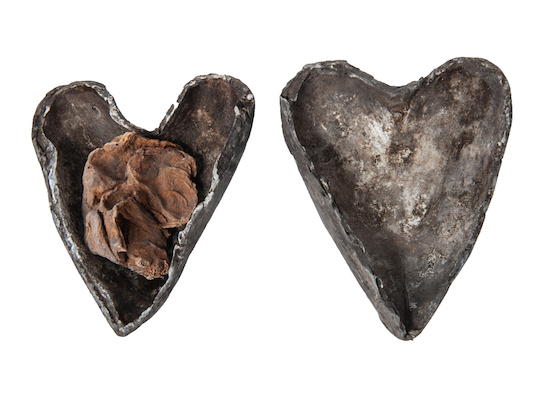 Human heart in heart-shaped lead and silver case
found concealed in a niche in the pillar in the crypt beneath
Christ's Church, Cork, 12th or 13th century.
(c) Pitt Rivers Museum, University of Oxford.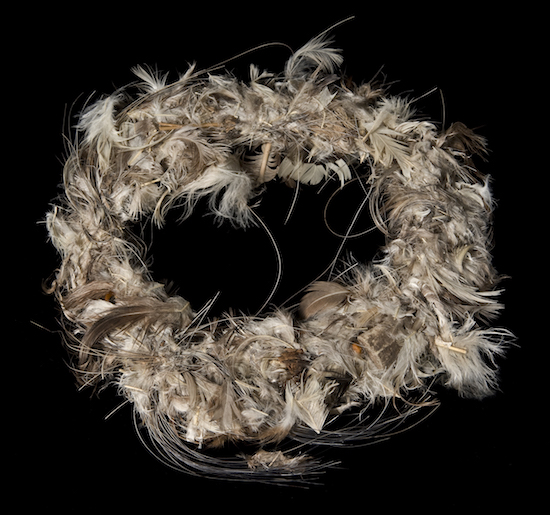 "Ghirlanda" made of bird feathers to cause death.
Italy, 19th century. (c) Pitt Rivers Museum, University of Oxford.