Goth Chick News: Wizard World's 2018 Chicago Comic Con
Goth Chick News: Wizard World's 2018 Chicago Comic Con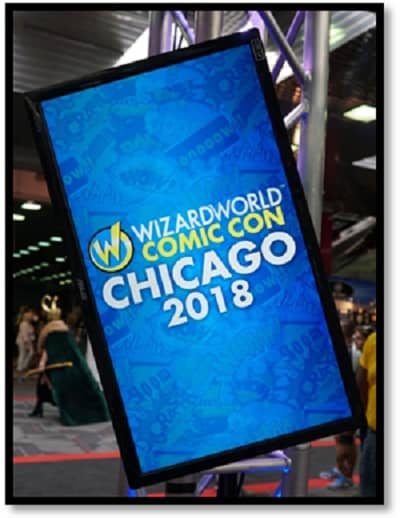 Nothing says summer in Chicago like the annual August bacchanalia that is Wizard World's Chicago Comic Con. Granted, the title Granddaddy of All Comic Cons still belongs to San Diego, which paces our attendance at 167K fans annually, but the local Midwest version is still a sight to behold.
Though exact attendance figures haven't been made public since 2009, estimates place the August, 2018 event at the Donald A. Stephens Convention Center at over 100K. With more than 300 exhibitors, many of which attend a number of Wizard World shows across the country every year, all (and I do mean all) of the 840K square feet of exhibition space is consumed. Black Gate photog Chris Z and I have covered this event since 2010 and its been amazing to watch the show nearly double in size, both in the number of exhibitors as well as attendees, during the past eight years. It is equally amazing to consider the guy who works on your car during the day may be dressed like Superman for four days every summer.
Because though it is billed as a "comic" convention, Wizard World draws in a large number of cosplayers from all over the region, and they are what make this event one we never miss. The costumes are simply incredible, but just as entertaining are those which are not; created from cardboard and fabric scraps and held together by the sheer love of a particular character.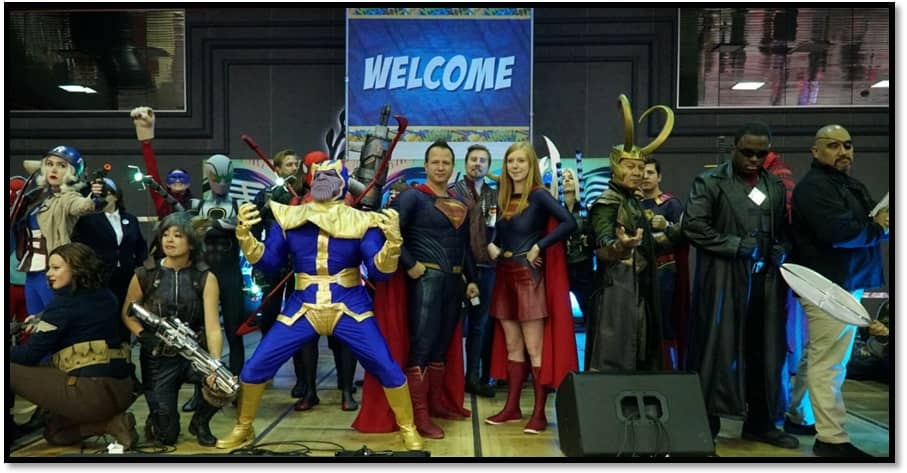 "People can come to our show and be anyone," says Jerry Milani, public relations manager for Wizard World, who is also one of a team of 50 helping to plan and run the massive event. "It's great that folks can have that opportunity to be whoever they are, and [know] that it's okay and it's cool."
Which is probably why the dark-hearted staff of Goth Chick News always feels so welcome here.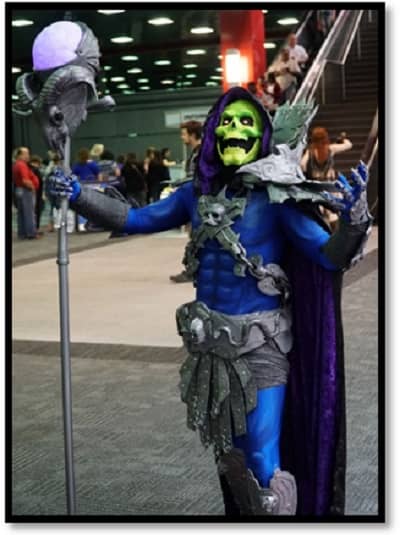 Though it is impossible to describe all the people we met and the sights we saw, we can tell you about a few of our favorites. So here we go…
W.W.'s Witch Crafts & Wizardry – Harry Potter is a fan favorite at every convention we cover; from dozens of Gryffindors being sneered at by a group of very realistic Slytherins, to a full on Quiddich team, JK Rowling's magic world is always well represented. However, this year we found a new twist on Potter fandom.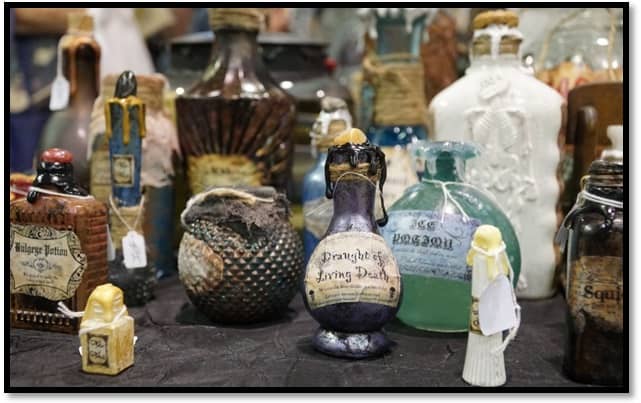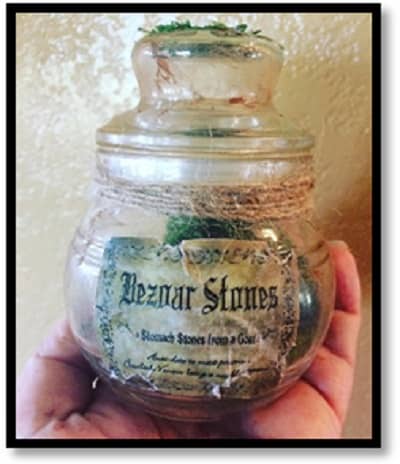 W.W.'s Witch Crafts & Wizardry
W.W. Witch Crafts & Wizardry displayed an incredibly detailed array of potion bottles which could have come right off the shelf in Snape's closet. You'll find Polyjuice Potion and Gillyweed, along with Felix Felicis and Bezoar Stones among dozens of others, all cleverly displayed in decorative glass containers. They also sell a set of six small potion bottle ornaments for decorating your Yule Ball trees. There are more Potter-related crafts to explore at their website where you can purchase all items for shipment.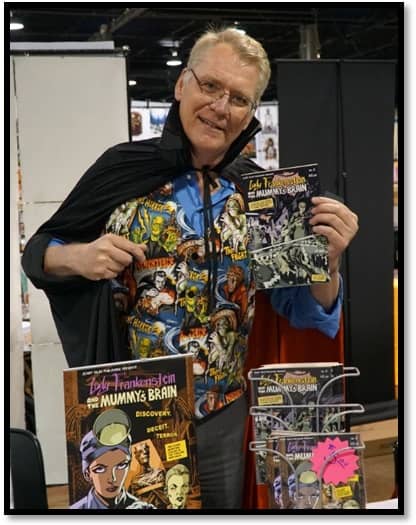 Kevin Glover and his Fractured Scary Tales
Fractured Scary Tales – Kevin M. Glover, founder and publisher of Scary Tales Publishing, has been hooked on horror since he was a wee tyke. Perhaps best-known as the producer of the cult classic features Dinosaur Valley Girls and Venus Flytrap, Kevin is a multiple award-winning screenwriter and published short-story author as well. Fractured Scary Tales is his first comic book anthology and a loving tribute to the B&W horror magazines of yore. He assembled an exciting team of skilled artists from around the world to help bring his ideas to print which are billed as "Robot Chicken meets Tales from the Crypt."
No wonder we're in love.
All Glover's creations are available on his website and we were particularly partial to Lady Frankenstein and the Mummy's Brain, proving once and for all that girls can be grave-robbing, mad scientists too.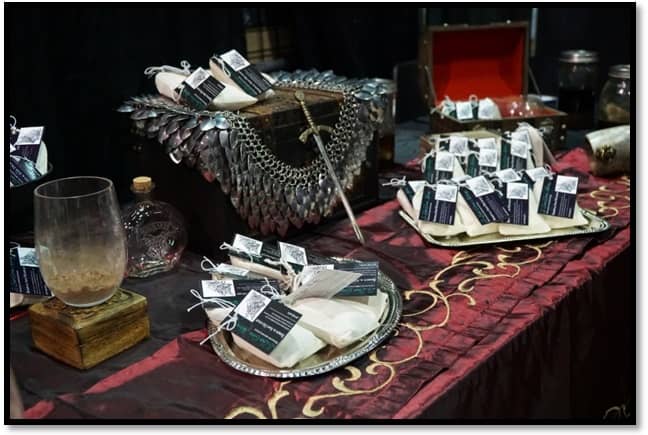 Le Loup Garou Alchemy
Le Loup Garou Alchemy – "The Werewolf" alchemist, Simon Huntley produces diabolical brews for the over 21-crew only: make-your-own absinthe kits. Now you can create a piece of history right in your own home and custom tailored to your own palette.
Simon and his wife Amy provide their customers the finest ingredients, mixed with a bit of the exotic, to create an experience you will never forget. The "dry" ingredients come artfully packaged in drawstring muslin bags, which when steeped in your favorite adult beverage (say a high quality, Caribbean rum) for a month or more, results in the literally intoxicating drink known as Absinth.
But isn't Absinth illegal? Well, if it was Amy and Simon (not to mention Chris and me) would be in a lot of trouble. But no, in 2006 Absinthe was again legalized for consumption in the US, so drink up. Le Loup Garou has 15 different flavor combinations, each which pair successfully with various alcohols ensuring a creation that will make your guests remember (or forget) your next party. Selling at $25 per bag, all are available for sale and shipment at their website.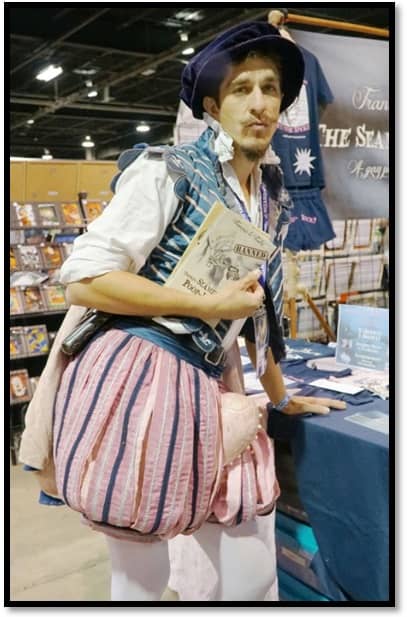 Pirate Francois le Foutre
Pirate Francois le Foutre – I'm not quite sure how to describe this gentleman without getting in trouble with the Big Cheese John O ("How many times must I remind you Black Gate is a family friendly publication?"). Let's just say Francois le Foutre is a pirate with an alternative lifestyle who has written four "pirate romance novels" about his adventures.
That said, think back to your forth or fifth-grade self. Now try to remember every bad, double-entendre sex joke anyone ever told you. Got it? Now bring that forward just a bit into the South Park realm, only instead of the jokes being told by small boys in Colorado, they're being told by adult men on a pirate ship and you've just about got your mind around Francois le Foutre's storylines.
Case in point, they're billed as, "the saucy tail everyone's talking about (and the tale's not bad, either)"
See?
Of course, this means that as le Foutre extravagantly explained the plot of his stories, I stood there killing myself laughing because there's nothing I like better than sex jokes at a fifth-grade level.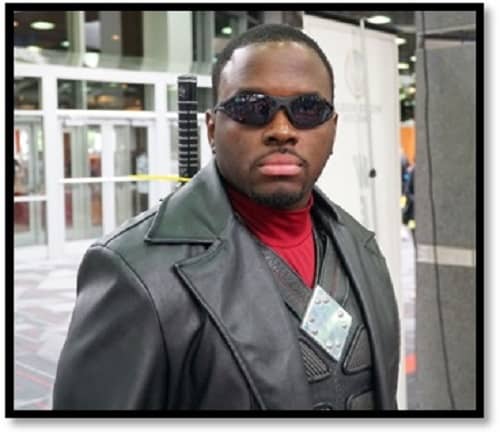 And with that we are reminded of the most important mission of Wizard World Chicago Comic Con, "You can be of any demographic, any age group or any fandom, and you're going to run into people who like the exact same things as you," Milani says. "This show is really about getting people together who like similar things, no matter who you are."
Precisely.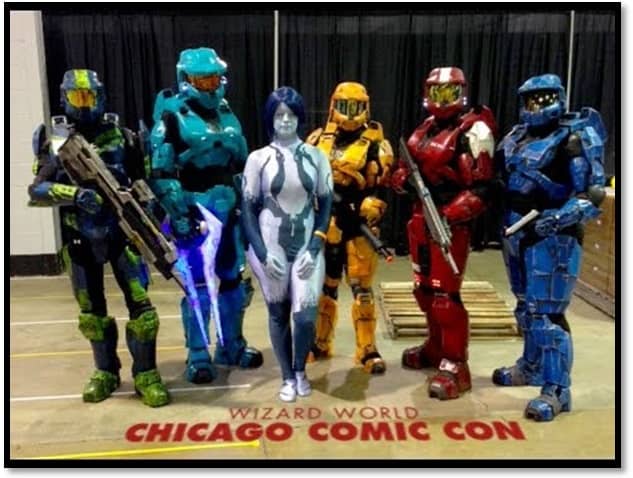 Wizard World has a dozen more shows planned in cities around the US, so check out their website to see if there is one near you.
Have a question or comment? Post it here or drop a line to sue@blackgate.com.