Mel Hunter and Hal Clement's Needle
Mel Hunter and Hal Clement's Needle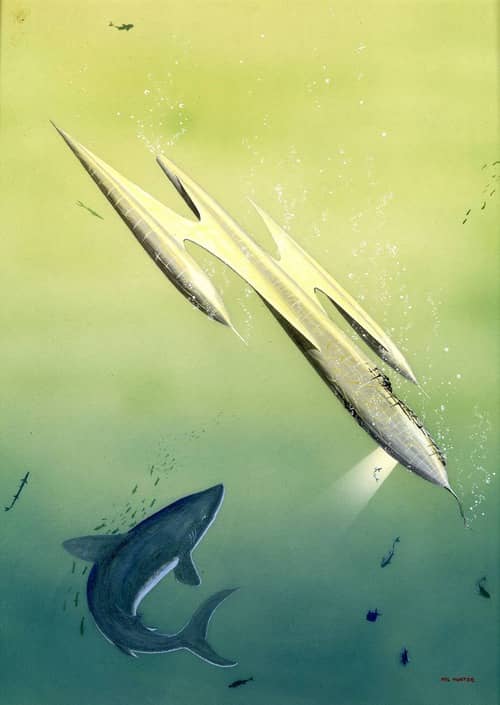 The Monday before this year's San Diego Comic-Con, I drove up to LA to visit a longtime SF fan and art collector. Among the two dozen pieces of art I picked up from him is this painting by artist Mel Hunter. Hunter was active in the SF field, contributing cover art to paperbacks and digests, as well as digest interiors, primarily from the early 1950's until the early 1960's, though he was still contributing an occasional cover into the early 1970's. From December 1955 through December 1957, he also was the art director of If (the sister magazine to Galaxy). Over time, the painting has suffered some damage along the edges, so this image is a bit cropped.
Written on the back of the illustration board is a note stating that this painting is an unpublished illustration for Needle by Hal Clement, and that Hunter gave this painting to Edward Everett Evans and Thelma Evans. Another note below that mentions that the collector I bought it from purchased this from the estate of E.E. Evans (who passed away on December 2, 1958) for $25. Not surprisingly, I paid significantly more for it!
[Click the images for giant-sized versions.]
E.E. Evans was a well-known SF fan, eventually based in LA, who also had a number of SF stories published between 1947 and 1955. He was very active in fandom, publishing several fanzines and establishing The National Fantasy Fan. Following his death, Forrest J. Ackerman established The Big Heart award in honor and memory of Evans, a service award presented annually at Worldcon. Hunter was friends with Evans and contributed an appreciation of him in Food For Demons, which was a memorial book commemorating Evans (printed in 1959 though not bound and sold until 1971).
I decided to dig around a bit, and see if I could figure out why Hunter had done a cover for Needle. It had originally appeared in Astounding as a serial in 1949, and Hunter didn't do any work for that magazine. However, he did eventually do a lot of work for Galaxy.
Astounding Science Fiction, May 1949. Cover by Orban
In late 1950, Galaxy established a book line (in digest form) called Galaxy Science Fiction Novels. The third Galaxy Science Fiction Novel was intended to be Needle – it was announced as such on the inside front cover of the second Galaxy Science Fiction Novel, The Legion of Space by Jack Williamson and on the back cover of the January 1951 issue of Galaxy. However, when published, the third in the series turned out to be Prelude to Space by Arthur C. Clarke, rather than Needle.
In Horace L. Gold's editorial in the February 1951 issue of Galaxy, he touts that Galaxy only buys first magazine rights and does not buy any other rights, giving the author the opportunity to make more money off a story, stating "We demand not a single cent of the payment for the resale of any Galaxy story!" He then goes on to attack – without naming names – Street & Smith, the publisher of Astounding:
…Galaxy does not use fictitious excuses to deprive writers of this [reprint] income, such as regarding them as business infants who must be protected against their inclination to give their work away for nothing — while demanding a share of resale price.

Because of our higher rates and refusal to cut in on earnings that are not ethically a magazine publisher's, Galaxy is, as a natural consequence, getting the finest science fiction stories.

Also as a consequence, apparently, Needle by Hal Clement will not be the current Galaxy Science Fiction Novel, though announced last month. A fraction of the book first appeared in another magazine, and since it is that publisher's policy to retain reprint rights, it has been refused us, despite the wishes of the author and the publishers of the clothbound edition.

Hal Clement has thus suffered a serious financial loss [apparently this was $500] — a guarantee of almost the original price of the story, and royalties that could very possibly make it much more — through having his interests 'protected.'

It is dubious protection that can cancel a sale for an author and yet often involve a demand for a substantial part of the payment… We regret being unable to offer this fine book… but we do have an original novel, Prelude to Space by Arthur C. Clarke.
Based on this, and Hunter's later association with Galaxy, my guess is that this painting was intended as the cover for Needle, as it would have appeared on the third Galaxy Science Fiction Novel.
---
Doug's last post for us was Today's Bit of Odd Pulp-Related Ephemera.