New Treasures: Stars Uncharted by S. K. Dunstall
New Treasures: Stars Uncharted by S. K. Dunstall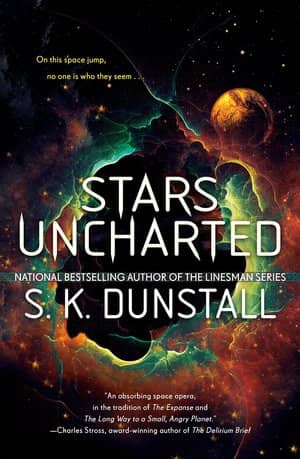 "S. K. Dunstall" is the sibling writing duo of Sherylyn and Karen Dunstall. In 2016 I wrote about their successful Linesman Trilogy from Ace Books.
Their newest novel is Stars Uncharted, a fast-paced space opera that follows a ragtag band of explorers who make the greatest find in the galaxy. John DeNardo at Kirkus Reviews says "It combines the best parts of space action and space opera," and Booklist says it "Masterfully [weaves] hard science… with engaging characters and a touch of romance, resulting in a brilliant female-driven tale." It arrives in trade paperback from Ace Books next week.
On this space jump, no one is who they seem…

Captain Hammond Roystan is a simple cargo runner who has stumbled across the find of a lifetime: the Hassim, a disabled exploration ship — and its valuable record of unexplored worlds.

His junior engineer, Josune Arriola, said her last assignment was in the uncharted rim. But she is decked out in high-level bioware that belies her humble backstory.

A renowned body-modification artist, Nika Rik Terri has run afoul of clients who will not take no for an answer. She has to flee off-world, and she is dragging along a rookie modder, who seems all too experienced in weapons and war…

Together this mismatched crew will end up on one ship, hurtling through the lawless reaches of deep space with Roystan at the helm. Trailed by nefarious company men, they will race to find the most famous lost world of all — and riches beyond their wildest dreams…
Stars Uncharted will be published by Ace on August 14, 2018. It is 416 pages, priced at $16 in trade paperback and $9.99 for the digital edition. The cover is by John Harris. Read the complete 15-page first chapter here.
See all our recent New Treasures here.