Uncanny Magazine Year 5 Meta-Interview: A Look at How Interviews Come Together
Uncanny Magazine Year 5 Meta-Interview: A Look at How Interviews Come Together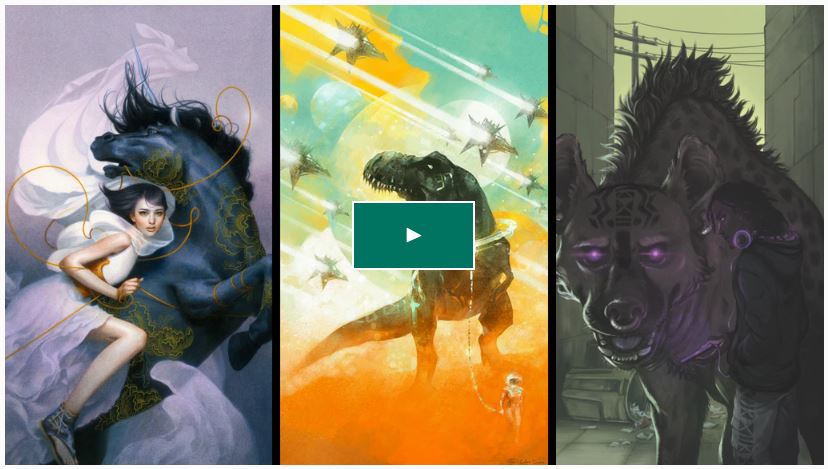 We here at Uncanny Magazine are in the middle of the Uncanny Magazine Year 5: I Want My Uncanny TV Kickstarter, and we've gathered up the whole Uncanny Magazine interview team to give our perspectives on interviewing! Caroline M. Yoachim does print interviews for the magazine, Lynne M. Thomas does the podcast interviews, and now we are introducing Matt Peters and Michi Trota as the video interviewers (and hosts) of Uncanny TV!
When we got the idea to write about interviews, we realized that we could do the post by interviewing each other, and BOOM, the meta-interview was born!
Part One: An Interview about Interviews
Caroline: What kind of prep work do you do before a podcast interview? How much of an interview is improvised on the spot as you respond to things an interviewee has said?
Lynne: The amount of prep for me varies between interviewees, honestly, based upon how familiar I am with the work of the person I'm interviewing. I always read the story in question, of course, because that's the core of the interview. I try to read at least one other thing by the author where possible, and to look at a couple of other interviews if they are available. About 40% of the time, I follow the writer down the rabbitholes they offer in their initial answers. This is one of the advantages of doing podcast interviews — the immediacy of it allows for a bit of interesting digressions. I also check in with them beforehand to make sure that they have the requisite audio setup — we want to hear their answers!
Caroline M. Yoachim
Caroline: Do you have tips or tricks for drawing someone out if they are quiet/introverted?
Lynne: One of the most important things I do, particularly with introverted and quiet authors, is provide the questions that I'm going to ask a bit beforehand. It gives them a framework, so that there won't be any major surprises. If it's not someone I'm terribly familiar with, after I do my research, but before the recording starts, I will also ask if there are any questions that they want to make sure I definitely ask (especially about projects they are promoting, for example), and anything they definitely don't want me to ask (and I always, always honor those requests).
I schedule our interview session for about an hour, although we only record about 20 minutes of it. It's important to have time to get a tempo of chat going for a few minutes before we begin recording, so that the recorded conversation feels more comfortable.
Caroline: What's the most bizarre/memorable question you've ever asked in an interview?
Lynne: Oh, goodness! I try not to be too bizarre, because that throws people off. But on the SF Squeecast, we used to do a last group of rapidfire questions (again, provided beforehand), similar to Buillion de Culture/Inside the Actor's Studio used to do. We always asked what people's favorite word was, and that produced some of the most memorable explanations. That and "Please tell your favorite joke" which led to some really terrifying places and puns.
Part Two: In which the Interviewer Becomes the Interviewee
Lynne: Your print interviews tend to be very focused on writing process. What is your process for writing interview questions, and how does it differ from doing research for your fiction writing?
Caroline: When I write fiction, I start with a shiny idea and as I'm doing research I tend to spiral out from that central premise, looking for story-pieces that fit together. I approach interviews in much the same way — first I read the story and figure out what makes it shiny (themes, worldbuilding elements, character relationships, etc). Then I jot down rough notes for questions, which are generally in the form of "X is interesting, come up with a question about that." (Translating these notes into specific questions is one of the hardest parts of interview-writing for me.)
After that, I try to come up with a good mix of questions for a balanced interview. I look at some of the author's other stories if I'm not already familiar with their work, and try to find common themes or strengths. I read the author's bio to look for questions about how the story might relate to their job, pets, other interests, etc. Then I usually throw in one hypothetical question — e.g., for a story about time-traveling Space Unicorns, I might ask "If you were a Space Unicorn with a time machine, what time period would you visit and why?"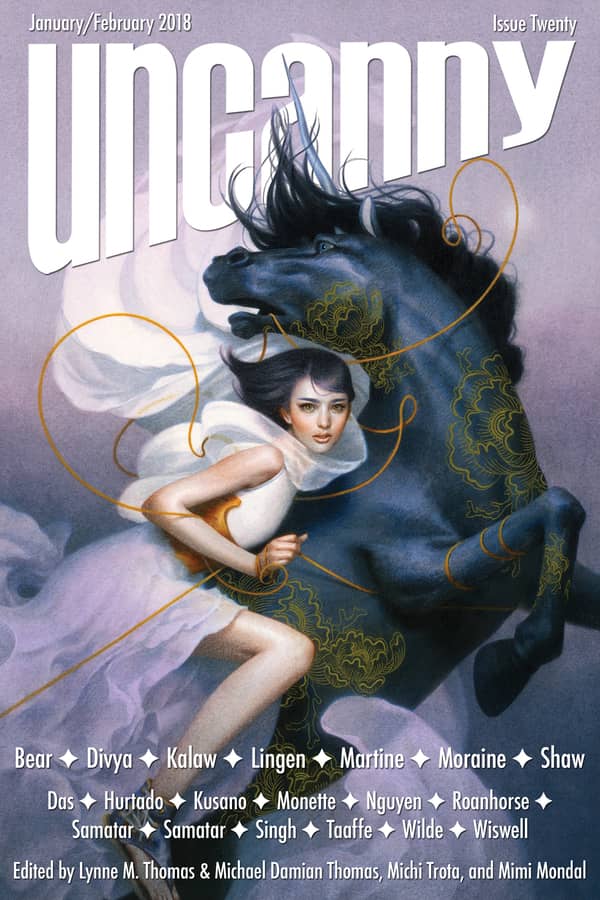 Uncanny Issue 20
Lynne: What kinds of interviews have you looked at to help shape your questions for Uncanny's print interviews?  Are there any approaches or formats to print interviews that you would be interested in trying out to try to change things up?
Caroline: When I started doing interviews for Uncanny, the first thing I did was go back and read several interviews from past issues, to get a feel for what kind of questions to ask and the scope of the interviews. I also often glance at previous interviews from whichever author I'm interviewing, so I can avoid asking questions they've answered repeatedly.
As for interesting approaches, I remember there was an interview I did for Shimmer where I answered interview questions jointly with a character from my story. It was a fun way to mix things up a little bit!
Lynne: What is the most bizarre/memorable question you've ever asked in an interview? Have there been any bizarre/memorable questions that you've been asked when being interviewed?
Caroline: I've done relatively few interviews (either as an interviewer or as an interviewee) and while I have asked and answered good questions with memorable answers, I'm not sure I've ever had a question that was memorable/bizarre in and of itself. However, if future interviewers of me would like an unusual question to throw into the mix, I recommend: "Have you ever photographed the secret life of gummy bears?"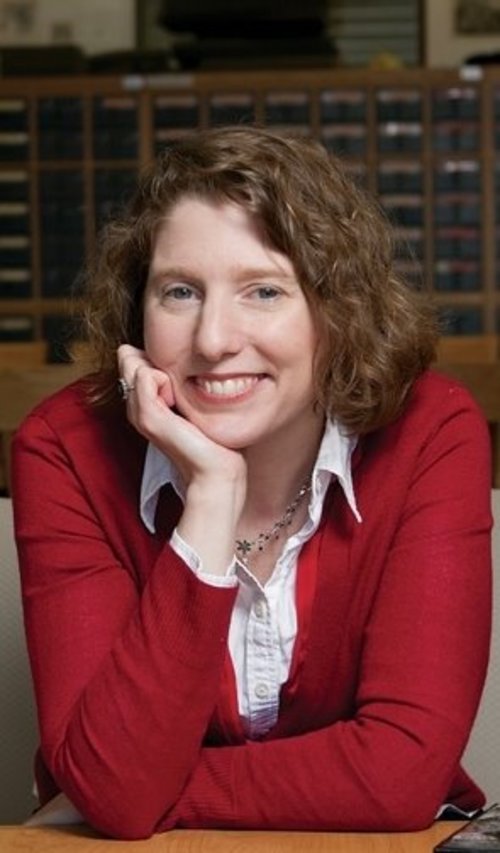 Lynne M. Thomas
Part Three: Interview Tag Team!
Lynne: Can you tell us about some of your techniques to help people feel more comfortable when they're being interviewed on camera?
Matt: I find that providing a relaxing environment is the best approach. Don't underestimate the power of a good meat and cheese spread. Also, be mindful of your guest's schedule and respect their time. Folks are going out of their way to give you content. Most of all, providing guests with a list of topics intended for discussion beforehand while asking them if there's anything they'd like mentioned specifically (upcoming projects, appearances) is ideal.
Michi: I'm actually really nervous when I get in front of a camera and have had really good luck with hosts who did a fantastic job of making me feel comfortable, so I'm going to try taking a page from their books. What seems to be the trick, in my experience, is finding a way to help people forget there's a camera there at all. And like exercise, taking time to warm up the conversation, as it were, tends to help a lot. You don't start recording the conversation cold – taking the time to talk to guests in the studio with the cameras off gives everyone time to get comfortable and work off the nerves. Creating the feeling that you and your guests are having a friendly conversation, not performing in front of an audience, can help to loosen things up.
A thing that's been fascinating for me to realize is why offering guests mugs of something to drink is actually a good idea. The mug gives guests something to hold and keep their hands occupied — there's something comforting about being able to just pick the mug up off the table during the conversation and just hold it (or in my case, grip it to keep my hands from shaking — and having a handle for extra security is super helpful). Taking a sip of your drink also gives you a moment to pause while you're gathering your thoughts without being awkward.
Also never underestimate the importance of a comfortable chair in helping people to relax! Being in front of a camera can be nerve-wracking enough without worrying about fidgeting because the chair is a nightmare (dear hosts: please just say NO to high top chairs, no one wants to feel like they're about to topple over if they need to readjust their position or giving accidental upskirt shots).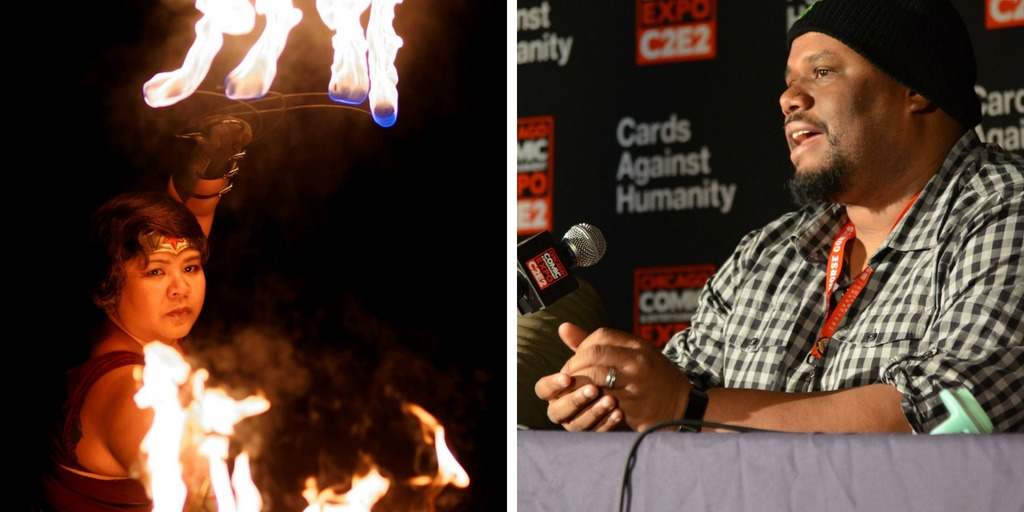 Michi Trota and Matt Peters
Lynne: What's the most unusual interview experience you've ever had, and would you be willing to repeat it?
Michi: I don't think I've really had an unusual interview (I'm counting myself extremely lucky I've never had an interview where I've been made to feel unsafe or uncomfortable). One where I was surprised, and pleasantly so, was when I was a guest on The Geek Show in Chicago. The host, my friend Aaron Amendola, knew from previous discussions that I loved Batman and had OPINIONS on the various on-screen incarnations, so he ended our interview by bringing up images of different Batmans and asking me to grade them (shocking no one, I gave Kevin Conroy's iconic animated Batman an A+). That's the kind of fun surprise I'd like to give our guests on Uncanny TV.
Matt: Jerry "The King" Lawler at Wizard World. He was one the first celebrity interviews I conducted, and he couldn't have been nicer. Now of course growing up watching this man wrestle on TV and being featured in the Andy Kaufman biopic, I was a little starstruck. Fortunately, my colleague Bill Jones, who was vastly more seasoned than me at the time, did the heavy lifting while I chimed in occasionally. I'd love the chance to speak to him again and discuss his comic illustration work.
Caroline: What are you most looking forward to about doing interviews for Uncanny TV?
Matt: It'll be great for our viewers to meet these authors and creators in an environment outside of text. Having a pro like Michi by my side will definitely make this an enjoyable experience as well!
Michi: Aside from getting to work with Matt on this project, what I'm looking forward to most is the chance to explore how people are using their love of different fandoms to inspire them in their own projects and communities, often in unexpected ways. We talk a lot about why representation matters, why having a wide ranging diversity of visions and creators is important to a healthy fandom ecosystem, and getting the opportunity to see that in action by talking to fans and creators is something I can't wait to get started on. One of the things I loved most about Anthony Bourdain as a program host was how amazing he was at getting people to open up and share their own stories — I hope we can do the same and I'm excited to share those stories with Uncanny's audience!
Uncanny Issue 23
Part Four: Uncanny TV Interviews, Coming Soon!
This part is up to you–Uncanny TV becomes reality when we hit the stretch goals for our Kickstarter: Uncanny Magazine Year Five: I Want My Uncanny TV!
Uncanny TV will be the launch of our community-based vid channel! Matt Peters & Michi Trota will host a short variety talk show, Uncanny Magazine-style: highlighting creators in SF/F working in a variety of art forms and projects, focusing on people building and nurturing their communities, particularly highlighting marginalized creators. They'll talk about topics that can be serious, but the overall tone of the show will be to celebrate the things we enjoy and the people who make our communities good places to be in SF/F.