Birthday Reviews: Martha Soukup's "Sweet Bells Jangled"
Birthday Reviews: Martha Soukup's "Sweet Bells Jangled"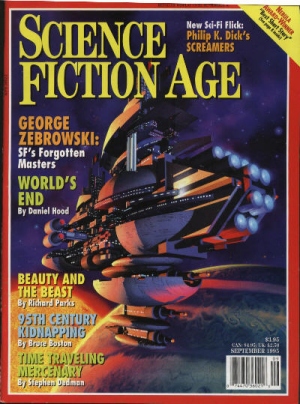 Martha Soukup was born on July 20, 1959.
Martha Soukup received the Nebula Award in 1995 for her short story "A Defense of the Social Contracts." She had been nominated for the Nebula Award four previous times. Soukup has also been nominated for the Hugo Award, the World Fantasy Award, The James Tiptree Memorial Award, and the Theodore Sturgeon Memorial Award. In 1988, she was a nominee for the John W. Campbell Award for Best New Writer.
"Sweet Bells Jangled" was published in the September 1995 issue of Science Fiction Age, edited by Scott Edelman. It has never been reprinted.
One of the most famous science fiction novels of all time is built around the concept of an earworm. In Martha Soukup's "Sweet Bells Jangled," earworms are paired with the concept of memes (which have evolved in meaning considerably since the story was published) in Laurie's mind after a shoot-the-breeze conversation with her friend Chuck, who suggests without evidence that the unintentional ability to remember song lyrics could eventually fill up a person's memory.
Although Chuck is making a joke, Laurie took the idea to heart and throughout the story, filled with random lines of song lyrics she hears each day, Laurie's ability to hear anything other than the music or, indeed, to function on any level, becomes stunted. Because she isn't able to articulate what is happening to her, and Chuck shrugs it off as part of a harmless joke, nobody is able to help her when the eventual shutdown of her brain occurs.
Soukup has an interesting premise, but the story's style, a matter of fact telling of Laurie's descent into catatonia, doesn't have the energy to fully strike the dread to present the horror of the situation.
Reviewed in its only publication in the magazine Science Fiction Age, edited by Scott Edelman, September 1993.
---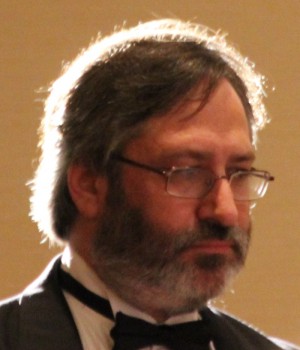 Steven H Silver is a sixteen-time Hugo Award nominee and was the publisher of the Hugo-nominated fanzine Argentus as well as the editor and publisher of ISFiC Press for 8 years. He has also edited books for DAW and NESFA Press. He began publishing short fiction in 2008 and his most recently published story is "Doing Business at Hodputt's Emporium" in Galaxy's Edge. Steven has chaired the first Midwest Construction, Windycon three times, and the SFWA Nebula Conference 6 times, as well as serving as the Event Coordinator for SFWA. He was programming chair for Chicon 2000 and Vice Chair of Chicon 7. He has been the news editor for SF Site since 2002.