Birthday Reviews: Fran Wilde's "How to Walk through Historic Graveyards in the Post-Digital Age"
Birthday Reviews: Fran Wilde's "How to Walk through Historic Graveyards in the Post-Digital Age"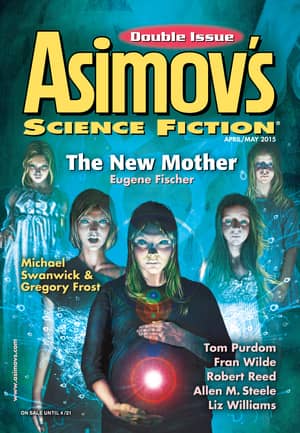 Fran Wilde was born on July 10, 1972.
Wilde won the Andre Norton Award in 2016 for her debut novel, Updraft, which was also a Nebula Nominee and a winner of the Compton Crook Stephen Tall Memorial Award. She has also been nominated for the Nebula for her novella The Jewel and Her Lapidary and the short story "Clearly Lettered in a Mostly Steady Hand," both of which were also nominated for the Hugo Award. Her story "Only Their Shining Beauty Was Left" was a nominee for the WSFA Small Press Award.
Wilde published "How to Walk Through Historic Graveyards in the Post-Digital Age" in the April 2015 issue of Asimov's Science Fiction, edited by Sheila Williams. The story has not been reprinted.
Eleanor Reed is an embedded journalist, covering a war using implants which allowed her to submit her reports directly and her viewers to see what she saw, although the feed is censored in realtime by the army. Unfortunately, she is caught in an attack and injured. While recuperating at home, she spends time walking in St. Paul's Kent Churchyard cemetery near her home in Chestertown, Maryland, with her rig seems to have developed a glitch. In addition to seeing what is there, she can apparently also see ghosts, particularly the ghost of the actress Tallulah Bankhead, who is buried in the cemetery.
However, the glitch in Eleanor's implants began long before she arrived at the cemetery. When she was in country, she saw several of the members of the company she was embedded in when they died, and saw them leave their bodies. Although she is aware of the issue and trying to figure out exactly what is happening, using the ghost of Tallulah Bankhead as a test subject, she is also concerned that her handler, Ben, will learn about the images and try to use them for his own purposes, which she never really trusts.
The combination of technology and the graveyard, which is a setting indicative of horror, creates an intriguing dichotomy, although it also means that the story never feels fully grounded in either the science fictional or fantastic worlds it is attempting to straddle. While it offers a tantalizing view of the future, it never fully gels.
Reviewed in its only publication in the magazine Asimov's Science Fiction, edited by Sheila Williams, April 2015.
---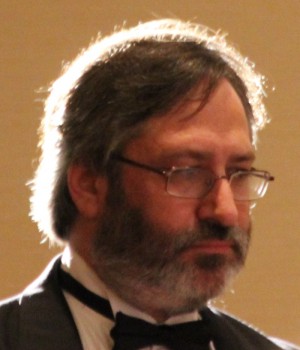 Steven H Silver is a sixteen-time Hugo Award nominee and was the publisher of the Hugo-nominated fanzine Argentus as well as the editor and publisher of ISFiC Press for 8 years. He has also edited books for DAW and NESFA Press. He began publishing short fiction in 2008 and his most recently published story is "Doing Business at Hodputt's Emporium" in Galaxy's Edge. Steven has chaired the first Midwest Construction, Windycon three times, and the SFWA Nebula Conference 6 times, as well as serving as the Event Coordinator for SFWA. He was programming chair for Chicon 2000 and Vice Chair of Chicon 7. He has been the news editor for SF Site since 2002.