Goth Chick News: Disenchantment — Your Next Netflix Obsession
Goth Chick News: Disenchantment — Your Next Netflix Obsession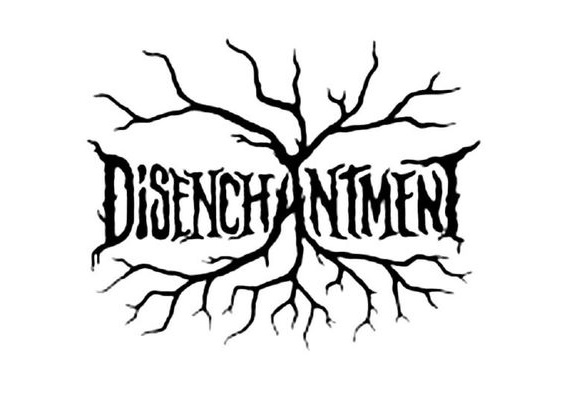 There is a demon in here, so bear with me.
Last summer, Netflix ordered twenty episodes of Disenchantment, an  animated comedy-fantasy series from the mind of The Simpsons and Futurama creator Matt Groening. If you're a fan of either show, you know how close to the line both get without stepping over what would be tolerated on commercial television. So, l invite you to let this news sink in…
It's going to be an adult-themed animated comedy-fantasy series on Netflix.
Sweet.
In Disenchantment, viewers will be whisked away to the crumbling medieval kingdom of Dreamland, where they will follow the misadventures of hard-drinking young princess Bean, her feisty elf companion Elfo, and her personal demon Luci. Along the way, the oddball trio will encounter ogres, sprites, harpies, imps, trolls, walruses, and lots of human fools.
"Ultimately," Groening told The Guardian, "'Disenchantment' will be about life and death, love and sex, and how to keep laughing in a world full of suffering and idiots, despite what the elders and wizards and other jerks tell you."
Exactly.
If you didn't already know, Groening made history in April, when The Simpsons aired its 636th episode, surpassing Gunsmoke to become the longest-running scripted primetime series in television history. The show premieres its 30th season this fall amid an ongoing debate on the political incorrectness of the character of Apu Nahasapeemapetilon, the Indian store clerk.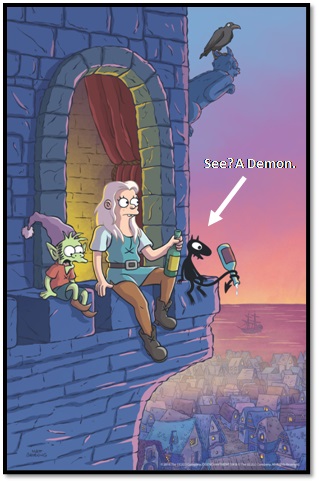 Asked about the criticism last month by USA Today, Groening replied tersely. "I'm proud of what we do on the show and I think it's a time in our culture where people love to pretend they're offended."
With that comment in mind, I'm counting down the days until the series drops on August 17th, which by the way, happens to be a Friday allowing for optimal binge-watching. In the meantime, Netflix released a teaser trailer this week which doesn't give away a lot, but still…
Check it.
What do you think? Promising or just another attempt to re-swizzle two classic shows? Post a comment or drop a line to sue@blackgate.com.