Can a Trilogy Have Six Books? The Legends of the First Empire by Michael J. Sullivan
Can a Trilogy Have Six Books? The Legends of the First Empire by Michael J. Sullivan
Every time an author wraps up a trilogy, we bake a cake at the Black Gate rooftop headquarters.
Of course, this sometimes leads to anxiety. Is the series really wrapped up? Are there going to be more books? It's not like the publisher slaps a sticker on the book saying Finito!, exactly. What if we bake a cake, and it turns out there's four more books? Won't we look stupid.
Ah, the hell with it. It's cake! We'll be forgiven. Probably. In that spirit, we were all dressed up to celebrate the arrival of Age of War, the third and (final? maybe?) book in Michael J. Sullivan's The Legends of the First Empire series, when one of Goth Chick's interns did some actual research (i.e. spent five minutes on Sullivan's website). Turns out there's a whopping six books planned for the series. Who knew?
Fortunately for those of us on staff who love cake (meaning, like, everybody), the first three books in the series will be the only ones published by Del Rey, so Age of War is an ending, of sorts. Good enough for us. Cake for everyone!
[Click the images for cake-sized versions.]
Howard Andrew Jones looked into the very heart of this 6-volume trilogy mystery back in 2016, when he interviewed Michael for a Black Gate article titled When a Trilogy Becomes a Sextuplet. Here's Michael.
Imagine planning a trip from New York to Chicago, then realizing somewhere around Akron that you're going to continue on through to Los Angles. The first problem you realize is that you don't have enough gas. The second, you didn't pack enough (you only have two pair of socks and not a single Hawaiian shirt!) and, perhaps worst of all, you don't know how to get to L.A. You never planned a route, because you hadn't imagined you'd be going beyond the Windy City.

Two options come to mind: go home and start over or keep going and try to survive off of what you find in the seat cushions. This brings me to the point of this article: when writing, leave hooks… What this means is that I add things that could be reused. I write something that could go somewhere, a character, an item, a place that is brushed by and mentioned with interest but not deeply explored. Then, later, when I need to hook the story back around to weave it tighter, I remember those loose threads, and tie them up. (In the cross-country driving metaphor, it's the quarters and dimes left in the armrest and under the seats that can be used to pay for gas. Keep in mind, I'm old enough to remember when this was literarily possible.)

With my first series, The Riyria Revelations, I tied up almost all my threads. I wanted it to have a clean ending, still I purposely left a couple of intriguing threads, or 'hooks', available. Backdoors where I could pass through in the future if needed. I did the same with the first three books of Legends of the First Empire. In other words, on that trip from NYC to Chicago, I over-packed.
According to Sullivan's website, the rough release schedule for his new series is as follows:
Age of Myth — June 28, 2016 (Del Rey)
Age of Swords — July 25, 2017 (Del Rey)
Age of War — July 3, 2018 (Del Rey)
Age of Legend — April 2019
Age of Agony — November 2019
Age of Empire — June 2020
Michael shares more details on his website.
LEGENDS OF THE FIRST EMPIRE

As mentioned, this series is completely separate from my other books, and no prior knowledge of Riyria is necessary to enjoy Legends. For those who do read both, they'll find many Easter eggs related to the truth behind historical figures. After all, history is written by the victors and they dictate what future generations will remember about their exploits.

Like Revelations, all six books of The Legends of the First Empire were written before the first book was published… Taking the time to rework the end of the series facilitated the need for a one year gap between book #1 (Age of Myth – June 2016) and book #2 (Age of Swords – July 2017). Also there is a necessity of changing publishers between book #3 and #4 (Del Rey wasn't able to sign another contract for the remaining of the series because I had pre-sold the audio rights, and their new corporate policy is if the audio rights are unavailable, they can't make an offer).
I'm not aware if the publisher for the last three books in the series has been announced. However, our interns are on the case, and when they know more, so will you.
Age of Myth and Age of Swords are both available in paperback. Here's the back cover for both.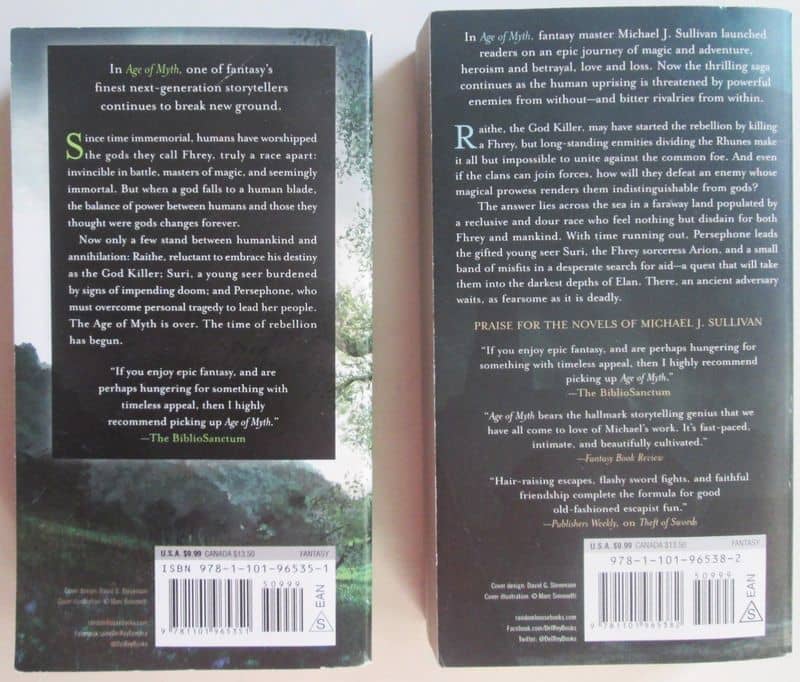 Our previous coverage of Michael J. Sullivan includes:
Future Treasures: Age of Myth
John DeNardo on Your Best Bets for Science Fiction, Fantasy and Horror in July (2017)
When a Trilogy Becomes a Sextuplet by Michael J. Sullivan
See all our recent coverage of Series Fantasy here.