Future Treasures: A Big Ship at the Edge of the Universe by Alex White
Future Treasures: A Big Ship at the Edge of the Universe by Alex White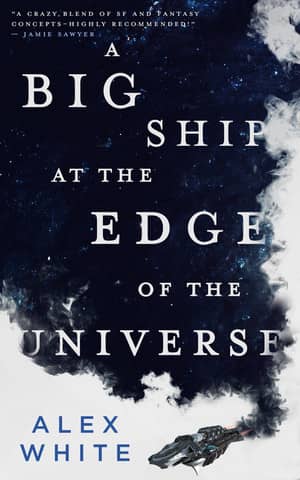 Alex White is the author of the ghostly mystery Every Mountain Made Low (Solaris, 2016) and Alien: The Cold Forge (Titan, 2018). His latest is a space opera romp that sounds like it might appeal to the role players in the audience. Publishers Weekly called it,
An entertaining throwback with some fun worldbuilding and two great lead characters. In the distant future, well after space has been colonized, almost all humans have magic powers, conveniently divided into RPG-like classes (machinists are great with tech, fatalists are perfect shots, etc.)
Here's the description.
Furious and fun, the first book in this bold, new science fiction adventure series follows a crew of outcasts as they try to find a legendary ship that just might be the key to saving themselves — and the universe.

Boots Elsworth was a famous treasure hunter in another life, but now she's washed up. She makes her meager living faking salvage legends and selling them to the highest bidder, but this time she got something real — the story of the Harrow, a famous warship, capable of untold destruction.

Nilah Brio is the top driver in the Pan Galactic Racing Federation and the darling of the racing world — until she witnesses Mother murder a fellow racer. Framed for the murder and on the hunt to clear her name, Nilah has only one lead: the killer also hunts Boots.

On the wrong side of the law, the two women board a smuggler's ship that will take them on a quest for fame, for riches, and for justice.
A Big Ship at the Edge of the Universe is Book 1 of The Salvagers series. Book 2, A Bad Deal For the Whole Galaxy, has already been announced; it arrives on December 11th, 2018. Book 3 will be titled The Worst of All Possible Worlds.
A Big Ship at the Edge of the Universe will be published by Orbit on June 26, 2018. It is 480 pages, priced at $15.99 in trade paperback and $9.99 for the digital edition. Read Chapter One at Quiet Earth.