Birthday Reviews: James P. Killus's "Flower of the Void"
Birthday Reviews: James P. Killus's "Flower of the Void"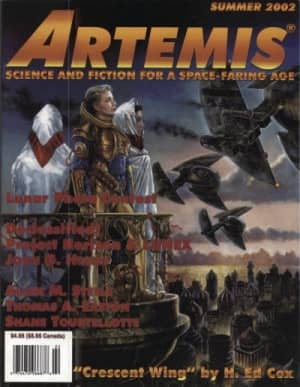 James P. Killus was born on June 1, 1950 and died on September 23, 2008.
Killus is a chemist who began publishing science fiction in 1981 with "Son of ETAOIN SHRDLU," written with Sharon N. Farber, Susanna Jacobson, and Dave Stout. He went on to write nearly two dozen stories, most of them hard science fiction, and published the novels Book of Shadows and Sunsmoke in the mid 1980s.
Killus sold "Flower of the Void" to Ian Randal Strock for publication in issue 7 of Artemis, which appeared in Summer of 2002. The story has not been reprinted.
"Flower of the Void" pushes the definition of a story. It has no real plot or characters, instead focusing on the process by which a space probe that starts out as nanomachines is launched and completes its mission to Eridani Epsilon.
The story is entirely devoid of any emotion, presenting an analytical view of millions of nanoprobes which are launched from the moon and try to make their way through the solar system, with fewer and fewer succeeding even as the probes use atoms they encounter in their travels to expand upon themselves and permit themselves to continue to carry on their mission.
One of the things the story does make clear is that space exploration is a long, slow process, often ending with a very brief period of productivity. Killus's flowers travel for more than a century, only to spend two months in the star system that was its target. This can be compared to the current New Horizons mission, which spent a decade traveling from Earth to Pluto, only to spend a few hours traversing that system (and will similarly have a limited time during its flyby of 2014 MU69 on January 1, 2019). However, limited time in system doesn't equate to inability to provide massive amounts of data.
Reviewed in its only publication in the magazine Artemis #7, edited by Ian Randal Strock, Summer 2002.
---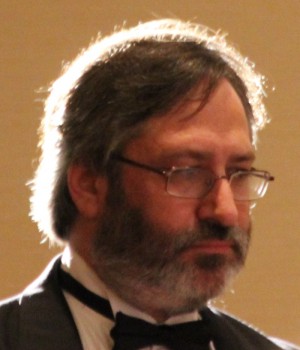 Steven H Silver is a sixteen-time Hugo Award nominee and was the publisher of the Hugo-nominated fanzine Argentus as well as the editor and publisher of ISFiC Press for 8 years. He has also edited books for DAW and NESFA Press. He began publishing short fiction in 2008 and his most recently published story is "Doing Business at Hodputt's Emporium" in Galaxy's Edge. Steven has chaired the first Midwest Construction, Windycon three times, and the SFWA Nebula Conference 6 times, as well as serving as the Event Coordinator for SFWA. He was programming chair for Chicon 2000 and Vice Chair of Chicon 7. He has been the news editor for SF Site since 2002.