Future Treasures: The Freeze-Frame Revolution by Peter Watts
Future Treasures: The Freeze-Frame Revolution by Peter Watts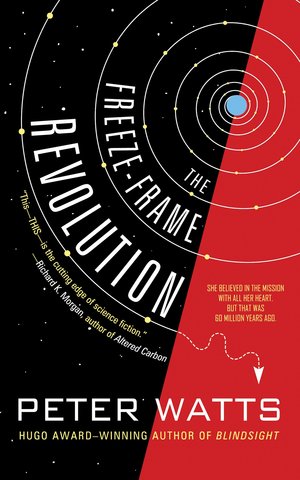 Peter Watts is the author of the Rifters Trilogy, which Matthew David Surridge reviewed for us here, the Hugo and Locus Award-nominated Blindsight (2006), which Rich Horton called "Brilliant," and the collection Beyond the Rift (2013).
His short fiction Sunflower Cycle kicked off in 2009 with the Hugo Award-winning "The Island." There have been three tales in the series so far; you can read them all at Watts' website. The fourth, the long novella The Freeze-Frame Revolution, arrives from Tachyon early next month.
"The Island" (The New Space Opera 2, July 2009) — Hugo Award Winner, Best Novelette
"Giants" (Extreme Planets, December 2013)
"Hotshot" (Reach for Infinity, May 2014)
The Freeze-Frame Revolution (Tachyon Publications, June 2018)
Publisher's Weekly raved about the book, saying:
In this short, tight novel that contains vast science-fictional speculation, the human crew of the construction ship Eriophora spends 66 million years building interstellar wormhole gates, so they have lots of time to ponder issues of purpose. Sunday Ahzmundin, on a quest to find a missing crewmate, has to deal with another coworker, Lian, who is traumatized after the ship is damaged by one of the "occasional demons" that pop out of newly opened gates. Dropping in and out of suspended animation as scheduled by the Chimp, the AI that runs the ship, Sunday begins to uncover the secrets behind Lian's subsequent death and the disappearances of other crew members, learning what hides beneath the ship's closed and rigidly structured society… SF fans will love this tale of bizarre future employment and genuine wonder.
Here's the description.
She believed in the mission with all her heart. But that was sixty million years ago. How do you stage a mutiny when you're only awake one day in a million? How do you conspire when your tiny handful of potential allies changes with each shift? How do you engage an enemy that never sleeps, that sees through your eyes and hears through your ears and relentlessly, honestly, only wants what's best for you? Sunday Ahzmundin is about to find out.
The Freeze-Frame Revolution will be published by Tachyon Publications on June 12, 2018. It is 192 pages, priced at $14.95 in trade paperback and $7.99 for the digital edition. Order copies directly from the Taychon website.