Future Treasures: The Traitor God by Cameron Johnston
Future Treasures: The Traitor God by Cameron Johnston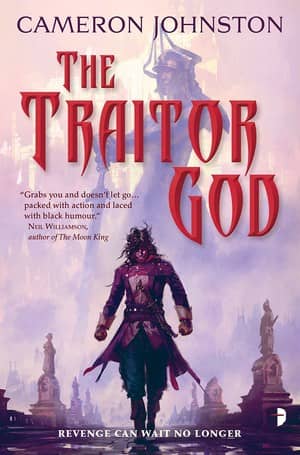 Cameron Johnston has published short fiction in The Lovecraft eZine, A Fistful of Horrors: Tales of Terror from the Old West (2012), Up and Coming: Stories by the 2016 Campbell-Eligible Authors (2016), and other fine places.
His debut novel is an epic fantasy featuring gods, daemons, and very dark sorcery. Gavin G Smith (Age of Scorpio) calls it "one part street-level procedural and two parts urban magic apocalypse," and Neil Williamson (The Moon King) says, "The Traitor God grabs you and doesn't let go. Facing Gods, monsters, and a magic elite that wants him dead, Edrin Walker's return to Setharis is a noirish romp packed with action and laced with black humour." It arrives in trade paperback from Angry Robot next month.
A city threatened by unimaginable horrors must trust their most hated outcast, or lose everything, in this crushing epic fantasy debut.

After ten years on the run, dodging daemons and debt, reviled magician Edrin Walker returns home to avenge the brutal murder of his friend. Lynas had uncovered a terrible secret, something that threatened to devour the entire city. He tried to warn the Arcanum, the sorcerers who rule the city.

He failed. Lynas was skinned alive and Walker felt every cut. Now nothing will stop him from finding the murderer. Magi, mortals, daemons, and even the gods – Walker will burn them all if he has to.

After all, it wouldn't be the first time he's killed a god…
The Traitor God will be published by Angry Robot on June 5, 2018. It is 432 pages, priced at $12.99 in trade paperback and $9.99 for the digital edition. The cover is by Jan Weßbecher.
See all our recent Future Treasures here.