Birthday Reviews: Lloyd Biggle, Jr.'s "Gypped"
Birthday Reviews: Lloyd Biggle, Jr.'s "Gypped"
Cover by Jack Coggins
Lloyd Biggle, Jr. was born on April 17, 1923 and he died on September 12, 2002.
Biggle was nominated for the Hugo Award for his short story "Monument" and for the William Atheling, Jr. Award for Criticism or Review for his essay "The Morasses of Academe Revisited." He was a musician and oral historian and helped found and run the Science Fiction Oral History Association. He was also the founding treasurer of the Science Fiction Writers of America.
His first published short story was "Gypped," which was bought by H.L. Gold and published in the July 1956 issue of Galaxy Science Fiction. It was translated into French for an appearance in the French edition of the magazine the following year. Its only other appearance was in the anthology Science Fiction for the Throne: One-Sitting Reads, edited by Tom Easton and Judith K. Dial.
"Gypped" is the story of a bureaucrat assigned a desk in a distant backwater. Occasionally he has to deal with strange cultural requests and in order to make his life easier, he sends people on wild goose chases covering many light years, figuring that if they ever returned, he could deal with the situation then. In the meantime, he continues his work reasonably uninterrupted and amuses himself by thinking of the places he's sent people.
The story is a tall tale with the oddest coincidences and results from the bureaucrat's attempts to get out of work, eventually coming together to benefit the galaxy as a whole and seeing nearly everyone involved in the discovery rewarded. "Gypped" is a wry tale that leaves a smile on the reader's face, although it isn't much more than a light-hearted story.
Reprint reviewed in the anthology Science Fiction for the Throne, edited by Tom Easton and Judith K. Dial, Fantastic Books, 2017.
---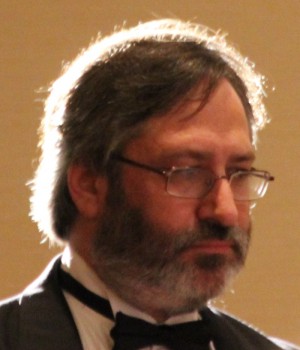 Steven H Silver is a sixteen-time Hugo Award nominee and was the publisher of the Hugo-nominated fanzine Argentus as well as the editor and publisher of ISFiC Press for 8 years. He has also edited books for DAW and NESFA Press. He began publishing short fiction in 2008 and his most recently published story is "Doing Busines at Hodputt's Emporium" in Galaxy's Edge. Steven has chaired the first Midwest Construction, Windycon three times, and the SFWA Nebula Conference 5 times, as well as serving as the Event Coordinator for SFWA. He was programming chair for Chicon 2000 and Vice Chair of Chicon 7. He has been the news editor for SF Site since 2002.