When Folk Art Makes You Go "WTF?"
When Folk Art Makes You Go "WTF?"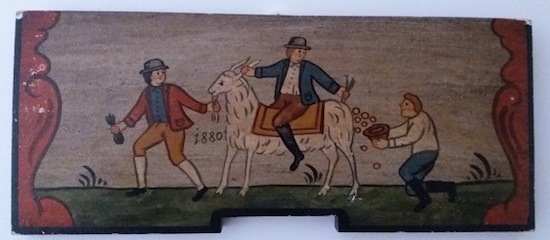 Yes, I just shared a painting of a goat pooping out gold on Black Gate. That's OK because it's, you know, art.
This is hanging on my brother-in-law's wall here in Madrid. It belonged to my late father-in-law, Paco Piñuela, a prominent artist in the Seventies and Eighties. When he wasn't painting, he was rummaging through Madrid's great antiques/flea market, the Rastro. Thus we ended up with lots of random things in the family, including this odd piece.
I had never heard of a gold-pooping goat, and besides the date on the panel there's no other information about this piece. So I decided to Google "gold pooping goat" and see what I got. I like to live dangerously.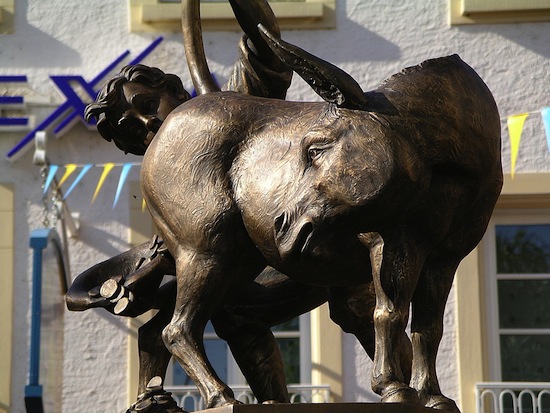 Oddly, I didn't find any results for a goat, but I found plenty for donkeys. The first and most famous is a story in Grimm's Fairy Tales called "Table-Be-Set, Gold-Donkey, and Cudgel-out-of-the-Sack". I won't spoil the story, you can read it here. Basically one of the main miracles in the story is a donkey that, "If you set him on a cloth and say 'Bricklebrit,' the good animal will spew forth gold pieces for you from back and front."
There are three sons in the story, and there are three figures on the panel, and they do look more like they're from Germany or the Low Countries than Spain. But the animal is clearly a goat, with a beard, cloven hooves, and a long white coat.
The story was a popular one, and there's a statue to the donkey in Diekirch, Luxembourg, pictured above, as well as a statue in the Efteling theme park in the Netherlands that will actually poop out a coin for you. There's even a YouTube video of it in action.
I also found that the gold-pooping donkey is part of Persian folklore. There's a tale of the holy fool Mullah Nasruddin in which our hero tricks a prince into buying a worthless donkey by claiming it ejects gold pieces. He gives a demonstration by shoving a gold piece up the donkey and feeding it a sugar cube. When the sugar makes the donkey fart, out comes the gold piece.
Once again, plenty of donkeys but no goat. I think folklore is trying to make an ass out of me.
So the mystery of the gold-pooping goat remains. Does anyone know of said goat, and could they please send me a sample of his productivity?
Top image copyright Sean McLachlan. Second image courtesy user Meffo via Wikimedia Commons.

---
Sean McLachlan is the author of the historical fantasy novel A Fine Likeness, set in Civil War Missouri, and several other titles. Find out more about him on his blog and Amazon author's page. His latest book, The Case of the Purloined Pyramid, is a neo-pulp detective novel set in Cairo in 1919.