When Folk Art Makes You Go "WTF?"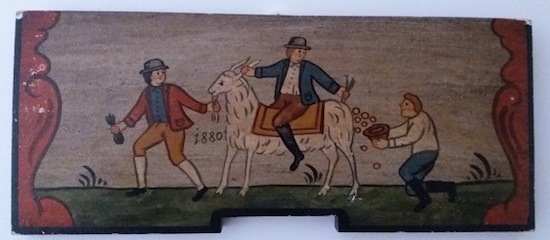 Yes, I just shared a painting of a goat pooping out gold on Black Gate. That's OK because it's, you know, art.
This is hanging on my brother-in-law's wall here in Madrid. It belonged to my late father-in-law, Paco Piñuela, a prominent artist in the Seventies and Eighties. When he wasn't painting, he was rummaging through Madrid's great antiques/flea market, the Rastro. Thus we ended up with lots of random things in the family, including this odd piece.
I had never heard of a gold-pooping goat, and besides the date on the panel there's no other information about this piece. So I decided to Google "gold pooping goat" and see what I got. I like to live dangerously.