Birthday Reviews: James Patrick Kelly's "Rat"
Birthday Reviews: James Patrick Kelly's "Rat"
Cover by Michael Garland
James Patrick Kelly was born on April 11, 1951.
Although Kelly has published the novels Wildlife and Look Into the Sun, the majority of his fiction has been at shorter lengths, including the stories "Bernardo's House," "Mr. Boy," and "One Sister, Two Sisters, Three." In addition to his own novels and short stories, Kelly has edited several anthologies with John Kessel, and has collaborated with Kessel, Jonathan Lethem, Robert Frazier, and Mike Resnick on stories and poems.
Kelly won the Hugo Award for his novelettes "Think Like a Dinosaur" and "1016 to 1." His novella Burn won the Nebula Award as well as the Italia Award. His works have also been nominated for the Seiun Award, the Gaylactic Spectrum Award, the James Tiptree, Jr. Award, and the Theodore Sturgeon Memorial Award. He is the author most published in Asimov's Science Fiction Magazine, with both fiction and a regular column appearing in the magazine.
"Rat" was originally published in the June 1986 issue of The Magazine of Fantasy and Science Fiction, edited by Edward L. Ferman. It received a Nebula Award nomination for Best Short Story and was picked up by Orson Scott Card for the anthology Future on Fire and by Ursula K. Le Guin and Brian Attebery for The Norton Book of Science Fiction: North American Science Fiction, 1960-1990. Card reprinted it again in Masterpieces: The Best Science Fiction of the Century and Kelly included it in his collection Think Like a Dinosaur and Other Stories. When F&SF's new editor, Gordon van Gelder, edited The Very Best of Fantasy & Science Fiction, Volume 2, he selected the story to be in the table of contents. The first two times the story was reprinted, it was translated into German for an appearance in Wolfgang Jeschke's L wie Liquidator and French for Scott Baker's Ombers portées.
"Rat" is the story of a drug smuggler planning on betraying his boss, who has attached a goon to escort him, and a fed who is following him. His flight takes him from a high speed train through the streets of New York as it experiences the most chaotic social unrest since the 1970s, to his home in "the Bunker," a secure building used for UN diplomats prior to the dissolution of that organization. Kelly's New York is a dark and dangerous place, with streets inundated with "the dead," packs of dust-addled addicts, making Rat's own clientele the biggest impediment to making the score he desires.
There is an ambiguity to the story and it isn't entirely clear who Rat is. Intelligent and erudite, Rat would appear to be a descriptor as well as a name. He describes himself as furry and 26 inches long with a tail. He scrabbles on four feet, yet at the same time, he can work his way through customs, wrangle a cab, and be mistaken for the father of an apparent teenaged girl. While Kelly appears not to be interested in the details of Rat's character, that very lack of detail make the question interesting for the reader.
Reprint reviewed in the collection Think Like a Dinosaur and Other Stories, by James Patrick Kelly, Golden Gryphon Press, 1997.
---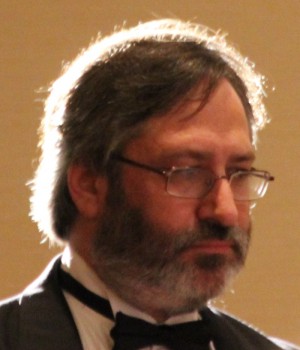 Steven H Silver is a sixteen-time Hugo Award nominee and was the publisher of the Hugo-nominated fanzine Argentus as well as the editor and publisher of ISFiC Press for 8 years. He has also edited books for DAW and NESFA Press. He began publishing short fiction in 2008 and his most recently published story is "Doing Busines at Hodputt's Emporium" in Galaxy's Edge. Steven has chaired the first Midwest Construction, Windycon three times, and the SFWA Nebula Conference 5 times, as well as serving as the Event Coordinator for SFWA. He was programming chair for Chicon 2000 and Vice Chair of Chicon 7. He has been the news editor for SF Site since 2002.