Birthday Reviews: Barrington J. Bayley's "The Way into the Wendy House"
Birthday Reviews: Barrington J. Bayley's "The Way into the Wendy House"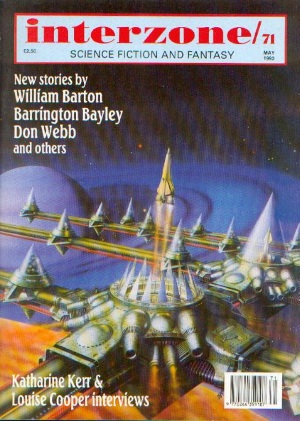 Barrington J. Bayley was born on April 9, 1937 and died on October 14, 2008. He often collaborated with Michael Moorcock, and the two variously used the names James Colvin and Michael Barrington for their joint projects. He also used the solo pseudonyms John Diamond, P.F. Woods, and Alan Aumbry.
Bayley won the 1996 BASFA Award for Short Fiction for "A Crab Must Try." He won the Seiun Award for Best Translated Long Story for Collision Course, The Zen Gun, and The Garments of Caean. The Zen Gun was also a Philip K. Dick nominee. His story "Tommy Atkins" was also nominated for the BSFA Award.
"The Way into the Wendy House" appeared in the May 1993 issue of Interzone, whole number 71, edited by David Pringle and Lee Montgomerie. It has not been reprinted. The story is not only an example of recursive science fiction, but also incorporates Bayley as a character in his own right.
The narrator of "The Way into the Wendy House" is a snob who sits in a pub and reads science fiction novels, imaging himself more intelligent than the boors who inhabit the out-of-the-way village of Donnington. Against his will, he is drawn into conversation with Alan. Alan turns out to be highly educated, although the narrator can't understand why Alan would not only want to live in the village, but revel in conversing with those the narrator feels are beneath him.
The narrator is able to regain his sense of superiority over Alan when he learns that Alan believes in the possibility of ghosts, claiming that not only do traditional ghosts congregate in the out-of-the-way pub when it is mostly empty, but that the lawn bowling club next door is home to a large number of potential ghosts, the ghosts of those people whose DNA will never be achieved throughout the history of the human race.
Bayley presents an intriguing concept and does so in a manner which draws the reader in, despite the unpleasantness of the narrator. "The Way to the Wendy House" is a fun story, offering up some surprises, but never taking itself too seriously.
Reviewed in its only publication in Interzone #71, edited by David Pringle and Lee Montgomerie, May 1993.
---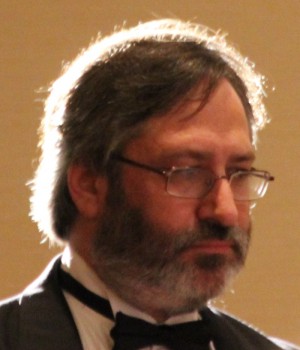 Steven H Silver is a sixteen-time Hugo Award nominee and was the publisher of the Hugo-nominated fanzine Argentus as well as the editor and publisher of ISFiC Press for 8 years. He has also edited books for DAW and NESFA Press. He began publishing short fiction in 2008 and his most recently published story is "Doing Busines at Hodputt's Emporium" in Galaxy's Edge. Steven has chaired the first Midwest Construction, Windycon three times, and the SFWA Nebula Conference 5 times, as well as serving as the Event Coordinator for SFWA. He was programming chair for Chicon 2000 and Vice Chair of Chicon 7. He has been the news editor for SF Site since 2002.