Vintage Treasures: The Masters of Solitude by Marvin Kaye and Parke Godwin
Vintage Treasures: The Masters of Solitude by Marvin Kaye and Parke Godwin
Marvin Kaye and Parke Godwin made a powerful combination in 1978. Kaye already had a growing reputation as an anthologist, with Fiends and Creatures (Popular Library, 1974) and Brother Theodore's Chamber of Horrors (Pinnacle, 1974) under his belt; he would produce dozens more over the next 30 years, including Ghosts – A Treasury of Chilling Tales Old and New (Doubleday, 1981), Weird Tales, The Magazine That Never Dies (Doubleday, 1988), and The Fair Folk (Science Fiction Book Club, 2005). Parke Godwin was already an established novelist, with Darker Places (1973) and A Memory of Lions (1976); he would go on to win a World Fantasy Award for his 1981 novella "The Fire When It Comes," and gained lasting recognition for his Firelord trilogy (the opening novel of which was also a World Fantasy Award nominee) and his Robin Hood novels Sherwood (1991) and Robin and the King (1993).
Their collaborative novel The Masters of Solitude was serialized in Galileo magazine in 1977/78, and published in hardcover by Doubleday in 1978. A postapocalyptic tale of two disparate cultures that are all that remains of humanity after a "great devastation," it drew comparisons to Tolkien. It has been out of print since the 1985 Bantam paperback (above), but has a surprising 166 ratings on Goodreads, and some lively reviews.
[Click the images for bright post-apocalyptic versions.]
Galileo magazine, issue #5 (October, 1977). Cover by Carl Lundgren
There's a nice summary (with a 5-star rating) at Goodreads by Shireen McQuade.
A very absorbing science fiction/fantasy involving a world changed by an unidentified catastrophic event, leaving people to create their own societies. On such society has developed extra sensory perception so that they not only communicate telepathically but can also feel another's feelings, joy, pain, etc. The implication of such perceptions on human behavior is beautifully explored.
And here's a snippet from a more detailed review by Marko_cibej.
On one side are the Coven, tribal, telepathic, in tune with their world and themselves. Masters are the powerful among them, those who have learned self-discipline and honed their command of telepathy. Their religion is a combination of nature spirits and Celtic fire festivals, but mainly a celebration of life itself. On thing this that this telepathic people can hardly conceive of is true solitude.

On the other side is the City, an closed enclave of pure science which labours to find the nature of God in the laws of nature. Its citizens thrive on solitude, having even invented an ultra-efficient mathematical language that permits them to communicate without the baggage of social and emotional interaction.

The third, hidden side is a community that clings to the old monotheistic religion, the Kriss, worshipers of a dead god. It is a distillation of all the fears, hatreds, bigotry and unmitigated genocidal nastiness that is the birthright of fundamentalist religions.
Here's the inside flap of the Bantam edition.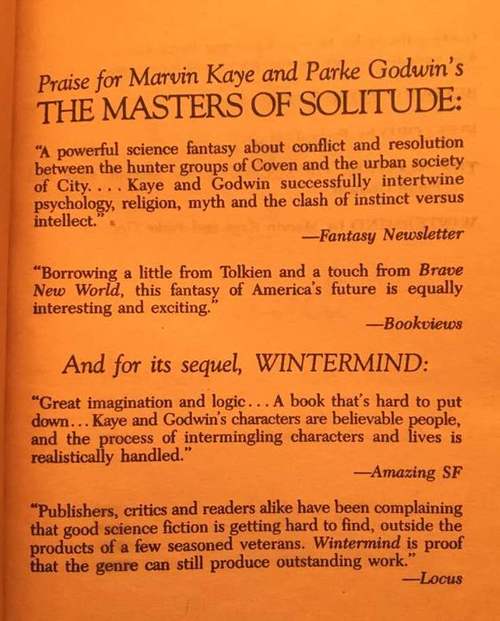 And here are the covers of the first paperback editions, from Avon (1979, artist unknown), the first UK edition by Magnum (1979, cover by Gino D'Achille), and the UK reprint by Orbit / Futura (1986, artist unknown).
The back cover of the Bantam edition loudly proclaimed the book was part of a planned trilogy.
The first volume of a projected trilogy that continues with Wintermind, The Masters of Solitude of a modern science fiction classic, an epic saga of humanity's struggle to prevail.
Indeed, Wintermind was published four years later, in 1982; Locus called it "outstanding."
Wintermind (Bantam, 1984, cover by John Harris)
Sadly, that was the last one. The third and final novel in the series, Singer Among the Nightingales, remained unpublished when Godwin died in 2013.
Kaye and Godwin did publish one additional collaboration, the novel A Cold Blue Light (Berkley Books, 1983). It's often confused as part of this series, but it is unrelated.
The Masters of Solitude was published in hardcover by Doubleday in July 1978, and reprinted by Bantam Books in January 1985. It is 401 pages, priced at $3.50 in paperback. The cover was by Enric. It has been out of print since 1985, and there is no digital edition.
See all of our recent Vintage Treasures here.