Birthday Reviews: Pamela Sargent's "Broken Hoop"
Birthday Reviews: Pamela Sargent's "Broken Hoop"
Cover by Malcolm MacNeill
Pamela Sargent was born on March 20, 1948. Sargent edited the Women of Wonder anthologies, which explore the work of women science fiction authors. She has also edited three Nebula award anthologies. Her own fiction includes the Venus trilogy, the Seed trilogy, and the Watchstar trilogy. Stand alone novels include Climb the Wind, Ruler of the Sky, and The Shore of Women. She has co-written Star Trek novels with her husband, George Zebrowski.
Pamela Sargent's story "Danny Goes to Mars" received the Nebula Award for Best Novelette and was also nominated for the Hugo Award and Theodore Sturgeon Memorial Award. Her novel Climb the Wind was nominated for the Sidewise Award and she was long listed for the James Tiptree Jr. Memorial Award twice. In 2000, she and Zebrowski received the Service to SFWA Award and in 2012, she received a lifetime Pilgrim Award from the Science Fiction Research Association.
"The Broken Hoop" first appeared in Rod Serling's The Twilight Zone Magazine in its June 1982 issue, edited by T.E.D. Klein. Josh Pachter selected it for his 1985 British anthology Top Fantasy and Pamela Sargent included the story in two of her collections, The Best of Pamela Sargent and Eye of Flame.
[Click for bigger images.]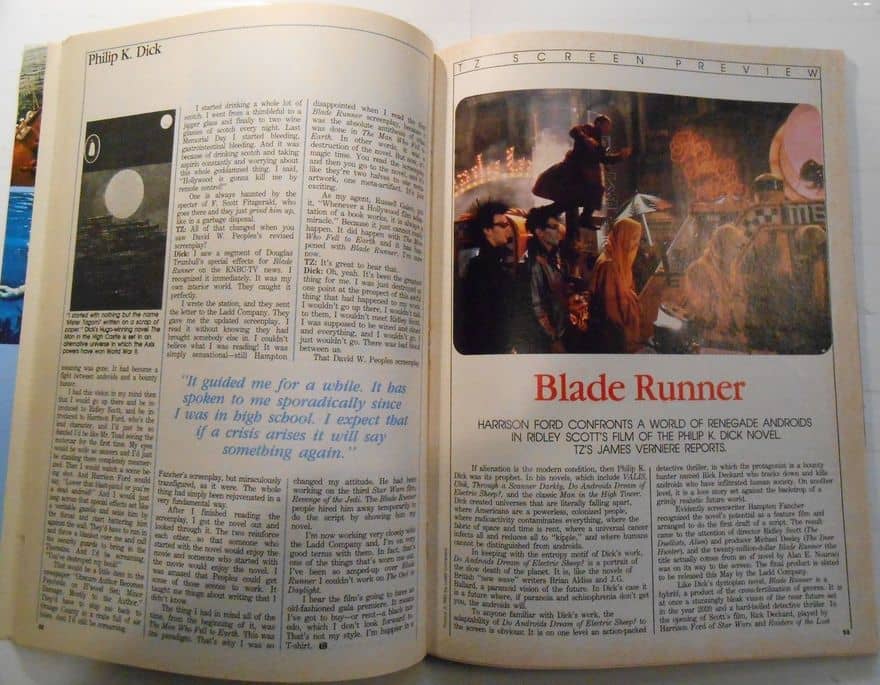 Blade Runner spread in Twilight Zone, June 1982
Although an Indian, Catherine LeMaître was raised by French Canadians in Montreal, learning to despise her people from a French teacher, but learning the ways of her people from a servant. Her travels, first with a patent medicine salesman and later with a priest, bring her into contact with people from around the country, eventually settling in a small village in the Dakotas near a population of Indians. Although LeMaître doesn't view herself as an Indian, she can't control the way the Europeans or the Indians view her.
LeMaître looks down on the Indians, and she works to teach their children how to be like Europeans, although the exigencies of their lives mean that school is a luxury for most of them. When Little Deer, one of the local Indians, begins to take an interest in her and teach her the ways of the local tribes, LeMaître puts him off, unwilling to admit that she has anything in common with then non-Europeanized Indians, even as he describes a better world that she has had her own glimpses into.
"The Broken Hoop" raises interesting questions about how culture and genetics could potentially be linked to each other, although since LeMaître is from a different Indian background than the Lakotans who she is working with and who want to help her find a better world, Sargent undermines her own argument.
Reprint reviewed in  the collection Eye of Flame, by Pamela Sargent, Five Star Books, 2003.
---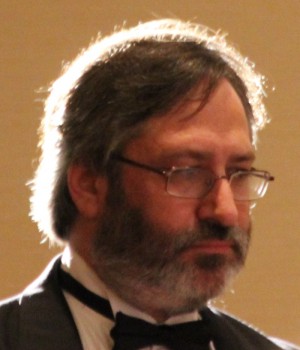 Steven H Silver is a fifteen-time Hugo Award nominee and was the publisher of the Hugo-nominated fanzine Argentus as well as the editor and publisher of ISFiC Press for 8 years. He has also edited books for DAW and NESFA Press. He began publishing short fiction in 2008 and his most recently published story is "Big White Men—Attack!" in Little Green Men—Attack! Steven has chaired the first Midwest Construction, Windycon three times, and the SFWA Nebula Conference 5 times, as well as serving as the Event Coordinator for SFWA. He was programming chair for Chicon 2000 and Vice Chair of Chicon 7. He has been the news editor for SF Site since 2002.