Birthday Reviews: Rosel George Brown's "David's Daddy"
Birthday Reviews: Rosel George Brown's "David's Daddy"
Cover by Burt Shonberg
Rosel George Brown was born on March 15, 1926 and died on November 26, 1967. She participated in the Milford Writers Workshop and in 1959 was nominated for a Hugo for Best New Author (losing to No Award; Brian W. Aldiss and Kit Reed were also nominated that year!)
Brown wrote the novel Galactic Sibyl Sue Blue and a sequel that was published posthumously. She also collaborated with Keith Laumer on Earthblood. Many of her short stories were collected in A Handful of Time.
"David's Daddy" was originally published in Fantastic Science Fiction Stories in the June 1960 issued, edited by Cele Goldsmith. Judith Merril included the story in The 6th Annual of the Year's Best SF and Ellen Datlow reprinted it in Sci Fiction on July 2, 2003.
In many ways "David's Daddy" is a sadly prescient story. It is set in an elementary school where Lillian is a new teacher, learning the ropes from Miss Fremen, who has been there for twenty years. In the process of sharing tips, Miss Fremen also mentions that one of her students, Jerome, seems to have a strange sort of mental telepathy.
When she notices someone walking near the school who appears drunk, Lillian is concerned. When the man enters her classroom and tries to pull his son David out of class, she knows something is wrong, but not what. Lillian finally realizes that Jerome's mind reading could be useful, and she stalls the man because she is concerned that David might be in danger.
Although the story predicts school carnage, it seems very naïve in light of the current wave of mass shootings. Schools are wide open, with David's father being able to simply walk into his son's class without going through security or even checking his son out at a main office. Brown is not interested in exploring David's daddy's motives for trying to carry out his destructive act.
Reviewed in  its original publication in Fantastic Science Fiction Stories, edited by Cele Goldsmith, June 1960.
---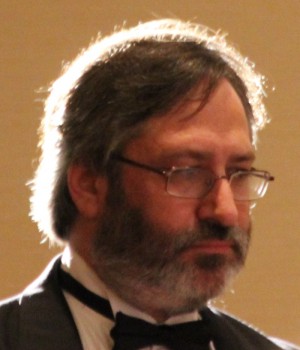 Steven H Silver is a fifteen-time Hugo Award nominee and was the publisher of the Hugo-nominated fanzine Argentus as well as the editor and publisher of ISFiC Press for 8 years. He has also edited books for DAW and NESFA Press. He began publishing short fiction in 2008 and his most recently published story is "Big White Men—Attack!" in Little Green Men—Attack! Steven has chaired the first Midwest Construction, Windycon three times, and the SFWA Nebula Conference 5 times, as well as serving as the Event Coordinator for SFWA. He was programming chair for Chicon 2000 and Vice Chair of Chicon 7. He has been the news editor for SF Site since 2002.