Birthday Reviews: Alastair Reynolds's "A Spy in Europa"
Birthday Reviews: Alastair Reynolds's "A Spy in Europa"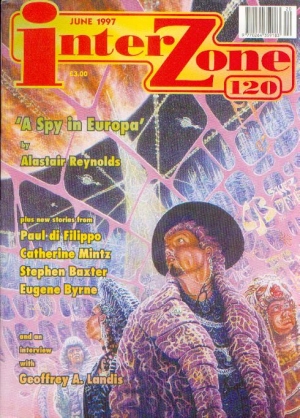 Alastair Reynolds was born on March 13, 1966.
Reynolds has won the British SF Association Award for his novel Chasm City, the Seiun Award for a translation of his short story "Weather" and the Sidewise Award for his short story "The Fixation." His various works have been nominated for the Italia Award, addition Seiun and BSFA nominations, the Philip K. Dick Award, John W. Campbell Memorial Award, the British Fantasy Award, the Arthur C. Clarke Award, and the Hugo Award. His novella Diamond Dogs was adapted as a play by Althos Low at the Chopin Theatre in Chicago.
"A Spy in Europa" was originally published in issue #120 of Interzone, edited by David Pringle, in June 1997. Gardner Dozois reprinted the story the next year in The Year's Best Science Fiction: Fifteenth Annual Collection and Reynolds included it in his 2006 collection Galactic North. Part of the Revelation Space series, the story was translated into Japanese in 1997.
Marius Vargovic is the titular agent in "A Spy in Europa." With the four Galilean moons divided between two political entities, the Demarchy on Europa and Io and Gilgamesh Isis on Ganymede and Callisto, Vargovic is being sent to Callisto because a sleeper agent, Cholok, has become active and has information that he needs to retrieve.
Vargovic's exact mission is never fully laid out, but it involves getting information from Cholok about a method of undermining the floating cities of Europa, and undergoing surgery to alter his body to allow him to breathe underwater, part of the cover he has given to the local authorities.
Europa is a world of bioengineering, and one of the subspecies are the Denizens, created for slave labor and now banished to portions of the Europan sea near heated vents. Little is known about the Denizens and Vargovic tries to supplement his mission by finding out about them, a goal made easier when his rendezvous point is changed and he finds himself chased by Europan agents until he is rescued by the Denizens.
The story looks at the use of sleeper agents whose identities are so well hidden that they and the people they work for can't entirely be tracked. Furthermore, there is the question of spies who aren't aware that they are spies, or at least not whom they are working for. In a short page count, Reynolds manages to incorporate several twists which play into the larger universe of his novels.
Reviewed in  its original publication in Interzone 120, edited by David Pringle, June 1997.
---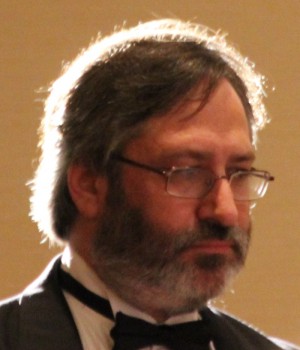 Steven H Silver is a fifteen-time Hugo Award nominee and was the publisher of the Hugo-nominated fanzine Argentus as well as the editor and publisher of ISFiC Press for 8 years. He has also edited books for DAW and NESFA Press. He began publishing short fiction in 2008 and his most recently published story is "Big White Men—Attack!" in Little Green Men—Attack! Steven has chaired the first Midwest Construction, Windycon three times, and the SFWA Nebula Conference 5 times, as well as serving as the Event Coordinator for SFWA. He was programming chair for Chicon 2000 and Vice Chair of Chicon 7. He has been the news editor for SF Site since 2002.