Birthday Reviews: Joanna Russ's "Nobody's Home"
Birthday Reviews: Joanna Russ's "Nobody's Home"
Cover by Ron Walotsky
Joanna Russ was born on February 22, 1937 and died on April 29, 2011. From her first publications, she became a voice for feminist science fiction in a world which was dominated, but not exclusively, by men.
As important as her science fiction, if not moreso, is her monograph How to Suppress Women's Writing. Among her notable science fiction are the stories that make of the Alyx cycle, including Picnic on Paradise, and the novels And Chaos Died and The Female Man.
She won the Nebula Award for her short story "When It Changed" and a Hugo for the novella "Souls." In 1996, she received two retrospective James Tiptree, Jr. Awards for "When It Changed" and for The Female Man. The Female Man was inducted into the Gaylactic Spectrum Hall of Fame. Russ received a Pilgrim Award for Lifetime Achievement for her contributions to science fiction and fantasy scholarship from the SFRA in 1988 and was inducted into the Science Fiction Hall of Fame in 2013. In 2015, Russ received the Solstice Award from the SFWA.
"Nobody's Home" was originally printed in New Dimensions II, edited by Robert Silverberg in 1972. It was picked up the next year by Terry Carr for The Best Science Fiction of the Year #2. Pamela Sargent included it in Women of Wonder. Silverberg has reprinted it in several of his anthologies over the years, including Alpha 9, The Best of New Dimensions, Great Tales of Science Fiction, and The Arbor House Treasury of Science Fiction. Russ included it in her collection The Zanzibar Cat in 1983. David G. Hartwell reprinted it in The World Treasury of Science Fiction and Gardner Dozois reprinted it in Modern Classics of Science Fiction and Supermen. "Nobody's Home" was translated into Spanish in 1977 and into Dutch in 1980.
Russ has created a future world which is vastly depopulated and those who remain live a life of leisure, traveling around the world via teleporter as easily as stepping through a doorway. The people who remain live a life without purpose, self-indulgent and content in their knowledge that they are superior to the humans who had once crowded the world.
Russ focuses on the extended Komarov family, filled with multiple marriage arrangements (two triplet marriages, a quad and a group of eight) and a variety of kids who seem interchangeable, having a sort of reunion in their home high in the Himalayan mountains. Into this retreat enters a stranger, Leslie Smith. Her arrival is seen as nothing more than a diversion; at worst, she was sent by one of the absentee family members for the Kamarovs' amusement.
As they interact with Leslie, it becomes clear to them that she is beneath them, a menial, of which there are some in Russ's future, although the Kamarovs would never associate with them or acknowledge their existence. Although none of the Kamarovs are self-aware enough to consciously question their lifestyles or their world, Leslie's presence does create a sense of unease in the household which generally has accepted whatever happens to them.
Reprint reviewed in the anthology Great Tales of Science Fiction, edited by Robert Silverberg, Galahad Books, 1994.
---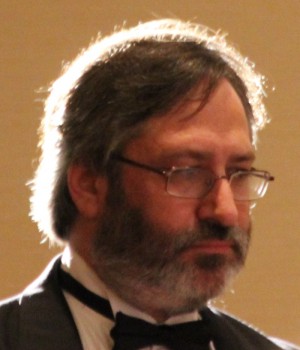 Steven H Silver is a fifteen-time Hugo Award nominee and was the publisher of the Hugo-nominated fanzine Argentus as well as the editor and publisher of ISFiC Press for 8 years. He has also edited books for DAW and NESFA Press. He began publishing short fiction in 2008 and his most recently published story is "Big White Men—Attack!" in Little Green Men—Attack! Steven has chaired the first Midwest Construction, Windycon three times, and the SFWA Nebula Conference 5 times, as well as serving as the Event Coordinator for SFWA. He was programming chair for Chicon 2000 and Vice Chair of Chicon 7. He has been the news editor for SF Site since 2002.