Birthday Reviews: Laura Frankos's "A Late Symmer Night's Battle"
Birthday Reviews: Laura Frankos's "A Late Symmer Night's Battle"
Cover by Mitch Foust
Laura Frankos was born on February 9, 1960. She has written the historical mystery novel St. Oswald's Niche, and The Broadway Musical Quiz Book. Frankos has also written several short stories. She is married to author Harry Turtledove and is the sister to author Steven Frankos.
"A Late Symmer Night's Battle" appeared in Esther Friesner's Turn the Other Chick, part of her long-running Chicks in Chainmail series. It has not been reprinted.
As the title indicates, the story was inspired by the works of William Shakespeare. Frankos's fairies are battlemaidens, currently living in a period of peace following their epic defeat of the reremice. They are working on their armor, training, and engaging in more amorous pursuits when their lands are unexpectedly attacked by bands of kobolds.
When a follow-up attack of reremice occur, the fairies must question what they are fighting for and what makes a race worthwhile. While Frankos could have told the story with tremendous amounts of gravitas, the venue for its publication was looking for more lighthearted fare and she managed to deliver, sprinkling her tale with wonderful puns.
With characters named Peaseblossom and Mustardseed, and a plot that focuses on the fairy world, Frankos could also have written the tale a little too twee. But she avoids that by making her fairies true warriors, defending their lands and their loved ones from invasions of kobolds and reremice alike.
"A Late Symmer Night's Battle" could have benefited from more interaction between the fairies and kobolds, along with fleshing out the villainous General Hinzelmann and the dapper Colonel Hödeken a little more, with the latter character allowing Frankos to end the story on a high point.
Reviewed in its only appearance in Turn the Other Chick, edited by Esther M. Friesner, Baen Books, 2004.
---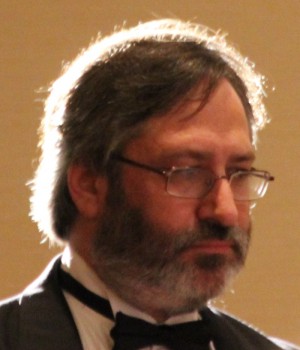 Steven H Silver is a fifteen-time Hugo Award nominee and was the publisher of the Hugo-nominated fanzine Argentus as well as the editor and publisher of ISFiC Press for 8 years. He has also edited books for DAW and NESFA Press. He began publishing short fiction in 2008 and his most recently published story is "Big White Men—Attack!" in Little Green Men—Attack! Steven has chaired the first Midwest Construction, Windycon three times, and the SFWA Nebula Conference 5 times, as well as serving as the Event Coordinator for SFWA. He was programming chair for Chicon 2000 and Vice Chair of Chicon 7. He has been the news editor for SF Site since 2002.