Why I'm Here – Part Two: Some Thoughts on Old Books and Appendix N
Why I'm Here – Part Two: Some Thoughts on Old Books and Appendix N
Four years ago, I posted an explanation of what I'm trying to do with my reviews for Black Gate. My stated goal was, and remains, to be someone who says to readers, "Here's a book I think you'll get a kick out of." There were several people who did that for me, turning me on to books and authors I still hold dear, and I want to do that for others. Like most fans of something, I want to convince people the things I like are worth their time and are still relevant.
It can be hard to pierce the barrier built of cultural noise, the vast wealth of new fantasy being written every year, and the simple passage of time, and convince someone a book that's fifty years old or more is worth his time. Pop culture reflects the larger society that produces it, and people want to see their concerns and interests in it. That people still read Sir Arthur Conan Doyle and Robert E. Howard more than eighty years after both their deaths, though, tells me it's not a hopeless battle.
I'm not the only person doing this, not by any stretch of the imagination. Of particular interest has been the wealth of discussion about Appendix N that has taken place over the past five or six years on message boards, blogs, and podcasts. For the two of you who don't know what Appendix N is, it's a quirky list of fantasy and sci-fi books that inspired Gary Gygax, the primary creator of D&D. There are few works on it I haven't got to, though I was recently taken to task for my negligence of A. Merritt.
The list was in the Dungeon Masters Guide. Back in the day, it didn't mean too much to me, only because I'd already read most of the authors on the list, and so had most of my gaming friends. Still, it was cool to see Gygax liked the same books we did. Because so much of the present Appendix N conversation has tended to focus on gaming, something I don't do anymore, I've mostly just listened. Other than a couple of conversations about individual books, I've sat off to the side.
However, just recently I was asked to participate in an upcoming podcast episode of the Appendix N Book Club. Two guys (Jeff Goad and Ngo Vinh-Hoi) have been working their way through Gygax's list with gusto. In order to learn how they like to do their show, I've been listening to their back catalogue and it's been a lot of fun. My favorite shows are the ones where at least one of the hosts hasn't read the book or the author previously, and I get to hear a book I hold dear discussed with totally fresh eyes.
I hadn't really thought about Appendix N until James Maleszewski started blogging about it at his old and much-missed site, Grognardia. While he wasn't a newcomer to the books on Gygax's list, a lot of the people commenting were, and it was fun to read new takes on old works. They were totally sold on books which had either created the tropes that have come to dominate mass-market fantasy, or that were defiantly original, yet with roots proudly tracing back to the pulp tradition. It was the first intimation that so many of the books I grew up with were finding a new audience.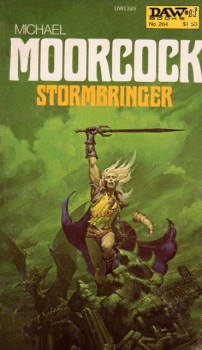 Later, Jeffro Johnson at Castalia House began a long series of posts examining the books and authors of Appendix N. The pieces were all collected and released as Appendix N: A Literary History of Dungeons & Dragons. It's a strongly opinioned and valuable take on a varied and idiosyncratic assortment of books. His commenters' excitement over discovering a whole wealth of new-to-them fantasy writing definitely warmed this critic's heart.
Watching the rising and falling popularity of the books that formed the foundation of my genre-reading has become something I do with increasing interest. How and why exactly do terrific books fall of out of fashion?  The other day, in a conversation about Appendix N with Howie Bentley over on Facebook, I wrote:
So much of it's a question of age. If you grew up in the seventies, there was only so much stuff to read, and people passed it around like samizdat in the USSR. Elric books got passed around from friend to friend to friend like a copy of Doctor Zhivago. For the past 20 years there's been so much stuff, it's easy for old stuff to get missed by all the "kids." We watched B&W movies because that's what was on. Too many people, young and old, only want what's new, nothing old.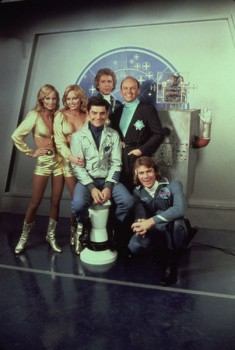 But a few days later, I was wondering if there was something else going on. When I was a kid the main way you found out about the cool sf/f books to read was from friends' recommendations. At the same time, we didn't have anything like the choices readers have today. Genre pickings were really, really slim. The only reason anyone watched Buck Rogers or Quark on TV was because we were desperate for any sort of sci-fi. Today's reader has loads to choose from. Maybe modern fans aren't reading the books I grew up on because those books stink?
Reading (or listening) to the wildly positive reactions of fans discovering Robert E. Howard, Jack Vance, Fritz Leiber, and others has reassured me I'm not on a fool's errand. There are gamers debating the usefulness of Appendix N in gaming. I can't speak to that, only to an amazing introduction to some of the best primary works of genre fantasy.
Most of the reviews I've done over the past four-and-a-half years here at Black Gate have been of older works and I think I've made a good case for each one. While I don't think there's an imperative to read any of the books I've reviewed, I think they can add to an understanding of the genre — where it's come from, where it's been. I'm not saying you should read Appendix N or my recommendations just because they're old. That would be nuts. I think they're worth reading because they are among the very best the genre has to offer. You might not miss much if you skip Gardner Fox, but if you skip Jack Vance or Roger Zelazny, I honestly think you are missing out. Looking at my own reviews, I'd say the same thing about P.C. Hodgell and Andre Norton. If you don't believe me, pick up Eyes of the Overworld or Nine Princes in Amber and see for yourself. So, until my fingers cramp too much from typing, I'm going to keep sounding the call for old books and their place on modern readers' shelves. And that's why I'm still here.
---
Fletcher Vredenburgh reviews here at Black Gate most Tuesday mornings and at his own site, Stuff I Like when his muse hits him. Right now, he's writing about nothing in particular, but he might be writing about swords & sorcery again any day now.