Vintage Treasures: The Machine in Shaft Ten by M. John Harrison
Vintage Treasures: The Machine in Shaft Ten by M. John Harrison
Howard Andrew Jones was the first to pique my interest in M. John Harrison, in his very first blog post for Black Gate back in 2007. Matthew David Surridge significantly heightened that interest with his thoughtful 2013 post To Unbuild the Unreal City: M. John Harrison's Viriconium:
Viriconium is a city of the distant future, surrounded by the polluted wastelands left by previous civilisations. It is fundamentally decadent, filled with killers, artists, street gangs, and peculiar customs. It is divided into different neighbourhoods along class lines. And it is frequently under threat, though what precise consequences these threats can bring is often nebulous. The first book, The Pastel City, is clearly the most conventional. At first blush, it strongly resembles the pulp work of Michael Moorcock; the better points of the Hawkmoon books, for example, though Pastel City is much better written.
But it was Fletcher Vredenburgh, with this 4-part examination of the Viriconium books, that really sent me chasing after Harrison's novels.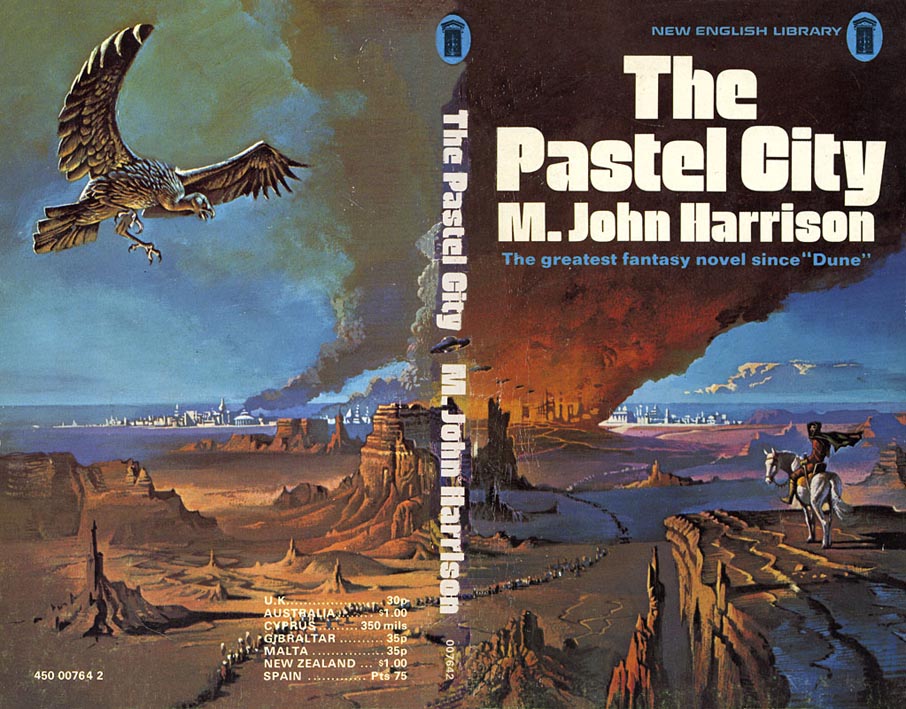 Art by Bruce Pennington
Here's Fletcher on the second book in the Virconium saga, A Storm of Wings.
This is most assuredly not your typical heroic fantasy tale. The heroes are addle-minded or decidedly unheroic – even Tomb the dwarf, as much as he enjoys fighting, thinks of what he does as murdering. Like the citizens of Viriconium, it leaves the reader dazed and more than a little confused at the end. Despite sharing a similar structure with its predecessor, A Storm of Wings, is a more potent book, filled with headier feats of prose and narrative gameplaying. While The Pastel City remains an excellent heroic fantasy tale, I'm now able to perceive it best as the template for Harrison to build on and spin off from mad, wild, meta-fictional constructs… Too much heroic fantasy relies on a lazy adherence to simple tropes – the hero, the obvious enemy, etc. In this book, he is clearly taking it to task for that.
Harrison has produced much more than just the Virconium series, including The Centauri Device (1974) the acclaimed Kefahuchi Tract Trilogy (Light, Nova Swing, and Empty Space), and The Course of the Heart (2004).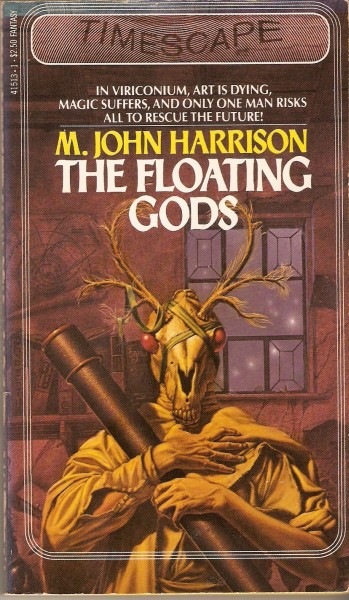 The Floating Gods, Virconium book 3.
Cover by Michael Whelan.
While I was wondering where to make my own start on the works of M. John Harrison, I did a little research and discovered that his first short story collection, the UK paperback The Machine in Shaft Ten (1975), had never had a US printing, and has never been reprinted. In fact, in four decades of collecting, I'd never even seen a copy.
Well, that's all I needed to know. Impossible to find paperback? Short story collection? Cool Chris Foss cover art? Man, I'm all over that.
It took some 18 months of dedicated searching to find a copy at a reasonable price, but earlier this month I found a listing on eBay for the copy above, in great condition, for $8.24 (including shipping). Ten days later I was holding it in my hands.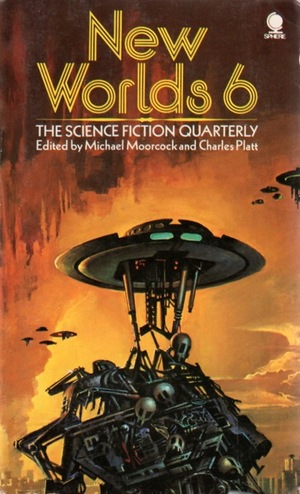 The Machine in Shaft Ten contains a dozen stories, including three set in Virconium ("The Lamia and Lord Cromis," "Events Witnessed From a City," and "The Bringer with the Window"), and one previously unpublished tale ("Events Witnessed From a City.") Most of the stories were originally published in Michael Moorcock's paperback anthologies series New Worlds Quarterly, and anthologies like Again Dangerous Visions and New Worlds 6.
Here's the complete TOC.
The Machine in Shaft Ten" (New Worlds Quarterly 3, 1972)
"The Lamia and Lord Cromis" (New Worlds Quarterly, 1971)
"The Bait Principle" (New Worlds #198, February 1970)
"Running Down" (New Worlds 8: The Science Fiction Quarterly, 1975)
"The Orgasm Band" (Transatlantic Review, 1975)
"Visions of Monad" (New Writings in SF — 12, 1968)
"Events Witnessed From a City" (1975)
"London Melancholy" (The Magazine of Fantasy and Science Fiction, May 1969)
"Ring of Pain" (Quark/3, 1971)
"The Causeway" (New Worlds Quarterly 2, 1971)
"The Bringer with the Window" (Again, Dangerous Visions, 1972)
"Coming from Behind" (New Worlds 6, 1973)
I chased after this volume because it looked very intriguing and seemed like a terrific place to start exploring Harrison. Now that I've spent a few days with it, I think that's very true. As I get deeper into it, I'll let you know what I think.
The Machine in Shaft Ten and Other Stories was published by Panther in the UK in July 1975. It is 174 pages, priced at £0.50. The cover is by Chris Foss. It has never been reprinted, and there is no digital edition (or US edition, for that matter).
See all of our recent Vintage Treasures here.