Birthday Reviews: George Alec Effinger's "Albert Schweitzer & the Treasures of Atlantis"
Birthday Reviews: George Alec Effinger's "Albert Schweitzer & the Treasures of Atlantis"
Cover by Barclay Shaw
Most days in 2018, I'll be selecting an author whose birthday is celebrated on that date and reviewing a speculative fiction story written by that author.
George Alec Effinger was born on January 10, 1947 and died on April 27, 2002. He was married three times, the second time to artist Beverly Effinger and the third time to science fiction author Barbara Hambly. He was a John W. Campbell, Jr. finalist in the award's inaugural year and the Southern Fandom Confederation presented him with the Phoenix Award in 1974. His story "Schrödinger's Kitten" received the Hugo, Nebula, and Sturgeon Award in 1989. Effinger wrote the popular Budayeen series, comprised of several short stories and the novels When Gravity Fails, A Fire in the Sun, and The Exile Kiss. He also wrote pastiches of several types of pulp adventure stories featuring his character Maureen Birnbaum, Barbarian Swordsperson.
His short story "Albert Schweitzer and the Treasures of Atlantis" was written for Mike Resnick's alternate history anthology Alternate Warriors, in which each story takes an unlikely historical figure and turns them into a fighter. The story has never been reprinted.
Effinger has apparently selected a relatively minor point of divergence for his story about Schweitzer. In our timeline, after Schweitzer was detained by French colonial forces near Lambaréné during the Great War, he had his wife were transferred to Alsace and remained in Europe for the duration of hostilities. In "Albert Schweitzer & the Treasures of Atlantis," Schweitzer and his wife, Helene, are permitted to remain in French Equatorial Gabon to treat the indigenous peoples.
One of the problems with the concept behind the particularly anthology in which this story appears is that the authors have to find ways to turn pacifists into fighters and Effinger refuses to make that transition easy for himself. He is very clear throughout his story that Schweitzer has a reverence for all life, a concept the historical Schweitzer espoused and viewed as the most important idea he introduced to civilization. Effinger handles the situation well, putting Schweitzer into a position where the use of force may be his only option short of giving up everything else he has achieved.
The story's title gives an indication of the direction Effinger chooses to go, however the moment of change is handled well and reveals that this timeline's point of divergence is much earlier than initially indicated. The story stands up well, although the reader has expectations based on the book in which it has been published. It would be worth reprinting outside that context and would have a larger emotional impact.
Reviewed in its only published appearance in Alternate Warriors, edited by Mike Resnick, Tor Books, 1993.
---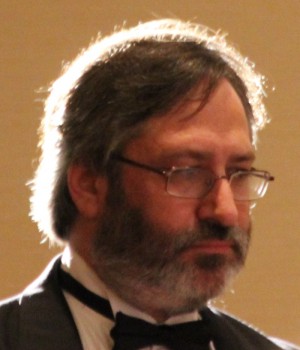 Steven H Silver is a fifteen-time Hugo Award nominee and was the publisher of the Hugo-nominated fanzine Argentus as well as the editor and publisher of ISFiC Press for 8 years. He has also edited books for DAW and NESFA Press. He began publishing short fiction in 2008 and his most recently published story is "Big White Men—Attack!" in Little Green Men—Attack! Steven has chaired the first Midwest Construction, Windycon three times, and the SFWA Nebula Conference 5 times as well as serving as the Event Coordinator for SFWA. He was programming chair for Chicon 2000 and Vice Chair of Chicon 7. He has been the news editor for SF Site since 2002.