Vintage Treasures: Blind Voices by Tom Reamy
Vintage Treasures: Blind Voices by Tom Reamy
In a 2014 Vanity Fair interview, George R.R. Martin shared just how profoundly he was affected by the death of Tom Reamy in 1977.
Tom died of a heart attack just a few months after winning the award for best new writer in his field. He was found slumped over his typewriter, seven pages into a new story. Instant. Boom. Killed him… Tom's death had a profound effect on me, because I was in my early thirties then. I'd been thinking, as I taught, well, I have all these stories that I want to write… and I have all the time in the world… and then Tom's death happened, and I said, Boy. Maybe I don't…

After Tom's death, I said, "You know, I gotta try this. I don't know if I can make a living as a full-time writer or not, but who knows how much time I have left?…" So I decided I would sell my house in Iowa and move to New Mexico. And I've never looked back.
In the same article George also commented on the relentless pace of production on Game of Thrones, saying "Long before they catch up with me, I'll have published The Winds of Winter, which'll give me another couple years. It might be tight on the last book, A Dream of Spring, as they juggernaut forward." Might be tight indeed. Almost four years later The Winds of Winter remains unpublished, and GoT has long since passed the novels.
Who the heck was Tom Reamy? That's a question the late Bud Webster attempted to answer in his inaugural column in Black Gate 15.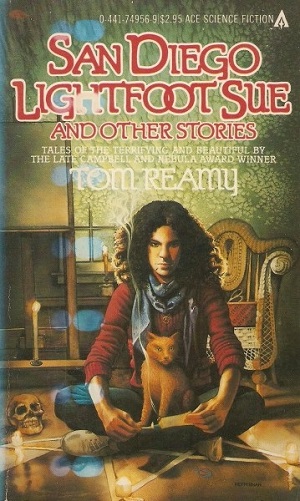 [Click the images for bigger versions.]
This column, entitled "Who?!" will address these unjustly forgotten scriveners in a way (I hope) that will pique your interest…my first subject is a writer whose work I enjoyed, and said "Wow!" about myself: Tom Reamy.

My first exposure to Reamy wasn't a story, or a novel, but a copy of his brilliant fanzone Trumpet, specifically #5, dated June of 1967… His fan writing (and editing) influenced and informed his pro work, as was the case with many other fans… In a way, Reamy's stories resembled those of Terry Carr: both were graceful and painstaking writers, presenting the reader with finely honed stories that nevertheless had an edge…

Reamy's only collection [was] San Diego Lightfoot Sue. All but two of his published works are in this book… Reamy's only other book was a novel, Blind Voices, published not long after his death. Here is where the comparison to and contrast with Bradbury's Something Wicked This Way Comes (not to mention Charles G. Finney's The Circus of Dr. Lao) rears its not-so-ugly head.

Like his predecessors Reamy sends an odd-ball circus, Haverstock's Traveling Circus and Wondershow, into Hawley, Kansas during the Great Depression. As those earlier fantasists did, he uses the denizens of the Wondershow as a fun-house reflection of those who live there, three teenage girls in particular. Francine, Rose and Evelyn become involved with three of the circus folk: a centaur, a roustabout, and Angel, a melancholy albino who can fly. Haverstock has power over his employees, and he is definitely not a nice guy… Unlike the earlier stories, this is a tale of sexual awakening; an adultish theme infrequently encountered by most SF/fantasy readers in the mid-70s, but handled here by an author skilled far beyond most first novelists.
Blind Voices was nominated for the Hugo, Nebula, BSFA, and Locus Awards, and won the Balrog Award for Best Novel. It appeared in hardcover from Berkley/Putnam in 1978 and has been reprinted multiple times, by the Science Fiction Book Club (1978), Berkley (paperback in 1979, above), Sidgwick & Jackson (1979 & 1981), Penguin (1982), Wildside Press (2003), and PS Publishing (2016). There is no digital edition.
Blind Voices was published in paperback by Berkley Books in August 1979. It is 246 pages, priced at $1.95. The wraparound cover was by David Plourde.
See all our recent Vintage Treasures here.