Goth Chick News: Jurassic World 2 Gets More Teeth
Goth Chick News: Jurassic World 2 Gets More Teeth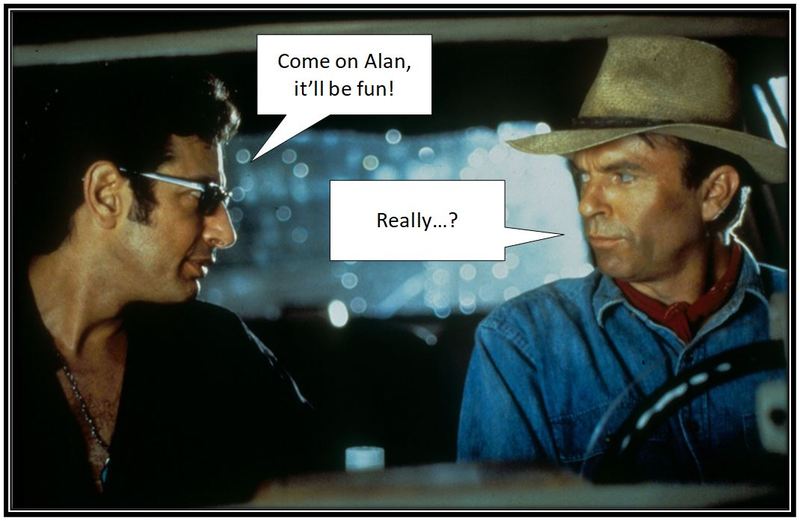 As much as I'm willing to suspend my disbelief for love of the Jurassic Park franchise, at some point you'd think someone in that universe would just up and decide that resurrecting dinosaurs is simply a bad idea all around. And now that we've all gotten a look at the trailer for Jurassic World 2: Fallen Kingdom I have some news to indicate the perpetual voice of reason when it comes to dinos, may be making an appearance to do just that.
It's been known for a while now that Jurassic World 2 would bring back Jeff Goldblum to reprise his fan favorite role of Dr. Ian Malcolm, and Goldblum is seen prominently in the trailer.
But wait, there's more…
According to the Youtube show Mr Sunday Movies, there's a good chance that fellow Jurassic Park star Sam Neill will also return to reprise his role of Dr. Alan Grant. According to the show's source, Neill was recently seen arriving on set, after being dropped off in a blacked-out SUV.
While Neill could have been simply visiting the set to catch up with friends like Goldblum or B.D. Wong, the secured nature of his arrival suggests that there's more to the story than a friendly visit. If Alan Grant does indeed return to the franchise, here's hoping he gets to interact with Malcolm, as they haven't shared a scene since the original film.
I did some snooping of my own and couldn't confirm this through any other source, however even though it was considered a financial hit, Jurassic World wasn't the blockbuster the studio had hoped for, so adding Goldblum and Neill back in this time around makes sense.
With talented director J.A. Bayona steering the ship, fingers and toes are crossed that Fallen Kingdom ends up even more entertaining than its progenitor, and I'm betting I'm not the only one with similar hopes of an improved sequel.
Jurassic World: Fallen Kingdom hits theaters on June 22nd.
Have a question or comment? Post it here or drop a line to sue@blackgate.com.