Could Hitler Have Built the Bomb? Find Out in Against the Odds #50
Could Hitler Have Built the Bomb? Find Out in Against the Odds #50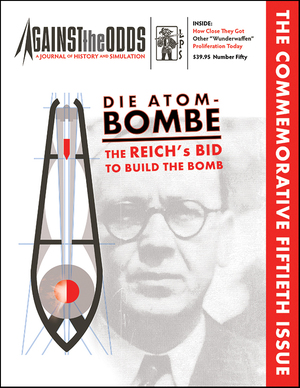 Against the Odds magazine is a throwback to the great era of tabletop gaming, when magazines like Strategy & Tactics and the much-missed Ares contained complete games in each issue. Issues are expensive ($35, more than the cost of a hardcover book), but for gaming fans it's well worth the price. The latest issue, #50, contains Building the Bomb, a chilling card game that simulates the Nazi efforts to build the first atomic bomb.
In late 1941 with senior officials across Germany becoming increasingly aware that Operation Barbarossa would fail somewhere short of Moscow… many worriedly began looking for an "out." Some, like Ernst Udet, head of Luftwaffe Development, and Walter Borbet, a leading industrialist, shot themselves over the shock of the failure. Others, like General Fromm, in charge of the Army Weapons Office, turned their attention to an extraordinary proposal by Germany's leading physicists to unlock the secrets of the atom and provide limitless power, and a possible war winning explosive device, the atomic bomb.

Building the Bomb is a card game for 2 to 5 players. Each player represents a faction inside German government, military or industrial circles, seeking to engage one of the Reich's prestigious research institutes to start work on a nuclear program.

Acting through the Director of each center, players will need to size matters up, recruit other scientists, acquire scarce resources, (plus spy on their rivals, this is the Third Reich remember) and certainly go all out if they hope to develop atomic weapons…
Building the Bomb includes 108 colorful playing cards, 40 die-cut counters, and a 10-page rulebook. Playing time is 1 to 2 hours. It was designed by Steven Cunliffe and developed by Lembit Tohver, with graphic design by Mark Mahaffey.
Against the Odds: Journal of History and Simulation is edited by Andy Nunez and published by LPS, Inc. It appears four times per year, yearly subscriptions are $80 in the US. Individual issues are priced at $39.95; issue 50 is around 56 pages. Order copies or get more details at the website. We last covered Against the Odds with Issue #35, which contained the game Boudicca: The Warrior Queen.
See our late November Fantasy Magazine Rack here, and all of our recent Magazine coverage here.