Dark Osprey: The Shadowy Worlds of Cthulhu, Alien Bug Hunts, and a Nazi Moonbase
Dark Osprey: The Shadowy Worlds of Cthulhu, Alien Bug Hunts, and a Nazi Moonbase
Over the last forty years Osprey Publishing has built up a sterling reputation for its long running series of illustrated military history books. Role-players, wargamers, and even casual readers like me have enjoyed them, and used them as reference guides.
Black Gate author Joseph McCullough joined Osprey a decade ago, and since then Osprey has produced a growing volume of books of interest to gamers and genre fans alike, including Steampunk miniatures rules (In Her Majesty's Name), the Frostgrave tabletop skirmish game, and the Osprey Adventures line. But most interesting to me is Dark Osprey, a series of marvelously imaginative and well-illustrated tomes that serve as excellent setting books for the RPG of your choice.
While Joe was written several, they've also recruited a handful of other top-notch authors, including Warhammer author Graeme Davis, Trail of Cthulhu scribe Kenneth Hite, novelist Mark A. Latham (The Lazarus Gate), and others. So far they've published over a dozen, including The Cthulhu Campaigns Ancient Rome by Mark Latham, Nazi Moonbase by Graeme Davis, and Bug Hunts: Surviving and Combating the Alien Menace by Mark Latham.
[Click the images for bigger versions.]
Here's the mission statement for Dark Osprey, from the Osprey Publishing website.
The Dark Osprey series explores the shadowy worlds of fantasy, secret histories, and conspiracy theories. From Zombies and Werewolves, through the Nazi Occult programs and the secret history of the Knights Templar, on to Alien Invasions and paranormal investigators, each book in the series starts with the true history about its topic and then goes onto give the full story. Heavily illustrated with both new and classic artwork and photographs, these are the books that finally shine a light on many of the world's darkest secrets.
So far I've purchased only a handful, including two Steampunk Soldiers volumes and The Cthulhu Campaigns: Ancient Rome, but I must admit that what draws me to the series is the great artwork and — especially — the imaginative settings. A Nazi moonbase? A setting book for an alien bug hunt? These are the kinds of game books I'm totally happy to settle down with in my big green chair for a couple hours.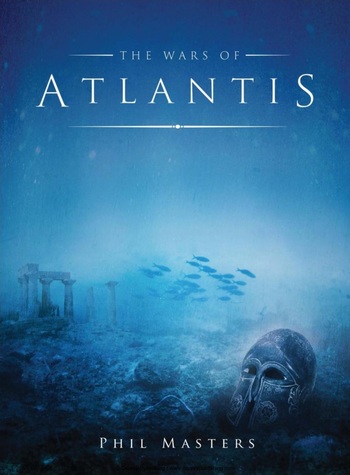 Martin Page recently reviewed Steampunk Soldiers and The Wars of Atlantis for us. Here's what he said, in part.
These books,,,, are odd, but not boring odd. They are odd because they are entirely made up and aimed squarely at tabletop gamers, without committing to a particular system.

Atlantis purports to be a campaign history of the clash between the Atlantans and the Mediterranean peoples including the proto Athenians, as recorded in Plato and Diodorus Siculus. Steampunk Soldiers claims to document the British Imperial forces in a steampunk 19th century… On the face of it, these are in the same league as the spoof Tie-Fighter manual or innumerable coffee-table books with cool illustrations and puff text; you know the kind of thing, Dinosaurs in the 21st century, or A Spotter's Guide to Ninja Fairies.

However, these Osprey books are in fact quite different from the novelty output of book packagers. Of the three, only Steampunk is really a coffee-table style book of illustrations with commentary. The other two have nice illustrations, but they really are illustrating the text. That's the thing about all three of these books; the text is king.

Atlantis names its historical sources, then with a deadpan wink, cites the formerly lost Atlantan archive. Steampunk claims to be a publication of newly discovered pictures and notes by a well-travelled artist, covering the period when meteorite-sourced hephaestium dominated our technology…

Each then settles back and delivers its content without nudge and wink, and here's where they really stand out. The writers are obviously very well-informed about general military history and the period in question. The result is spurious history that feels authentic.
Atlantis traces the rise and fall of that civilisation, handling divine interventions in matter of fact ways – at one point, referring to Mount Olympus as the main access point for the Gods. The Atlantans carve out their empire, ally with convincingly drawn Amazons, suffer from asymmetric warfare, antagonise the Greeks… and it all makes sense, right down to the civic politics and strategic mistakes…

Each book is an excellent worked example of fabricated military history, fun to read in its own right, inspiring for a writer, and potential background material for a Games Master…
Here's the complete list of Dark Osprey titles so far.
The Cthulhu Campaigns: Ancient Rome by Mark Latham
The Cthulhu Wars: The United States' Battles Against the Mythos by Kenneth Hite and Kennon Bauman
Nazi Moonbase by Graeme Davis
War of the Worlds: The Anglo-Martian War of 1895 by Mike Brunton
Bug Hunts: Surviving and Combating the Alien Menace by Mark Latham
The Headless Horseman of Sleepy Hollow by Mark Latham
The Wars of Atlantis by Phil Masters
Werewolves: A Hunter's Guide by Graeme Davis
Steampunk Soldiers: Uniforms & Weapons from the Age of Steam by Philip Smith and Joseph A. McCullough
Steampunk Soldiers: The American Frontier by Philip Smith and Joseph A. McCullough
Vampires: A Hunter's Guide by Steve White and Mark McKenzie-Ray
We Will Destroy Your Planet: An Alien's Guide to Conquering the Earth by David McIntee
Knights Templar: A Secret History by Graeme Davis
The Nazi Occult by Kenneth Hite
The World of Might and Magic by Ubisoft
Zombies: A Hunter's Guide by Joseph A. McCullough
See all of our recent Osprey coverage here, and visit the Dark Osprey web page here.