Rock Stars, Bloggers, and Hidden Magic: The Wind in His Heart by Charles de Lint
Rock Stars, Bloggers, and Hidden Magic: The Wind in His Heart by Charles de Lint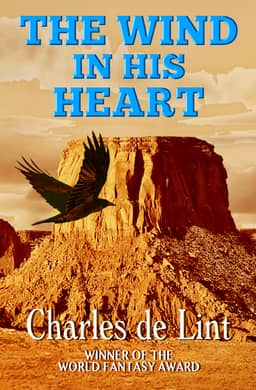 I met Charles de Lint when he was an unpublished author in the early 80s. We both hung out at the best bookstore in town, the much-missed House of Speculative Fiction in downtown Ottawa. There was a big fuss about his first novel, The Riddle of The Wren (1984), plucked out of the slush at Ace Books by legendary editor Terri Windling, but it was the bestselling Moonheart (Ace, 1984) that made us realize that Charles wasn't just a local boy who done good — he was a major artist embarking on an extraordinary career.
71 books later, Charles is one of the most revered writers in fantasy. He's been enormously kind to us over the years, even contributing a terrific story to the very first issue of Black Gate.  I asked Charles to tell us a bit about his latest book, and he was generous enough to send me this yesterday.
I'm excited to get back to writing for adults. It took me three years to write my new novel, The Wind in His Heart, pretty much double the time I'd normally take to complete a book, but this 545-page story was tricky to put together. It's about a young man who works at a trading post and is the sole supporter in his family yet longs to go and explore the world; a rock star hiding from fame out in the desert; a teenage girl from an abusive family who gets tossed out of her dad's car in the middle of the desert, and a blogger trying to come to terms with the suicide of her best friend. The story is about how their lives collide, and how they deal with their past and future. Many of my readers have been asking if it's a Newford book, and the short answer is no, but it does have some Newford threads and connections.
This is a major new novel from one of the most important writers at work today. When word broke in our offices that it was arriving this month, there was frenzy to settle who would have the privilege of reading it first (Zeta Moore won; she'll be reviewing it for us in a few weeks.)
The Wind in His Heart will be published by Triskell Press on September 19, 2017. It is 545 pages, priced at $7.99 for the digital edition. Read an excerpt in the Autumn issue of Faerie Magazine, and learn more at Charles' website. And check out all our coverage of his previous books here.