Future Treasures: An Unkindness of Magicians by Kat Howard
Future Treasures: An Unkindness of Magicians by Kat Howard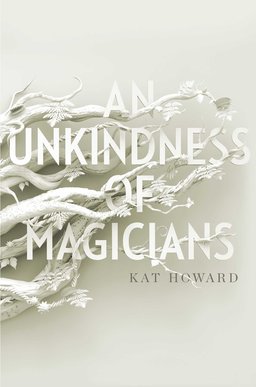 Kat Howard's debut fantasy novel Roses and Rot was a Locus Award nominee for Best First Novel, and a Publishers Weekly Best Sci-Fi/Fantasy/Horror Novel of Summer 2016. Her latest is a standalone tale of a secret cabal of wizards in New York City, and a woman who wants to bring down the entire system from within. It arrives in hardcover from Saga Press in two weeks.
The Unseen World prides itself on remaining invisible as magicians walk the streets of New York City, rich and literally powerful.

Every twenty years, vying for power and standing during the Turning, the heads of magical houses would elect a champion, a family member or a magician-for-hire, and begin a series of duels.

But the Turning has come early, after thirteen years, and Ian Merlin, the heir to the most powerful house in the Unseen World has elected to become the champion of his father's chief rival, House Prospero.

Enter Sydney: An unknown magician from a candidate house, an outsider easily dismissed amongst the established wealth and power of the Unseen World.

Acclaimed author Kat Howard has written a magical revenge thriller amidst the private world of New York City's most influential citizens, who feed off each other in a hidden game of magical dominance.

What the Unseen World will soon learn is that Sydney is a formidable duelist with power that hasn't been seen in decades, and she has a score to settle.
An Unkindness of Magicians will be published by Saga Press on September 26. It is 355 pages, priced at $25.99 in hardcover and $7.99 for the digital edition. The cover is by Vault 49. Read Chapter One at Tor.com.