Raphael's Drawings at the Ashmolean Museum, Oxford
Raphael's Drawings at the Ashmolean Museum, Oxford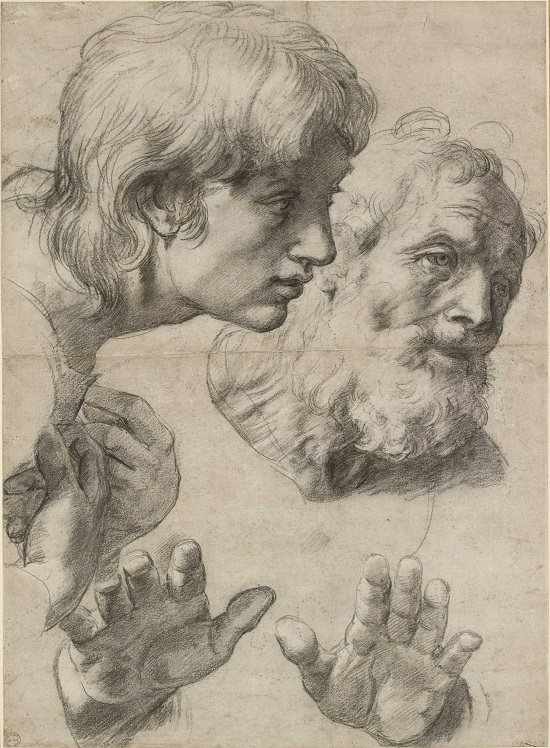 The heads and hands of two apostles, c. 1519–20.
Black chalk with over-pounced underdrawing
with some white heightening.
One of the highlights of my regular stays in Oxford is visiting the Ashmolean Museum. With its fine collections of all periods, especially Medieval Europe and Ancient Egypt, it's a place I and my family keep going back to. It also has excellent special exhibitions. I wrote up last summer's exhibition on Underwater Archaeology for Black Gate, and this year we got to enjoy the treat of studying some little-seen drawings of an Italian Renaissance master.
Raphael: The Drawings brings together 120 rarely seen works by the Italian master, including 50 from the Ashmolean's collection, the largest and most important group of Raphael drawings in the world. They came to the museum in 1845 following a public appeal to acquire them after the dispersal of the collection of the portrait painter Sir Thomas Lawrence (1769–1830), who had amassed an unrivalled collection of Old Master drawings. A further 25 works are on loan from the Albertina Museum in Vienna, which will show the exhibition in autumn 2017. The remaining drawings come from various international collections.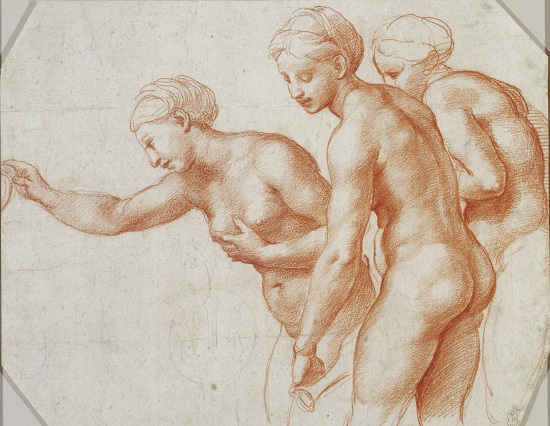 Study for the Three Graces, c. 1517–18 Red chalk over
some blind stylus. © The Royal Collection Trust,
HM Queen Elizabeth II.
The drawings range in date from Raphael's early career in Umbria through his radically creative years in Florence to the apex of his career in Rome, working on major projects such as the Vatican frescoes.
I must admit that as a non-artist much of the subtlety of this exhibition was lost on me. I could only gape at the detail of the lines and the almost magical effect of some of the techniques he used to create shading and light. One of the things I found interesting was how his drawings often had more detail and more refined techniques than his finished paintings, such as the details of the drapery on the Madonna in the Studies for the Madonna of Francis I (c. 1518).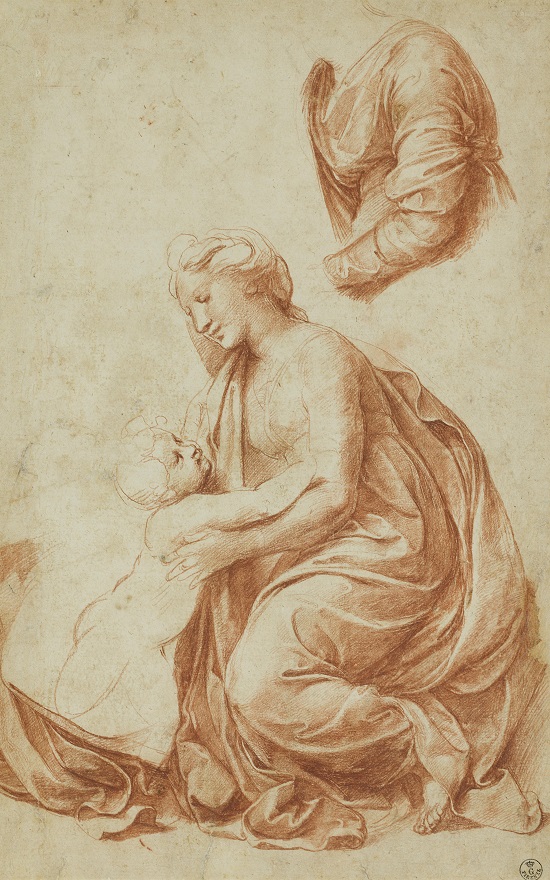 Studies for the Madonna of Francis I, c. 1518 Red chalk
over blind stylus. © Gallerie degli Uffizi, Gabinetto
dei Disegni e delle Stampe, Florence.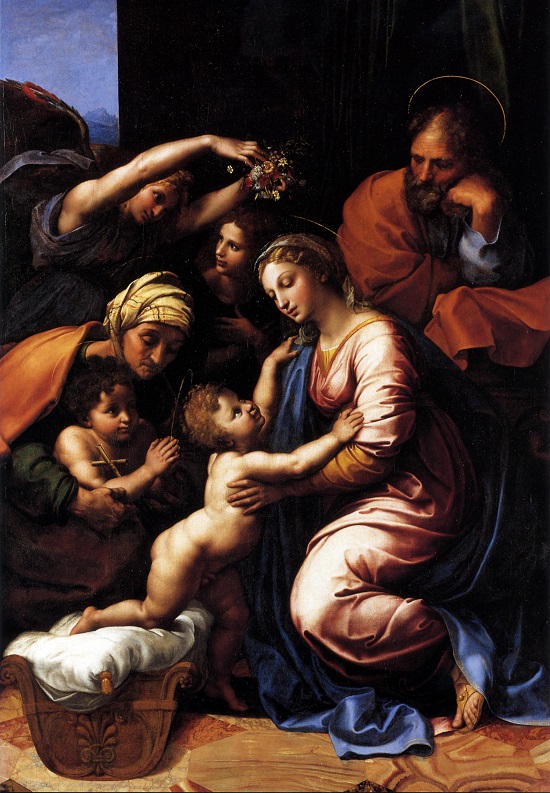 The final painting that same year. Much of the work was
possibly done by his workshop assistants and not Raphael
himself. Image courtesy Wikimedia Commons.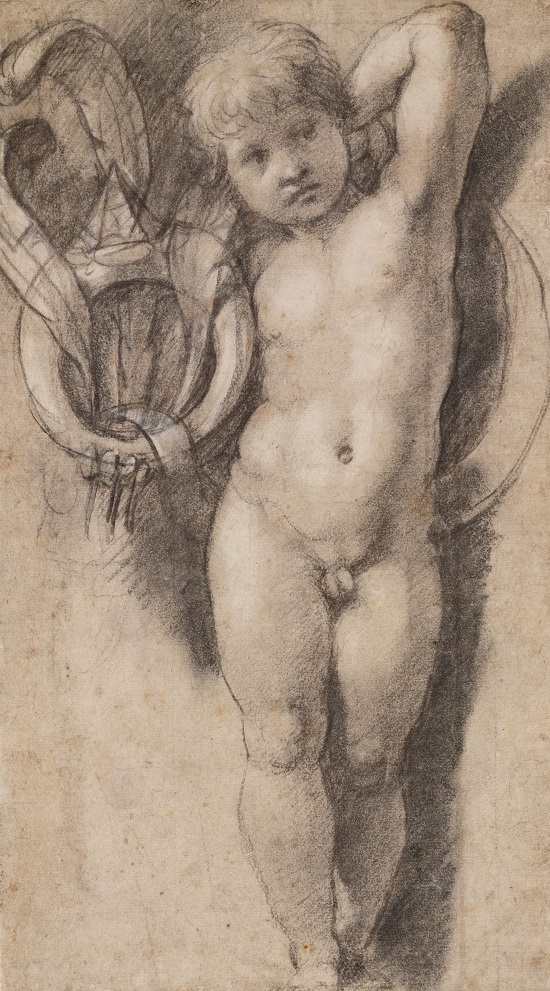 Putto holding the Medici Ring, c. 1513–14 Black chalk with
white heightening, later framing lines in black chalk.
© Teylers Museum, Haarlem.
Raphael used a variety of media including charcoal, earthy chalks, ink, and metalpoint. The exhibition includes a small display of these tools for those of us who can't draw a straight line. I finally found out what gum arabic looks like and what it's used for. It had always been one of those terms I occasionally heard but had never bothered looking up.
Raphael himself realized that his drawings were more than mere preliminary sketches. He knew they had artistic value in their own right and presented them to such prestigious figures such as Duke Alfonso d'Este and Albrecht Dürer. We're lucky he did, and we're lucky the recipients realized the value of these drawings too and preserved them.
Raphael: The Drawings runs to September 3.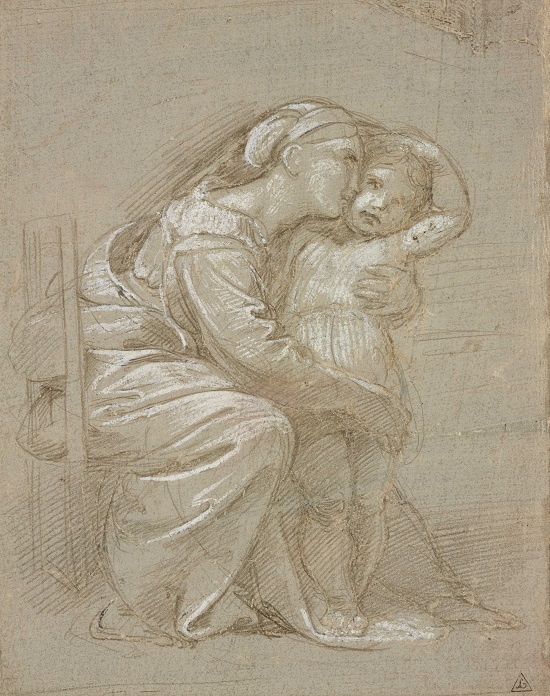 A seated mother embracing her child, c. 1512 Metalpoint with white
heightening on grey prepared paper, selectively indented for transfer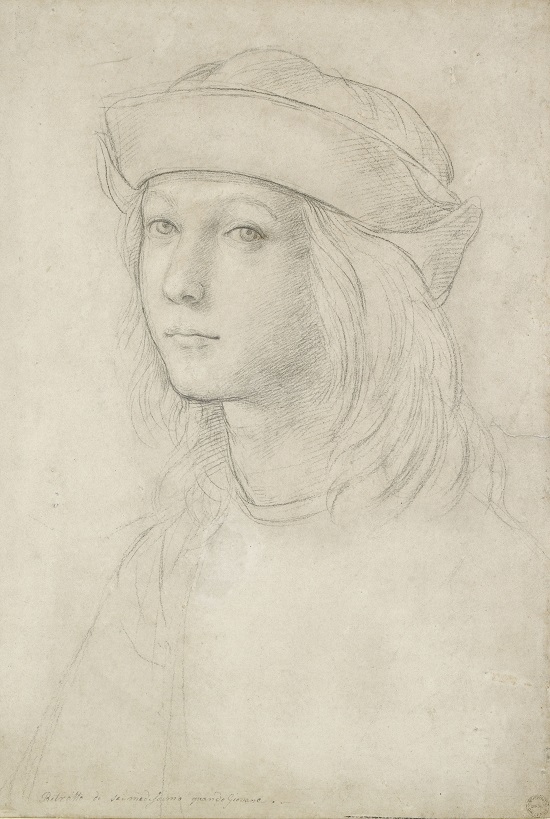 Portrait of a youth (self-portrait?), c. 1500–1 Black chalk
on white heightening, now largely lost.
Images copyright The Ashmolean Museum, University of Oxford, unless otherwise noted.
---
Sean McLachlan is the author of the historical fantasy novel A Fine Likeness, set in Civil War Missouri, and several other titles, including his post-apocalyptic series Toxic World that starts with the novel Radio Hope. His historical fantasy novella The Quintessence of Absence, was published by Black Gate. Find out more about him on his blog and Amazon author's page.