Goth Chick News: The Illuminati Are Coming for Us via Outback Steakhouse
Goth Chick News: The Illuminati Are Coming for Us via Outback Steakhouse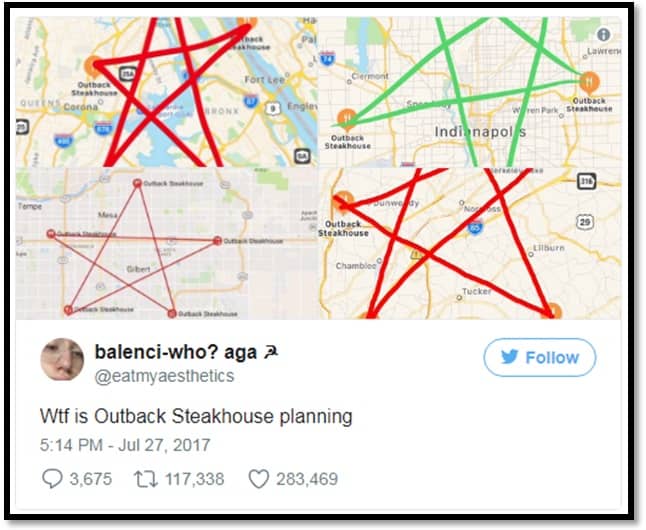 I have somewhat of a love / hate relationship with conspiracy theories. Love them for the creative ways some people manage to find patterns in chaos, and hate them because those same people hear hoof beats outside a window and immediately think it's a zebra – no matter what.
Occam's Razor… that's all I'm saying.
But I must admit, I love this latest theory which has been burning up the Internet since late last week; that the Illuminati, or maybe Satan's minions are working against humanity, or at least laundering money, through Outback Steakhouse.
It started with one observant Twitter user who, for whatever reason, mapped the Outback Steakhouses first in his vicinity, then in other major cities and noticed a somewhat disturbing pattern in the restaurants' locations.
The tweet above quickly went viral and the story was picked up by Business Insider a few days later. Though one would like to believe the onslaught that followed as all done with tongue firmly planted in cheek, the responses either saw it as definitive proof that a significant Illuminati investment property had been unmasked or attributed the configuration Satanist ownership in the chain.
Come on people, did no one read The Davinci Code?
Still, the Twitterverse had a field day. Others began to do their own investigating and users in Cincinnati, North Carolina, and Virginia made their own comparisons.
The non-supernatural explanation may be that the chain likes to build their restaurants outside major cities, but others think they have more nefarious reasons.
"Nah we're on to you devil restaurant," said one user.
"Wth is going on here @Outback we need answers," said another.
Another asks, "Who knew when they said "a taste from down under", they meant hell."
Aside from the general absurdity of linking the "Bloomin' Onion" with Satan, it should be noted how many users went out of their way to draw the pentagram—in some cases omitting nearby locations to link Outback restaurants miles away in order to make the connection.
Just sayin'…
Then people running the official Outback Steakhouse Twitter account playfully clapped back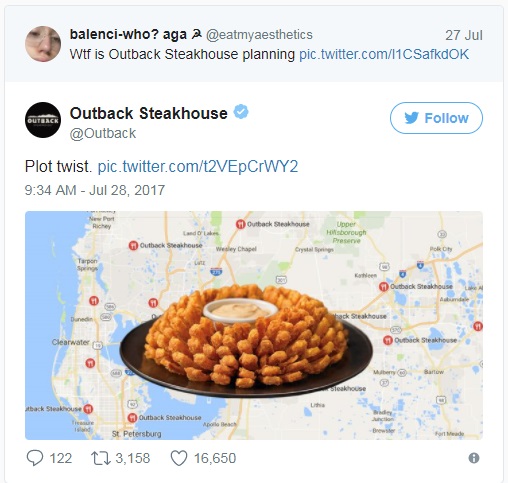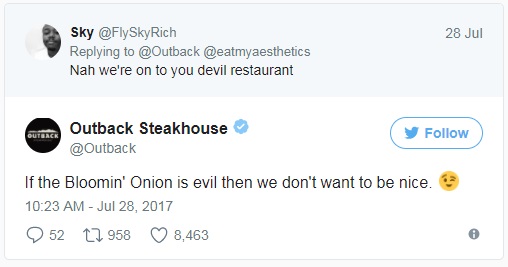 As the pop culture site Complex pointed out:
This might be the most free promotion Outback Steakhouse has received since Season 6 of 30 Rock when the "Idiots Are People Three!/The Ballad Of Kenneth Parcell," episode found Jane Krakowski's Jenna Maroney character staging a fake paparazzi photo opportunity outside of a local Outback.
We now return you to your regularly scheduled absurdities…
Have a question or comment? Post it here or drop a line to sue@blackgate.com