New Treasures: Sisters of Tomorrow: The First Women of Science Fiction, edited by Lisa Yaszek and Patrick B. Sharp
New Treasures: Sisters of Tomorrow: The First Women of Science Fiction, edited by Lisa Yaszek and Patrick B. Sharp
While I was at Wiscon in May, I didn't just attend readings (although it probably seemed like it). I also hung out in the Dealer's Room, where I bought a whole bunch of vintage paperbacks, most of which remain unpacked on the floor of my library. With luck, I can steal some time this weekend to photograph them for upcoming Vintage Treasures columns.
I haven't unpacked them because all the time I would normally be spending with them, I've been spending instead with a fabulous anthology I bought from Greg Ketter: Sisters of Tomorrow: The First Women of Science Fiction. It's packaged as a scholarly tome (and is even published by Wesleyan University Press), but don't be fooled — this is a top-notch collection of pulp-era SF by women, which also doubles as a very compelling argument that "women have always been part of the genre" (to quote the back cover copy.) One of the great things about this volume — in addition to the fabulous (and rarely reprinted) pulp tales by Clare Winger Harris, Leslie F. Stone, C. L. Moore, and others — is that it also includes poetry, articles by women, editorials, and even a gorgeous selection of pulp covers in color.
Feast your eyes on the Table of Contents:
Introduction: New Work for New Women

1. AUTHORS

Clare Winger Harris — "The Evolutionary Monstrosity" (1929)
Leslie F. Stone — "Out of the Void" (1929)
Lilith Lorraine — "Into the 28th Century" (1930)
L. Taylor Hansen — "The Man from Space" (1930)
C. L. Moore — "Shambleau" (1933)
Dorothy Gertrude Quick — "Strange Orchids" (1937)
Amelia Reynolds Long — "Reverse Phylogeny" (1937)
Leslie Perri — "Space Episode" (1941)
Dorothy Louise Les Tina — "When You Think That… Smile!" (1943)

2. POETS

JULIA BOYNTON GREEN
"The Night Express" (1931)
"Evolution" (1931)
"Radio Revelations" (1932)
VIRGINIA KIDD
"Untitled" (1933)
LEAH BODINE DRAKE
"They Run Again" (1939)
"The Wood-Wife" (1942)
"Sea-Shell" (1943)
TIGRINA
"Defiance" (1945)
"Affinity" (1945)
LILITH LORRAINE
"Earthlight on the Moon" (1941)
"The Acolytes" (1946)
"Men Keep Strange Trysts" (1946)

3. JOURNALISTS

ELLEN REED, FRAN MILES, HENRIETTA BROWN, LYNN STANDISH, AND LAURA MOORE WRIGHT
Ellen Reed, "Natural Ink" (1942)
Fran Miles, "Oil for Bombing" (1944)
Henrietta Brown, "Marine Engineering in the Insect World" (1945)
Lynn Standish, "The Battle of the Sexes" (1943)
Lynn Standish, "Scientific Oddities" (1945)
Laura Moore Wright, "Sunlight" (1946)
L. TAYLOR HANSEN
"Scientific Mysteries: The White Race—Does It Exist?" (1942)
"Scientific Mysteries: Footprints of the Dragon" (1944)
H. Malamud, I. Berkman, and H. Rogovin, "A Protest" (1943)
L. Taylor Hansen, "L. Taylor Hansen Defends Himself" (1943)

4. EDITORS

MARY GNAEDINGER
"Editorial Note" (1939)
"The Editor's Page" (1940)
"The Editor's Page" (1943)
DOROTHY STEVENS MCILWRAITH
"The Eyrie" (1940)
"The Eyrie" (1940)
"The Eyrie" (1941)
LILITH LORRAINE
"Cracks—Wise and Otherwise" (1943)
"Training for World Citizenship" (1946)
"The Story of Different" (1950)

5. ARTISTS

Olivette Bourgeois
Lucille Webster Holling
Margaret Johnson Brundage
Dorothy Louise Les Tina
Dolly Rackley Donnell
Conclusion: Challenging the Narrative, Or, Women Take Back Science Fiction — Kathleen Ann Goonan
One of the things that compelled me to pick up this book was my experience with the incredible Wesleyan Anthology of Science Fiction (2010), a massive 792-page volume that purports to be "The best single-volume anthology of science fiction available," and may very well be right. It's an absolutely knockout collection that belongs on every serious collector's shelf.
One of the surprising things about Sisters of Tomorrow is how delightful it is to browse. There's a lot of great reading here for any fan of the SF pulps. casual or fanatic. My only regret is that there aren't additional volumes.
Speaking of which, this book is part of Wesleyan's Early Classics of Science Fiction line, which includes an astonishing 34 titles and counting.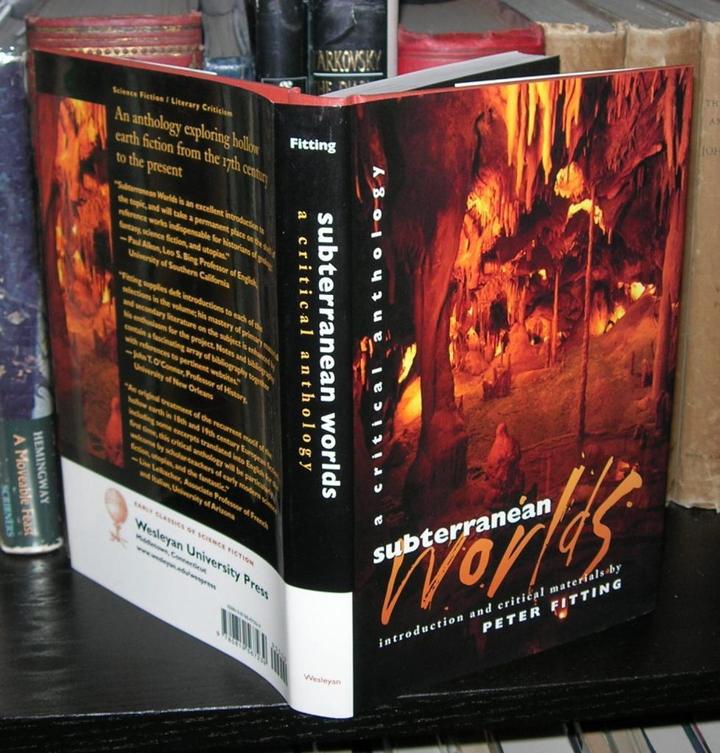 Here's just a handful:
Subterranean Worlds: A Critical Anthology (2004), edited by Peter Fitting
Imagining Mars: A Literary History (2011) by Robert Crossley
Three Science Fiction Novellas: From Prehistory to the End of Mankind (2012) by J.-H. Rosny and Danièle Chatelain
Invasion of the Sea (2002) by Jules Verne
Cosmos Latinos: An Anthology of Science Fiction from Latin America and Spain (2003), edited by Yolanda Molina-Gavilán and Andrea L. Bell
The Black Mirror and Other Stories: An Anthology of Science Fiction from Germany and Austria (2008), edited by Franz Rottensteiner and Mike Mitchell
Sisters of Tomorrow: The First Women of Science Fiction was published by Wesleyan University Press on June 7, 2016. It is 393 pages, priced at $29.95 in trade paperback and $23.99 for the digital edition. No cover credit I can find.
See all our coverage of SF Pulps here.