A Novel You've Been Waiting For Your Whole Life, and Then Some: The Strange Case of the Alchemist's Daughter by Theodora Goss
A Novel You've Been Waiting For Your Whole Life, and Then Some: The Strange Case of the Alchemist's Daughter by Theodora Goss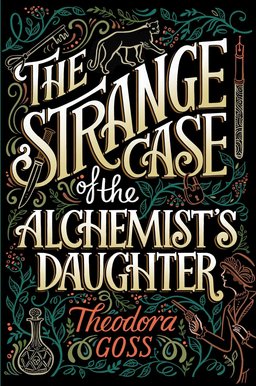 What if a genius decided to combine a fantastical feminist romp with a classic whodunnit of the mackintosh-wearing era… and tossed in some madcap Dickensian adventure?
You'd have yourself The Strange Case of the Alchemist's Daughter by Theodora Goss, a 400-page extravaganza featuring five women you have dreamed of in your heart of hearts but have never seen on paper. Better yet, they're the daughters of legendary characters from classic fantasy and science fiction.
When Mary Jekyll's mother dies, the young inheritor of her meager estate discovers her father — Henry Jekyll himself — associated with a troubling league of gentlemen endowed with brilliant scientific ambition. With the help of Diana Hyde, a feral and headstrong spitfire (and daughter of Mr. Hyde), and a miraculous and unwilling scientific marvel named Beatrice, whom her revered father has tainted with poison from noxious plants, Mary embarks on a quest to discover just what her father's band of brothers sought to accomplish.
Along the way, they enlist the help of an exemplary detective named Sherlock Holmes, his cherished assistant, Watson, and Catherine Moreau, daughter of the most barbaric and daring scientist of them all. Unless you factor Doctor Victor Frankenstein into the equation… whom, now that we mention him, happens to be the father of the last partner in crime, a kindhearted giantess named Justine who harbors a tale potent enough to warrant a novel of its own.
I appreciate Goss's innumerable acts of kindness toward readers who have not yet read the classic works of literature to which she has paid tribute. (I confess, I am guilty as charged. Dear friends have told me in the past that I need to read Frankenstein, and I agree. It must happen). By doing so, Goss has eschewed the How Much Do You Know About This Facet of Nerddom? quiz routinely thrust upon so many innocent fans, allowing her readers to bask in the wisdom and whimsy of her characters instead.
Additionally, Goss honors the infamous gentlemen who have carried their stories through the years with the fierce compassion of an author reckoning with the staggering contradictions of the human species. And these men have to contend with their fair share of reckoning. That is, the ones who survive.
Their daughters do much of the hard work in their stead, on top of looking after one another and falling in love. (For those of you who fantasize about Holmes finding himself a loving partner in crime of the female persuasion, look no further).
In particular, the sisterly bond between Mary and Diana had me basking in the warmth of sibling adoration, and reminded me why it's great fun to have a friend for life (and why it's a royal pain in the backside sometimes).
That being said, the coveted position of favorite character goes to Justine. I adored her story, rendered with an astonishing tenderness of the heart and an evocative grasp of the troubling circumstances that lead to her father's undoing. How it culminates, well, suffice to say that readers are sure to harken back to Mary Shelley's original novel and marvel at Goss's reinterpretation of the real protagonist of the story.
The Strange Case of the Alchemist's Daughter was published in June 2017 by Saga Press. It is 400 pages with an ebook edition also available. Art direction is by Krista Vossen, with the cover illustration by Kate Forrester.
---
Zeta Moore's last review for us was Something Strange and Deadly by Susan Dennard. She is exploring work in care for individuals on the autism spectrum, and nerding out when she can.