Future Treasures: Moskva by Jack Grimwood
Future Treasures: Moskva by Jack Grimwood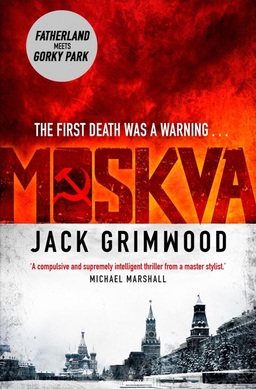 Jon Courtenay Grimwood has had a very impressive career. His Arabesk Trilogy, a trio of alternate history cyberpunk hard-boiled detective novels set in Alexandria, had the unusual distinction of being nominated for both the British Science Fiction and British Fantasy Awards. And we talked about his Assassini Trilogy, a tale of politics and the supernatural in 15th Century Venice, right here just last week.
His latest is a bit of a departure, but still very interesting — a thriller with political overtones set in 1980s Moscow. It arrives in hardcover from Thomas Dunne next week.
Red Square, 1985. The naked body of a young man is left outside the walls of the Kremlin, frozen solid ― like marble to the touch ― missing the little finger from his right hand.

A week later, Alex Marston, the headstrong fifteen-year-old daughter of the British Ambassador, disappears. Army Intelligence Officer Tom Fox, posted to Moscow to keep him from telling the truth to a government committee, is asked to help find her. It's a shot at redemption.

But Russia is reluctant to give up the worst of her secrets. As Fox's investigation sees him dragged deeper towards the dark heart of a Soviet establishment determined to protect its own, his fears for Alex's safety grow with those of the girl's father.

And if Fox can't find her soon, she looks likely to become the next victim of a sadistic killer whose story is bound tight to that of his country's terrible past…
Moskva will be published by Thomas Dunne Books on July 11, 2017. It is 358 pages, priced at $27.99 in hardcover and $14.99 for the digital edition. The cover was designed by Blacksheep UK. See all of our recent Future Treasures here.