Goth Chick News: Stranger Toys for Cool Kids
Goth Chick News: Stranger Toys for Cool Kids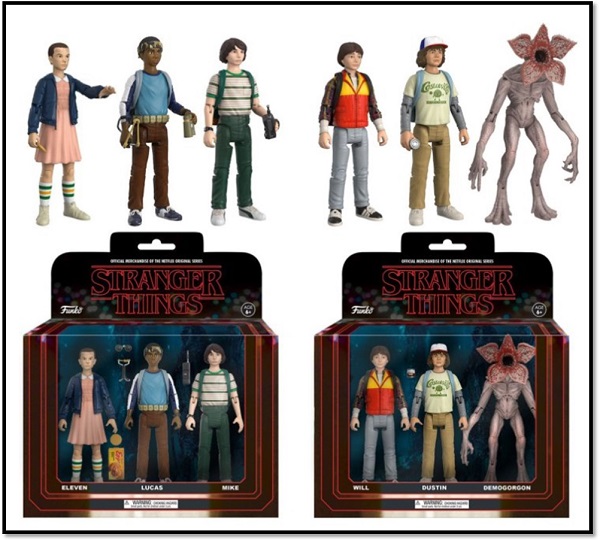 Netflix's Stranger Things is one long nostalgia trip for kids from the '80s, so it only makes sense that at some point, homage would be paid to the most prominent of 80's attributes aside from should pads – rampant consumerism.
Funko, the company best known for their Pop! Vinyl toy line agrees. It's preparing Stranger Things action figures that are bound to rekindle memories of playing with GI Joe or Masters of the Universe toys as a kid and cause collectors who love the show to be willing to traverse the Upside Down to get their hands on them.
The news comes directly from Funko's website, where they explain that they're selling two separate three-packs of 3 3/4 tall action figures. One pack contains figures based on the characters of the group's de facto leader Mike Wheeler (played by the awesomely-named Finn Wolfhard), the logic-driven Lucas Sinclair (played by Caleb McLaughlin), and the mysterious Eleven (played by Millie Bobby Brown). The other pack includes figures based on the unfortunate Will Byers (Noah Schnapp), the loyal Dustin Henderson (Gaten Matarazzo), and the evil Demogorgon.
The figures are all fully articulated, and most come with some sort of prop that reflects the character: Eleven has her Eggo waffles (obviously), Mike has a walkie-talkie, and Lucas gets two – a slingshot and a pair of binoculars. The second pack is far more sparse; it looks like the only prop that comes with that is a package of chocolate pudding, which I'm guessing isn't intended for the Demogorgon.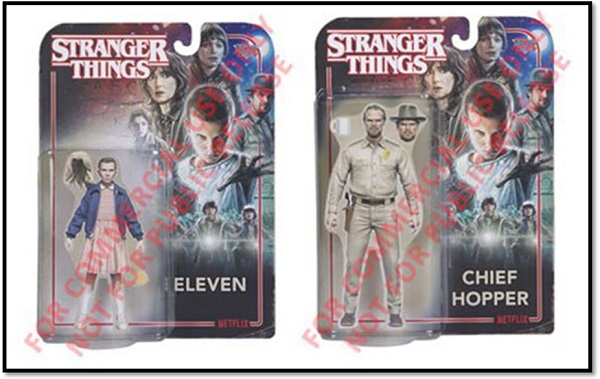 Both action-figure packs will arrive in August for an anticipated $20 each.
My big question is where are other major characters like Jim, Joyce and Barb? This is likely an excuse for Funko to come back with another round of action figures, but completionists will have to sit tight for now. Of course if you're seriously jonesing, Joyce and Barb (complete with a ball of Christmas lights) are part of the Pop! Vinyl line of Stranger Things characters, available now.
If you're not crazy about the look of the Funko line or you're hard-core for David Harbour's Chief Hopper character, you may be more interested in the 7-inch figures that McFarlane Toys will be releasing in November. Chief Hopper and Eleven will be the first figures released and are rumored to retail for $17.99 each.
The Chief Hopper articulated action figure will feature an extra head with a hat, a pistol and a coffee mug. The Eleven action figure will be wearing her dress and jacket outfit as seen in Season 1 of the show, with the possibility of a Eggo waffle as well.
I mean, what are dimension-warping super powers compared to a toaster waffle…?
Looks like there are some leaked mockups of the figures, but I would take them with a large grain of salt as these appear to be 3 ¾ inch. They could be Funko's as the Eleven figure looks the same, except they have no immediate plans for a Chief Hopper.
Regardless, will I drop some coin on this stuff…?
Absolutely.
Now leggo my Eggo…
Have a question or comment, or a toll-free hotline for 80's Consumerism Recovery? Post a comment here or drop a line to sue@blackgate.com.