Future Treasures: The Wayward Children Trilogy by Seanan McGuire
Future Treasures: The Wayward Children Trilogy by Seanan McGuire
Tor.com Publishing has had some stellar successes recently. Nnedi Okorafor's Binti won both the Nebula Award and Hugo Award for Best Novella, and this year the line received six Nebula nominations and five Hugo nods… pretty extravagant results for a publishing imprint that's not even two years old.
Seanan McGuire's Every Heart a Doorway, published by Tor.com last April, received both a Hugo and a Nebula nomination this year, and just last week it won the Nebula Award for Best Novella. In her BG review last year, Elizabeth Cady said:
A departure from McGuire's usual fare, Every Heart a Doorway is a bittersweet twist on conventional fantasy that neither shies from more dwells on the darker side of our encounters with the fantastic…

Out in the countryside exists a boarding school for unusual children… Each student at Eleanor West's School for Wayward Children has accidentally stumbled into an otherworld and then returned home to find themselves so changed that they can no longer fit in at home. Some of them are heartbroken at being kicked out of paradise. Some of them are traumatized by what they experienced there. Most of them hope to return to their individual worlds, somehow, by finding their Door again.

We find our own Door into this school through Nancy, a young woman who has just returned from one of several Lands of the Dead. Shortly after her arrival, another student is found dead and Nancy, along with her newly made friends, must find the killer before the school is closed or they become the next victims… I was very pleasantly surprised by this little gem of a book.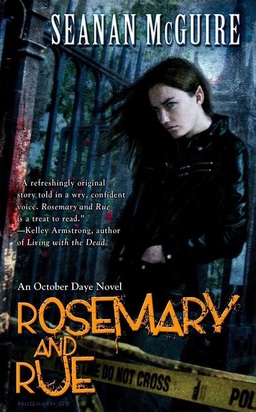 Read Elizabeth's complete review here.
Tor.com has announced two more releases in what's now being called the Wayward Children trilogy. The next one, Down Among the Sticks and Bones, arrives next month, and the advance reviews have very positive. Library Journal calls it "Beautifully crafted and smartly written, this fairy-tale novella is everything that speculative fiction readers look for: fantastical worlds, diverse characters, and prose that hits home with its emotional truths."
The third volume has also been announced, Beneath the Sugar Sky, scheduled for release next year. Here's the complete publishing details.
Every Heart a Doorway (176 pages, $17.99 hardcover/$9.99 digital, April 5, 2016) — excerpt
Down Among the Sticks and Bones (192 pages, $17.99 hardcover/$9.99 digital, June 13, 2017) — Chapter One
Beneath the Sugar Sky (160 pages, $17.99 hardcover/$9.99 digital, January 9, 2018) — excerpt
All three books are published by Tor.com, with cover designs by FORT.
Seanan McGuire is the author of the 10-volume October Daye urban fantasy novels (starting with Rosemary and Rue), as well as the InCryptid series (6 novels), and the new Indexing urban fantasy series (2 novels). Under the name Mira Grant, she's also the author of the bestselling Newsflesh novels (4 volumes) and the Parasitology trilogy.
See all of our coverage of the best upcoming fantasy here.