Sailing Against the Tides of Perdition: Pirates in Hell, edited by Janet and Chris Morris
Sailing Against the Tides of Perdition: Pirates in Hell, edited by Janet and Chris Morris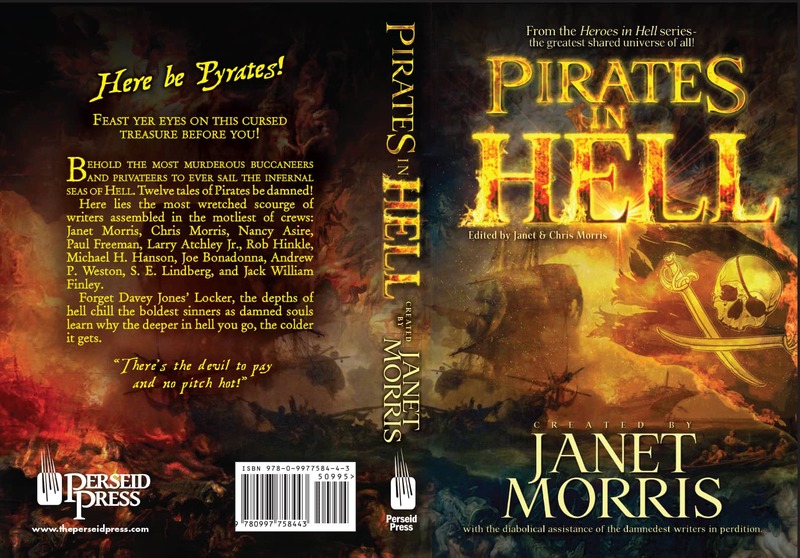 Pirates in Hell (Heroes in Hell, Volume 20)
Edited by Janet and Chris Morris
Perseid Press. (456 pages, $22.40 in trade paperback, $8.99 in digital formats, April 10, 2017)
Cover Design and Cover Art: Roy Mauritsen
Book Design: Chris Morris
Fifteen men on the Dead Man's Chest
 Yo-ho-ho, and a bottle of rum!
Drink and the devil had done for the rest
 Yo-ho-ho, and a bottle of rum!
― Robert Louis Stevenson, Treasure Island
Ahoy there! Well here we are — another year and another volume in the wonderful, shared-universe series, Heroes in Hell, which I am proud to be part of. This brand-new, sea-faring adventure set in hell is called Pirates in Hell, and it is the 20th volume in this award-winning series since its inception back in 1986. Once again we've tried to do a little something different, as the title suggests: bring you an action-packed, swashbuckling, multi-author novel that still retains all the hallmarks of this very literary series: drama, pathos, philosophy, action, humor… and so much more. This, which I now present to you, is a preview, a bit of teaser promo to hopefully whet your appetite. Here is the book's main story arc, according to series creator, editor, publisher and contributing author, Janet Morris.
Pirates in Hell follows on the heels of Doctors in Hell, wherein plagues sweep through hell, courtesy of Erra, the Babylonia God of Plague and Pestilence, and his Seven Sibitti — his "personified" weapons, who were sent to hell to punish the guilty and the only slightly more innocent lost souls damned to hell for eternity. Satan, you see, has been deemed too lenient in his tortures, punishments and torments of the damned, and the Almighty up in Heaven has decided to show him how it's done. But His Satanic Majesty, as always, has other plans for dealing with the men and women who reside in hell; he considers Mankind a blight on his domain, worthy of neither damnation or salvation — only obliteration. In Pirates in Hell, the main storyline is how the Seas, Ocean and the Deep are threatening to combine. Hell's geography is moving, constantly shifting and changing. Islands sink and islands rise. Old coastlines vanish in a flash, and new coastlines appear just as quickly. Some places are flooded, others are bone dry. Pirates take advantage of the chaos, offering safe harbor at exorbitant cost, but the magnetic Flux under Ocean and the Deep that's yawning to swallow all makes hellions wonder if hell could be completely flooded — and whether Erra and his Seven are at fault: but Erra is no Moses. There's no ark big enough for the damned, nor would Erra help them if he could, and doomed souls have no way to tell which course is safest. So the damned are left to their own nefarious devices, searching for "afterlife-preservers," and possible routes that may lead them out of hell. And don't forget, there remains His Satanic Majesty to contend with, who has a scheme of his own for purging hell of its damned fools.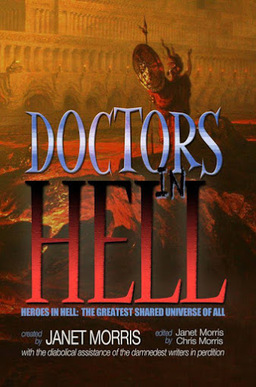 So let's weigh anchor, hoist the canvas and set sail, shall we?
Janet Morris and Chris Morris lead the literary armada with a mythic, 3-part novella. In Goat-Beard the Pirate, Part 1: Bitter Business, William Shakespeare denounces plagiarism but learns what's in a name when Christopher Marlowe takes the blame, as Satan pronounces a penance built for two.
In Pieces of Hate, Andrew P. Weston shows us how it's sink or swim in his swashbuckling adventure when Daemon Grim, the devil's Reaper, heads for Skull Island on His Satanic Majesty's most infernal service to recover hell's truest treasure. But is it truly treasure? Or will there be Fool's Gold aplenty, proving once and for all that . . . when it comes to burying something of value in your chest, blood money is the only currency the Reaper recognizes.
Janet Morris and Chris Morris continue their epic story in Goat-Beard the Pirate, Part 2: Evil Angel. Here Jason and the Argonauts find out that piracy in hell isn't all it's cracked up to be, as Medea proves you can't teach an old witch new tricks.
Hoisting the main sail next is Nancy Asire's story Who's the Pirate Now? This time out, she spins the tale of an expanding and wonderful Lake that grows big enough to accommodate a sailing ship whose passenger list includes Attila the Hun and Admiral Nelson, as well as the Iron Duke, Napoleon, and even Queen Victoria.
Following in Nancy's wake is S. E. Lindberg's Curse of the Pharaohs. In Duat, the Egyptian realm of the dead, many pharaohs wait indefinitely to be judged by Anubis. Yet he has been absent for centuries. As the piratical Sea Peoples threaten to come ashore, the meddling duo of Howard Carter and Ernest Haeckel unearth Anubis' Hall of Two Truths. Eleven anxious Ramesses risk leaving the shoreline unprotected to chance judgement.
In Lir's Children of Hell, Paul Freeman tells us of four ancient children who, cursed unjustly to an eternity of damnation, seek escape from their torment. Grace O'Malley, the pirate queen, and Strongbow, 2nd Earl of Pembroke, confront the Vilekings with the help of Shaka Zulu. But not even Brendan the Navigator can help the ghostly Children of Lir break the bonds of hell.
The Bitter Taste of Hell's Injustice is Jack William Finley's yarn featuring Elliott Ness and Frank Nitti. They tangle with Hell's Demon Minister of Copyright Enforcement, who insists that the price for musical copyright violation be paid in severed heads, including the head of King James I of England. But not even decapitation can silence those wagging tongues.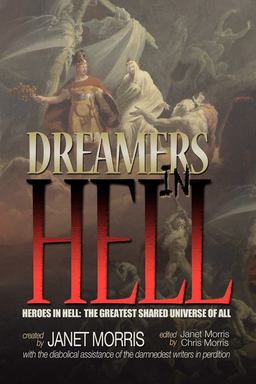 Larry Atchley's Unholiest Grail finds us aboard ship as Buccaneer Henry Morgan and Anton LaVey search for the Unholiest Grail, which allows damned souls in hell to get drunk.
In Serial Recall and Beautiful Tortures, by Michael H. Hanson, we learn that there are all manner of Pirates in Hell, even some who never stepped aboard a ship nor sailed upon any sea. And one of these curs dares to continue his scurrilous activities in the damned city of Pandemonium, pirating the very tortures of Satan himself.
Next to set sail, Drink and the Devil, by Rob Hinkle . . . Admiral of the Fleet Sir Chaloner Ogle persuades his former nemesis Bartholomew Roberts to join him on a quest for a mythical bottle of wine which may prove once and for all that damnation is just a test of faith.
In my The Pirates of Penance, Frankenstein and Quasimodo set out on a steamship bound for the Isle of the Damned, which may lead them out of hell. Meanwhile, as Errol Flynn, Jean Harlow and Douglas Fairbanks start filming Captain Blood: Vampire in Hell, both cast and crew are soon haunted by what may be a real vampire. A vampire in hell? Impossible!
Janet Morris and Chris Morris conclude their adventurous novella in Goat-Beard the Pirate, Part 3: Muse of Fire. Kit Marlowe loses his Rose while Shakespeare finds out that a cold day in hell isn't merely a turn of phrase.
Finally, just to add a wee bit more grog to your flagon, there's a bonus excerpt from Hell Hounds, a Heroes in Hell novel by Andrew P. Weston (Prologue and 2 short chapters). This is a sequel to his previous novel set in hell: Hell Bound.
We hope you'll join us as the "hell boats" set a course for adventure. So come aboard . . . we're expecting you.
Amazon link: amazon.com/Pirates-Hell-Heroes-Janet-Morris/dp/0997758449/
---
Joe Bonadonna's last article for Black Gate was An Interview With Author and Artist Tom Barczak.