Thrilling, Startling, Futuristic: The Adventure House Pulp Reprints
Thrilling, Startling, Futuristic: The Adventure House Pulp Reprints
I acquired many fine treasures at the Windy City Pulp and Paperback Show here in Chicago last week. And there were more than a few that escaped my vile clutches. One of the biggest mistakes I made was not spending more time in the Adventure House booth. I passed it several times — you couldn't really miss it, they had an absolutely marvelous wall display with hundreds of colorful pulps — and just about every time my eye was drawn to a rack crammed full of high-quality pulp replicas. Thrilling Wonder Stories, Planet Stories. Captain Future, Startling Stories, all bright and crisp and brand new… it looked like a magazine rack from the 1930s, catapulted eight decades into the future.
Now, I've picked up one or two pulp replicas in my day. They're not just reprints of the editorial contents of old pulp magazines, but photostatted replicas, right down to the ads. For example, Girasol Collectables in Canada does a brisk business in Weird Tales, Oriental Stories, and Spicy Detective replicas. Most cost $35 each, which is more than I paid for the original issues of Weird Tales I have in my collection. So I'm a little guns shy about replicas, and I didn't stop to investigate that eye-catching rack.
But I thought about it after the show was over, and two minutes online showed me that Adventure House pulp reprints are broadly available — at Amazon and other online sellers — and that they're much more reasonably priced than the Girasol variety, at just $14.95 each!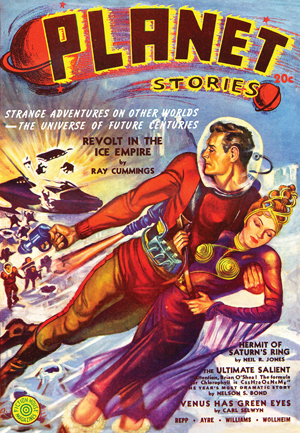 I immediately ordered a few, kicking myself for not paying more attention at the show. Replicas are a terrific way for new collectors (or anyone interested in learning more about pulps, really) to get a chance to see what all the fuss over pulps is about.
Adventure House has dozens of select issues of popular science fiction pulps available, including:
Captain Future
Marvel Tales
Miracle Science & Fantasy
Planet Stories
Startling Stories
Tales of Magic and Mystery
Thrilling Wonder Stories
Uncanny Tales
My favorite is probably Thrilling Wonder, which routinely published short stories (and short novels) by Manly Wade Wellman, Edmond Hamilton, Eando Binder, and other pulp mainstays. Planet and Startling Stories are also well worth a look. And we talked about Captain Future right here just two weeks ago.
I don't know if Adventure House has more pulp replicas in the pipeline, but I certainly hope so. You can order them at Amazon and other online vendors, or at their website.
See all our recent Pulp coverage here.