Three Ghosts in a Black Pumpkin by Erika M. Szabo and Joe Bonadonna
Three Ghosts in a Black Pumpkin by Erika M. Szabo and Joe Bonadonna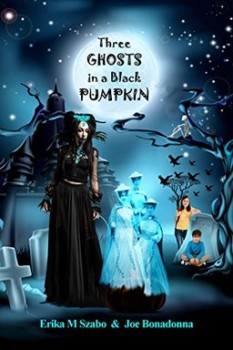 And now for something completely different: Only two weeks into my sci-fi excursion, I'm sidetracked by Three Ghosts in a Black Pumpkin, a new young adult fantasy from Black Gate's own Joe Bonadonna and Erika M. Szabo. Although written for readers a couple of decades my junior, I enjoyed the heck out of it.
Somewhere in space and time, across from Halloween, is the world of Creepy Hollow. It used to be protected from evil by the Trinity of Wishmothers. Now, though, they are dead, and their ghosts have been trapped by Hobart T. Hobgoblin in a pitch-black pumpkin. The wicked Hobart (and his sidekick, Ebenezer Rex, the Tasmanian Devil) is now free to work evil on the land.
On Halloween, twelve-year-old Nikki Sweet and her eleven-year-old cousin, Jack Brady, find a black pumpkin. Their immediate reaction is to bring it home and turn it into a jack-o'-lantern. Just as they prepare to fetch a knife, their grandmother's silver skeleton wind chime, Mr. Bonejingles, warns them not to do it.
The wind chime was once the mighty hero Wishbone Jones, but he was reduced to his current state by Hobart's dark magic. Only with the help of Nikki and Jack can he return home and free the Wishmothers from their prison. With a few magic words, Nikki, Jack, and Jones are magically transported to Creepy Hollow. Aided by Catman and Goth Wishmother-in-training, Ghoulina, they begin a quest to find the Wishmothers' three wands that will take them to the Red Crow Forest, the Cave of Spooks, and the Tower of Shadows.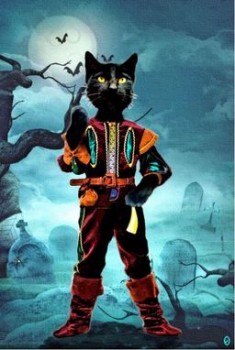 Nikki and Jack are terrific characters. Their humorous bickering and genuine affection for each other make them very relatable. Wishbone Jones and Catman are good-natured foils for the snarky, sometimes cranky Ghoulina. The band of heroes, with their quick wits and courage in the face of deadly crows, wicked Spooks, and evil Shadows, will thrill any reader.
The megalomaniacal Hobart T. Hobgoblin is a great villain, chewing up the scenery every time he shows up. Though we never feel sorry for him, we learn enough about his past to understand him.
Szabo and Bonadonna's story crackles with action and excitement. Their storytelling moves with the speed of lightning, but never lets the reader get lost. The atmosphere is spooky enough to be fun, but not too scary.
There are also some valuable lessons to be learned along the way. Nikki and Jack must figure out for themselves whether they prefer the results of selfishness and greed or courage and self-sacrifice. Szabo and Bonadonna weave this into the story with great skill.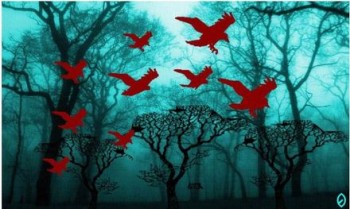 There's only one real problem with Three Ghosts: not enough of Szabo's delightfully weird illustrations. Combining photographs with painted backgrounds, they bring Creepy Hollow and the characters stunningly to life. My favorite is of the dashing Catman, dressed in brocaded velvet. 
Without giving away too much of the story, I'm unable to do justice to the wealth of detail and action Szabo and Bonadonna managed to pack into this short book. From the very first page, they catch the reader up and then don't let go until the very last page. Any young reader with an interest in fantasy and adventure should like Three Ghosts in a Black Pumpkin, and I recommend it highly.
---
Fletcher Vredenburgh reviews here at Black Gate most Tuesday mornings and at his own site, Stuff I Like when his muse hits him. Right now, he's writing about Western movies.