Earth, Air, Fire and Water: The Elemental Blessings Series by Sharon Shinn
Earth, Air, Fire and Water: The Elemental Blessings Series by Sharon Shinn
I've been friends with Sharon Shinn ever since we co-hosted a writing workshop at Capricon here in Chicago some years ago. Turns out that's a great way to bond: giving grueling assignments to aspiring writers while grading their efforts with a cruel eye. Try it some time!
Something else you should try is Sharon's Elemental Blessings series, which just wrapped up with the fourth volume, Unquiet Land, which arrived in hardcover in November. C.S.E. Cooney, in her report on Royal Airs, described it as follows.
The Elemental Blessings series… take place in the Kingdom of Chialto. It's an exciting time in this secondary world, with "smoker cars" taking over for horse-drawn carriages, the blushing dawn of flying machines, alliances forming and falling apart with realms across the mountains and seas, the delicate balance of power between the regent, the primes of the Five Houses, and the heirs to the throne.

All of this and magic too!
The plot mainly concerns Princess Josetta, finding a place for herself in her post-courtier life running a shelter in the city slums, and rakish card shark Rafe Adova, who has problems of his own. For one, people keep trying to kill him. For another, he's discovering it's high time he grew up and did something more interesting with his life than cheating people at games. He likes risk. He likes flight. He's got (as Tom Wolfe might put it) The Right Stuff.

And, see, Josetta's got this friend who owns an aeromotive factory…
Sharon and I still get together occasionally to reminisce about crushing the hopes and dreams of aspiring writers, and other shared interests. Good times, good times. Here we are at a breakfast meeting at the 2011 World Fantasy Convention in San Diego.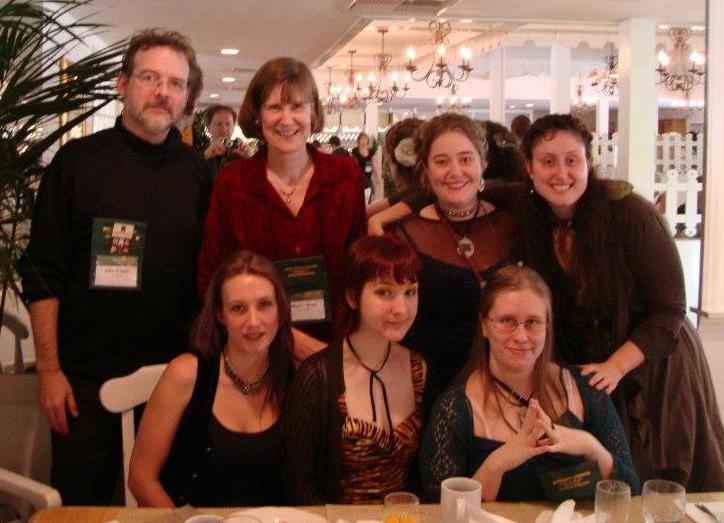 Top: John O'Neill, Sharon Shinn, C.S.E. Cooney, Caitlyn Paxson.
Bottom row: Katie Redding, Patty Templeton, Jessica Wick. Photo by
Howard Andrew Jones, whom you can juuuust make out in the mirror
I know a lot of writers in this industry, and believe me when I tell you, Sharon is one of the hardest-working writers in the business. Her first novel, The Shape-Changer's Wife (Ace, 1995), placed second in the Locus poll for Best First Novel, and she's a two-time nominee for the John W. Campbell Award for Best New Writer. She's produced no less than five popular series (including the 5-volume Samaria novels, the Twelve Houses series, the Shifting Circle trilogy, and the Safe-Keepers trilogy), plus more than half a dozen standalone novels.
The newly-complete Elemental Blessings series consists of four novels:
Troubled Waters (October, 2010)
Royal Airs (November, 2013)
Jeweled Fire (November, 2015)
Unquiet Land (November 1, 2016)
As Claire put it in her earlier review of Troubled Waters, "Sharon Shinn delivers… with a craftwoman's love for her art." Check out her latest.
See all of our coverage of the best new Fantasy series here.