Beneath Ceaseless Skies, Issue #217 (January 19, 2017)
Beneath Ceaseless Skies, Issue #217 (January 19, 2017)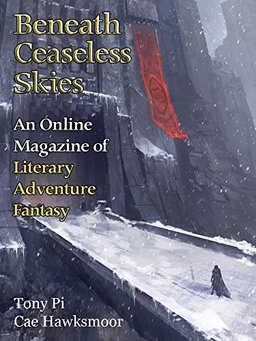 Once again, Beneath Ceaseless Skies delivers a pair of stories that convey a genuine sense of wonder by exposing the reader to ideas and imagery that they never experienced before.
It starts with "Proteus Lost" by Tony Pi, a story about the perils of shapeshifting. So often, magic in fantasy is portrayed in recipe format. Mix these ingredients with those magic words and you get a spell. In this story, we get a genuine sense of the dangers involved in casting a spell on yourself. The "spells" involve a series of conjurations written in a spell book as a list of visual riddles. Get any one riddle wrong and you end up in the wrong shape and need to work your way back to the intermediate shape where you lost your way. Tony Pi pulls off the amazing trick of making two guys sitting in a room reciting spells feel suspenseful.
Next up is "Requiem for the Unchained" by Cae Hawksmoor. I'll be honest and say that I found the premise of this story to be rather confusing. At its heart, it's about a captain taking a ship on a dangerous mission rather than losing it. There are old themes here about the old way of doing things being replaced by new ways and a genuinely compelling concept of a sea of ghosts. But the story seemed to have a lot of build-up before the action that didn't clearly explain what exactly was being done. A smarter reader will probably think I'm just a slow learner, but that was my take on it.
As usual, you can read both stories (as well as a podcast recording and archived story) for free at www.beneath-ceaseless-skies.com/issues/issue-217, but these publications only survive through financial support. So why not drop ninety-nine cents and actually pay for it?
We last covered Beneath Ceaseless Skies with issue #216.