Nightmare, Issue 53 (February 2017)
Nightmare, Issue 53 (February 2017)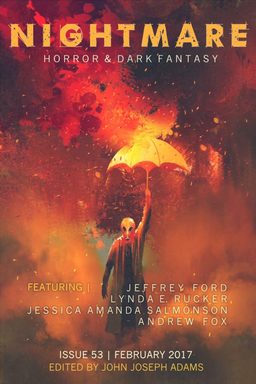 Quiet horror is a genre that's a hard sell these days. It's rarely cinematic, so that you don't see a lot of film adaptations. And it can be something of an acquired taste. Thankfully, there are some high-profile markets that will take a risk on this sub-genre and, as the February issue of Nightmare demonstrates, those risks can yield darkly wondrous rewards.
We begin with "The Garbage Doll" by Jessica Amanda Salmonson. Dolls are always a creepy and the story is tinged with a sense of regret that comes with age. The dreamlike narrative style might be off-putting to some, but if you read it just before bedtime, you may find yourself wondering where the story ends and your own dreams begin.
"The Dying Season" by Lynda E. Rucker combines the "town with a secret" trope with the "gaslit wife" trope to form an unsettling narrative, where both the reader and the protagonist never quite know what's going on, even if both agree that getting the hell out of that town is the best course of action.
"Youth Will be Served" by Andrew Fox is another "town with a secret" story, although this secret is only known by a handful of people. Taken as a story about the horrors of growing old, gentrification, or just the sacrifices we're willing to make for others (and how those sacrifices often benefit us as well), this is a great slow-burn horror/mystery piece.
Once again, Nightmare chooses to save the best for last with "Word Doll" by Jeffrey Ford. Again, dolls are always creepy, but here the author really digs into the concept of dolls and what it means to play with them. There are no simple animated killer toys in this one, but rather something less tangible (and thus more difficult to fight). Unlike so many dark fantasy stories, the "mythology" built up in this story is utterly fascinating.
As with all Nightmare issues, you can certainly read all of the stories online for free, but these publications only survive with financial support, so it's really better if you drop $2.99 for a copy at www.nightmare-magazine.com/issues/feb-2017-issue-53.
We last covered Nightmare magazine with issue 52.